Knowledge And Practices of Oral Hygiene Among Pregnant Women in A Tertiary Care Hospital of Pakistan
Knowledge and Practices of Oral Hygiene Among Pregnant Women
Abstract
During pregnancy, women are more susceptible to certain oral disorders, which may have a negative impact on either mother or child health. Oral hygiene and related negative prenatal outcomes are often neglected issues, particularly in underdeveloped countries such as Pakistan. Objective: To assess the knowledge and practices of oral hygiene among pregnant women at tertiary care hospital. Methods: This cross-sectional study based on questionnaire was carried out at the Dental unit of Khyber Teaching Hospital, Peshawar for a period of one year from July, 2020 to December, 2021. A total of 400 pregnant women were included in this study. Their knowledge level and practices about oral health were determined by using proper designed questionnaire. All the data analysis was performed by using SPSS version 22. Results: In our study, 308 (77%) subjects consider sugar as the cause of dental carries while 92 (23%) subjects does not consider sugar as the cause of dental carries. Among 400 subjects, 140 (35%) subjects consider sugar as the cause of gum disease. Concerning oral hygiene practices, 360 (90%) subjects use tooth brush. The number of subjects using tooth brush daily, twice or more than twice were 280 (70%), 112 (28%) and 8 (2%) subjects respectively. Conclusion: Our study concludes that most of the pregnant women in our study were knowledgeable and have good practices but there is still a gap in their level of knowledge and practices. It is essential to provide oral health education for management of good oral health during pregnancy.
References
George A, Dahlen HG, Reath J, Ajwani S, Bhole S, et al.What do antenatal care providers understand and do about oral health care during pregnancy: a cross-sectional survey in New South Wales, Australia. BMC Pregnancy Childbirth. 2016,16(1):382. doi: 10.1186/s12884-016-1163-x.
Kandan PM, Menaga V, Kumar RRR. Oral health in pregnancy (guidelines to gynaecologists, general physicians & oral health care providers). JPMA-Journal of the Pakistan Medical Association. 2011,61(10):1009-14
Duff M, Dahlen HG, Burns E, Priddis H, Schmied V, et al. Designing an oral health module for the Bachelor of Midwifery program at an Australian University. Nurse Educ Pract. 2017,23:76-81.
Silk H, Douglass AB, Douglass JM, Silk L. Oral health during pregnancy. Am Fam Physician. 2008;77(8):1139-44.
Suri V, Rao NC, Aggarwal N. A study of obstetricians' knowledge, attitudes and practices in oral health and pregnancy. Educ Health (Abingdon). 2014,27(1):51-4. doi: 10.4103/1357-6283.134313.
Enabulele J, Ibhawoh L. Resident obstetricians' awareness of the oral health component in management of nausea and vomiting in pregnancy. BMC Pregnancy Childbirth. 2014 ,14:388. doi: 10.1186/s12884-014-0388-9.
Buerlein JK, Horowitz AM, Child WL. Perspectives of Maryland women regarding oral health during pregnancy and early childhood. J Public Health Dent. 2011,71(2):131-5. doi: 10.1111/j.1752-7325.2010.00211.x.
Clothier B, Stringer M, Jeffcoat MK. Periodontal disease and pregnancy outcomes: exposure, risk and intervention. Best Pract Res Clin Obstet Gynaecol. 2007,21(3):451-66. doi: 10.1016/j.bpobgyn.2007.01.005.
Ramazani N, Zareban I, Ahmadi R, ZadSirjan S, Daryaeian M. Effect of anticipatory guidance presentation methods on the knowledge and attitude of pregnant women relative to maternal, infant and toddler's oral health care. Journal of Dentistry (Tehran, Iran). 2014,11(1):22.
ChapterEating A, Korth K, Maune NC. ChapterAssessmentTitle Oneand TreatmentLine of Feeding. Case-Smith's Occupational Therapy for Children and Adolescents-E-Book. 2019:212.
Dentistry A. of P. Guideline on Perinatal and Infant Oral Health Care. Pediatr Dent Ref Man. 2016,38(6):150-4.
Gupta N, Chhetry M. Knowledge and Practices of Pregnant Women regarding Oral Health in a Tertiary Care Hospital in Nepal. JNMA J Nepal Med Assoc. 2019,57(217):184-188. doi: 10.31729/jnma.4420.
Michalowicz BS, DiAngelis AJ, Novak MJ, Buchanan W, Papapanou PN, Mitchell DA, et al. Examining the safety of dental treatment in pregnant women. The Journal of the American Dental Association. 2008,139(6):685-95. doi: 10.14219/jada.archive.2008.0250.
Jeffcoat MK, Geurs NC, Reddy MS, Cliver SP, Goldenberg RL, et al. Periodontal infection and preterm birth: results of a prospective study. J Am Dent Assoc. 2001,132(7):875-80. doi: 10.14219/jada.archive.2001.0299.
Arif A, Sherani A, Uzma Q, Alam B, Thom E, et al. Maternal and Perinatal Death Surveillance and Response in Balochistan, Pakistan-Causes & Contributory Factors of Maternal Deaths. Journal of Gynecology and Obstetrics. 2022,10(1):1-5.
Thomas NJ, Middleton PF, Crowther CA. Oral and dental health care practices in pregnant women in Australia: a postnatal survey. BMC Pregnancy Childbirth. 2008,8(1):1-6.doi.org/10.1186/1471-2393-8-13
Lydon-Rochelle MT, Krakowiak P, Hujoel PP, Peters RM. Dental care use and self-reported dental problems in relation to pregnancy. Am J Public Health. 2004,94(5):765-71. doi: 10.2105/ajph.94.5.765. PMID: 15117698;
Hullah E, Turok Y, Nauta M, Yoong W. Self-reported oral hygiene habits, dental attendance and attitudes to dentistry during pregnancy in a sample of immigrant women in North London. Arch Gynecol Obstet. 2008,277(5):405-9. doi: 10.1007/s00404-007-0480-8.
Shabbir S, Zahid M, Qazi A. practices and knowledge of oral hygiene among pregnant women in a pakistani tertiary care hospital. Biomedica. 2014,30(2).
Sajjan P, Pattanshetti JI, Padmini C, Nagathan VM, Sajjanar M, Siddiqui T. Oral health related awareness and practices among pregnant women in Bagalkot District, Karnataka, India. Journal of international oral health: JIOH. 2015,7(2):1.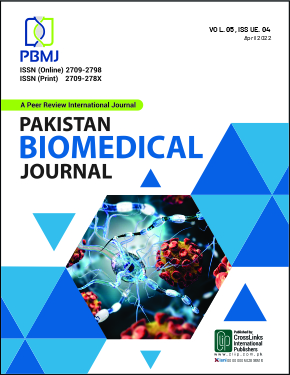 Downloads
How to Cite
Khan, F. ., Sabiha, Z. U. A. ., Haider, B. ., Roghani, K. ., Ahmed, J. ., Ajmal, A. ., Farid, A. ., Ateeq, . M. ., & Bangash, S. A. . (2022). Knowledge And Practices of Oral Hygiene Among Pregnant Women in A Tertiary Care Hospital of Pakistan : Knowledge and Practices of Oral Hygiene Among Pregnant Women. Pakistan BioMedical Journal, 5(4), 170–173. https://doi.org/10.54393/pbmj.v5i4.378
License
Copyright (c) 2022 Pakistan BioMedical Journal
This work is licensed under a Creative Commons Attribution 4.0 International License.
This is an open-access journal and all the published articles / items are distributed under the terms of the Creative Commons Attribution License, which permits unrestricted use, distribution, and reproduction in any medium, provided the original author and source are credited. For comments editor@pakistanbmj.com