The role of digital pathology in enabling remote operations during the CVID-19 pandemic and beyond a pathologist's perspective for the future opportunity
Role of Digital Pathology in COVID-19
Keywords:
Digital pathology; Remote operations; covid-19, Pathologist
Abstract
Significant progress has been made in the area of digital pathology during the past 20 years. With rapid scanners, whole slide imaging (WSI) can now create high-resolution digital duplicates of glass slides. Objective: To assess fundamental understanding of digital pathology among Pakistani pathologists practicing in labs throughout the country. Methods: The current study was cross sectional study carried out at the Department of Pathology, Gomal Medical College, Medical Teaching Institute, Dera Ismail Khan, Pakistan for a period of six months. This study was proforma based and pathologists across the country were included in the study. All the data from the questionnaire was entered and analyzed by employing IBM SPSS version 24. Results: A total of 210 pathologists were enrolled, amongst which 84 (40%) were males and 126 (60%) were females. Pathologist familiar with the Digital Pathology idea were 147 (70%) while 63 (30%) pathologists were not familiar with the digital pathology. Amongst 210 pathologists, 157 (74.77%) pathologists have idea about digital microscope. Pathologist having knowledge of pathology slide scanner idea were 147 (70%) while 63 (30%) pathologists were observed as having no knowledge of pathology slide scanner. Pathologist familiar with the idea of artificial intelligence were 96 (45.71%) while 114 (54.29%) participants were not familiar with the artificial intelligence. Conclusion: In spite of the fact that digital pathology is very promising and has resulted in a shift in the thought pattern of pathologists practicing in underdeveloped countries such as Pakistan, there are still challenges to overcome such as expense, technical assistance, regulation and validation needs.
References
Parwani AV, Amin MB. Convergence of digital pathology and artificial intelligence tools in anatomic pathology practice: current landscape and future directions. LWW; 2020. p. 221-6.
Aeffner F, Zarella MD, Buchbinder N, Bui MM, Goodman MR, Hartman DJ, et al. Introduction to digital image analysis in whole-slide imaging: a white paper from the digital pathology association. J Pathol Inform. 2019;10.
Zarella MD, Bowman D, Aeffner F, Farahani N, Xthona A, Absar SF, et al. A practical guide to whole slide imaging: a white paper from the digital pathology association. Arch Pathol Lab Med. 2019;143(2):222-34.
Rathore S, Iftikhar MA, Chaddad A, Niazi T, Karasic T, Bilello M. Segmentation and grade prediction of colon cancer digital pathology images across multiple institutions. Cancers (Basel). 2019;11(11):1700.
Niazi MKK, Parwani AV, Gurcan MN. Digital pathology and artificial intelligence. The lancet oncology. 2019;20(5):e253-e61.
Griffin J, Kitsanta P, Perunovic B, Suvarna SK, Bury J. Digital pathology for intraoperative frozen section diagnosis of thoracic specimens: an evaluation of a system using remote sampling and whole slide imaging diagnosis. J Clin Pathol. 2020;73(8):503-6.
Guo H, Birsa J, Farahani N, Hartman DJ, Piccoli A, O'Leary M, et al. Digital pathology and anatomic pathology laboratory information system integration to support digital pathology sign-out. J Pathol Inform. 2016;7.
Hanna MG, Reuter VE, Hameed MR, Tan LK, Chiang S, Sigel C, et al. Whole slide imaging equivalency and efficiency study: experience at a large academic center. Mod Pathol. 2019;32(7):916-28.
Hartman DJ, Pantanowitz L, McHugh J, Piccoli A, OLeary M, Lauro GR. Enterprise implementation of digital pathology: feasibility, challenges, and opportunities. J Digit Imaging. 2017;30(5):555-60.
Mohanty SK, Satapathy A, Naidu MM, Mukhopadhyay S, Sharma S, Barton LM, et al. Severe acute respiratory syndrome coronavirus-2 (SARS-CoV-2) and coronavirus disease 19 (COVID-19)–anatomic pathology perspective on current knowledge. Diagn Pathol. 2020;15(1):1-17.
Williams BJ, Fraggetta F, Hanna MG, Huang R, Lennerz J, Salgado R, et al. The future of pathology: What can we learn from the COVID-19 pandemic? J Pathol Inform. 2020;11.
Hanna MG, Reuter VE, Ardon O, Kim D, Sirintrapun SJ, Schüffler PJ, et al. Validation of a digital pathology system including remote review during the COVID-19 pandemic. Mod Pathol. 2020;33(11):2115-27.
Cimadamore A, Lopez-Beltran A, Scarpelli M, Cheng L, Montironi R. Digital pathology and COVID-19 and future crises: pathologists can safely diagnose cases from home using a consumer monitor and a mini PC. J Clin Pathol. 2020;73(11):695-6.
Kumar N, Gupta R, Gupta S. Whole slide imaging (WSI) in pathology: current perspectives and future directions. J Digit Imaging. 2020;33(4):1034-40.
Jahn SW, Plass M, Moinfar F. Digital pathology: advantages, limitations and emerging perspectives. Journal of Clinical Medicine. 2020;9(11):3697.
Goacher E, Randell R, Williams B, Treanor D. The diagnostic concordance of whole slide imaging and light microscopy: a systematic review. Arch Pathol Lab Med. 2017;141(1):151-61.
Williams BJ, DaCosta P, Goacher E, Treanor D. A systematic analysis of discordant diagnoses in digital pathology compared with light microscopy. Arch Pathol Lab Med. 2017;141(12):1712-8.
Metovic J, Barella M, Bianchi F, Hofman P, Hofman V, Remmelink M, et al. Morphologic and molecular classification of lung neuroendocrine neoplasms. Virchows Arch. 2021;478(1):5-19.
Mukhopadhyay S, Feldman MD, Abels E, Ashfaq R, Beltaifa S, Cacciabeve NG, et al. Whole slide imaging versus microscopy for primary diagnosis in surgical pathology: a multicenter blinded randomized noninferiority study of 1992 cases (pivotal study). The American journal of surgical pathology. 2018;42(1):39.
Borowsky AD, Glassy EF, Wallace WD, Kallichanda NS, Behling CA, Miller DV, et al. Digital Whole Slide Imaging Compared With Light Microscopy for Primary Diagnosis in Surgical PathologyA Multicenter, Double-Blinded, Randomized Study of 2045 Cases. Arch Pathol Lab Med. 2020;144(10):1245-53.
Zehra T, Shams M, Irshad Z, Gardezi AB, Tariq H, Zeeshan F. DIGITAL PATHOLOGY ENABLING REMOTE OPERATIONS DURING COVID-19 PANDEMIC AND BEYOND-PATHOLOGIST PERSPECTIVE FOR FUTURE OPPORTUNITIES. Pak J Pathol. 2021;32(2):76-8.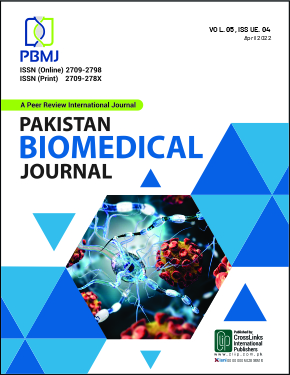 Downloads
How to Cite
Bashir, S. ., Arif, S. ., Zia, R. ., Mustafa, G., Raziq, K., Bangash, S. A. ., Farid, A. ., & Aslam, A. . (2022). The role of digital pathology in enabling remote operations during the CVID-19 pandemic and beyond a pathologist's perspective for the future opportunity : Role of Digital Pathology in COVID-19. Pakistan BioMedical Journal, 5(4), 195–199. https://doi.org/10.54393/pbmj.v5i4.396
License
Copyright (c) 2022 Pakistan BioMedical Journal
This work is licensed under a Creative Commons Attribution 4.0 International License.
This is an open-access journal and all the published articles / items are distributed under the terms of the Creative Commons Attribution License, which permits unrestricted use, distribution, and reproduction in any medium, provided the original author and source are credited. For comments editor@pakistanbmj.com