Adults with Celiac Disease: Histopathological and Immunohistochemical Analysis of Small Intestinal Biopsies
Histopathological and Immunohistochemical Analysis of Small Intestinal Biopsies
Keywords:
celiac disease, intestinal biopsy, histotechniques, peshawar
Abstract
In this study, we evaluated the immunohistochemical and micromorphological techniques for analyzing small intestinal biopsies from adults suspected of celiac disease. Methods: The study was carried out at the Department of Histopathology, Lady Reading Hospital, Peshawar, from December 2018 to August 2019. Fifty (50) specimens of small intestinal mucosal biopsies were examined in adult celiac disease patients over the age of 14 years. Modified Marsh Criteria were used to record their histomorphology data. Immunohistochemistry was used to determine the kind of intraepithelial lymphocytes. H&E staining and CD3 and CD20 immunostaining were used to count intraepithelial lymphocytes.
Results: Seventin (34%) of patients were between the ages of 21 and 30 years, and 22% were between the ages of 41 and 50. Out of total 50 cases, males were 42 (84%). Thirteen (26%) of the cases had focal villous atrophy, 32 (64% of the cases) had partial villous atrophy, and 5 (10%) had total villous atrophy. Antibody to tissue transglutaminase was found to be positive in 21 (42%) of the patients. In all 50 cases, the CD3 immunomarker indicated intraepithelial lymphocytes, while the CD20 immunomarker showed localized positivity in lymphoid follicle development. On both H&E stain and immunostaining CD3 and CD20, the number of intraepithelial lymphocytes was determined to be nearly identical (with a difference of 3 - 4 lymphocytes). Conclusion: Males between the ages of 21 and 30 were the most affected. Partial villous atrophy and lymphocytic enteritis were the most common histological changes. All intraepithelial lymphocytes were distributed in a crescendo-like manner.
References
Abbas, Z., Raza, S., Yakoob, J., Abid, S., Hamid, S., Shah, H., . . . Pakistan, S. (2013). Varied presentation of celiac disease in Pakistani adults. 23(7), 522.
Freeman, H. J. J. G., & liver. (2009). Adult celiac disease and its malignant complications. 3(4), 237.
https://doi.org/10.5009/gnl.2009.3.4.237
Freeman, H. J. J. I. J. C. D. (2015). Small intestinal mucosal biopsies for case-finding in celiac disease. 3, 50-52.
https://doi.org/10.12691/ijcd-3-2-3
Hopper, A. D., Hadjivassiliou, M., Butt, S., & Sanders, D. S. J. B. (2007). Adult coeliac disease. 335(7619), 558-562.
https://doi.org/10.1136/bmj.39316.442338.AD
Hudacko, R., Kathy Zhou, X., & Yantiss, R. K. J. M. P. (2013). Immunohistochemical stains for CD3 and CD8 do not improve the detection of gluten-sensitive enteropathy in duodenal biopsies. 26(9), 1241-1245.
https://doi.org/10.1038/modpathol.2013.57
Iftikhar, R., Jamal, S., Zafar, A., Saadia, A. J. J. o. t. c. o. p., & surgeons-Pakistan. (2016). Histopathological and immunohistochemical analysis of small intestinal biopsies in adults suspected of celiac disease. 26(10), 827-830.
Jiang, L.-l., Zhang, B.-l., & Liu, Y.-s. J. J. o. Z. U. S. B. (2009). Is adult celiac disease uncommon in Chinese? , 10(3), 168-171.
https://doi.org/10.1631/jzus.B0820164
KOTZE, L. M. d. S., Mallmann, A., Miecznikowski, R. C., Chrisostomo, K. R., Kotze, L. R., & Nisihara, R. J. A. d. g. (2020). Reproductive aspects in Brazilian celiac women. 57, 107-109.
https://doi.org/10.1590/s0004-2803.202000000-18
Lerner, A., & Matthias, T. J. I. J. o. C. D. (2015). Increased knowledge and awareness of celiac disease will benefit the elderly. 3, 112-114.
https://doi.org/10.12691/ijcd-3-3-6
Rubio-Tapia, A., Ludvigsson, J. F., Brantner, T. L., Murray, J. A., Everhart, J. E. J. O. j. o. t. A. C. o. G., & ACG. (2012). The prevalence of celiac disease in the United States. 107(10), 1538-1544.
https://doi.org/10.1038/ajg.2012.219
Villanacci, V., Ceppa, P., Tavani, E., Vindigni, C., Volta, U. J. D., & Disease, L. (2011). Coeliac disease: the histology report. 43, S385-S395.
https://doi.org/10.1016/S1590-8658(11)60594-X
Vilppula, A., Kaukinen, K., Luostarinen, L., Krekelä, I., Patrikainen, H., Valve, R., . . . Collin, P. J. B. g. (2009). Increasing prevalence and high incidence of celiac disease in elderly people: a population-based study. 9(1), 1-5.
https://doi.org/10.1186/1471-230X-9-49
Vivas, S., Vaquero, L., Rodríguez-Martín, L., Caminero, A. J. W. j. o. g. p., & therapeutics. (2015). Age-related differences in celiac disease: Specific characteristics of adult presentation. 6(4), 207.
https://doi.org/10.4292/wjgpt.v6.i4.207
Yap, T. W.-C., Chan, W.-K., Leow, A. H.-R., Azmi, A. N., Loke, M.-F., Vadivelu, J., & Goh, K.-L. J. P. o. (2015). Prevalence of serum celiac antibodies in a multiracial Asian population-a first study in the young Asian adult population of Malaysia. 10(3), e0121908.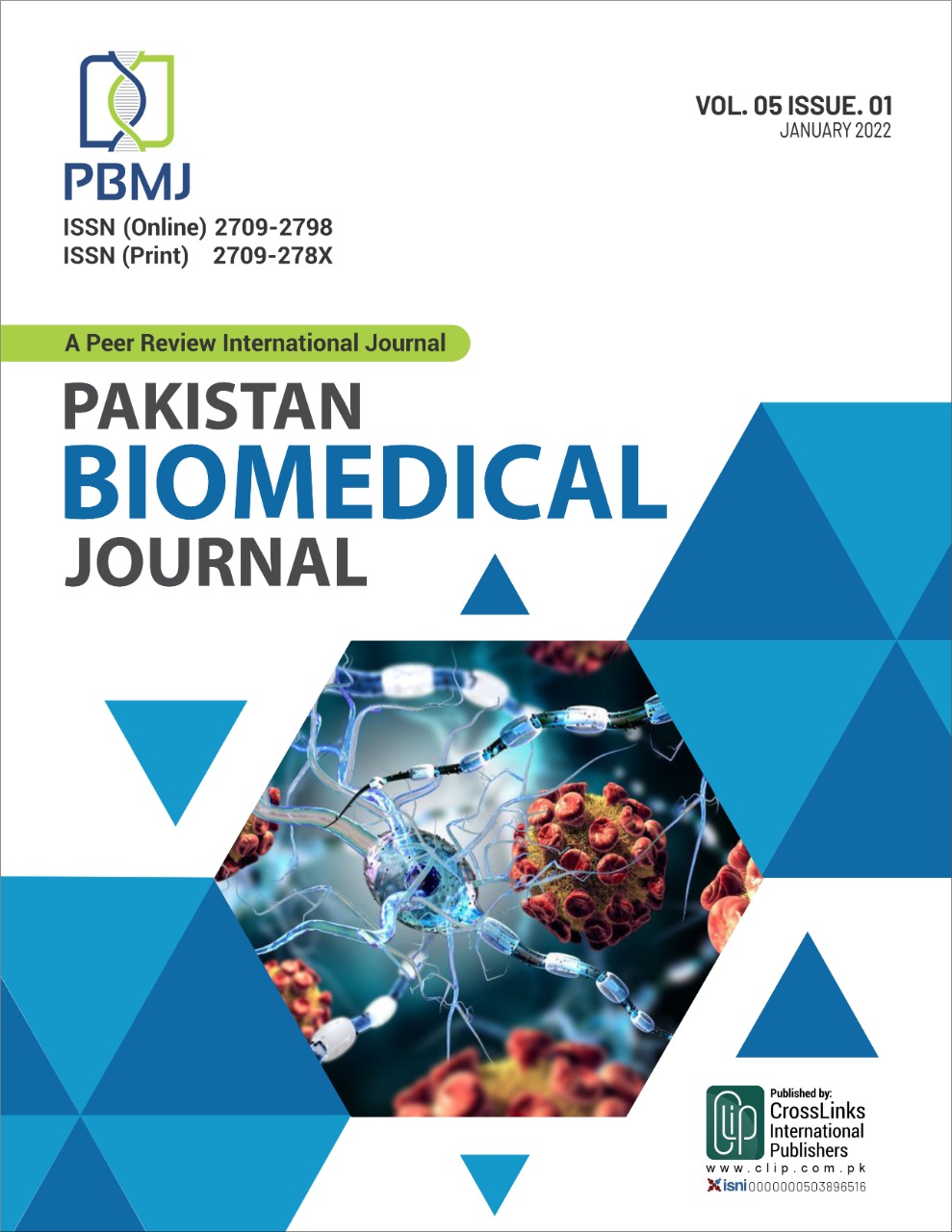 Downloads
How to Cite
Manzoor, M., Maqbool, M., Sarwar, A., Khan, M., llah, I.- u, Mir, H., Batool, B., Bangash, S. A., & Muthanna, F. M. (2022). Adults with Celiac Disease: Histopathological and Immunohistochemical Analysis of Small Intestinal Biopsies: Histopathological and Immunohistochemical Analysis of Small Intestinal Biopsies. Pakistan BioMedical Journal, 5(1), 249–252. https://doi.org/10.54393/pbmj.v5i1.319
License
Copyright (c) 2022 Pakistan BioMedical Journal
This work is licensed under a Creative Commons Attribution 4.0 International License.
This is an open-access journal and all the published articles / items are distributed under the terms of the Creative Commons Attribution License, which permits unrestricted use, distribution, and reproduction in any medium, provided the original author and source are credited. For comments editor@pakistanbmj.com