Correlation Between Histopathological Findings, CD4 Counts, and Treponeme Quantity in Microscopic Sections and Secondary Syphilis in HIV Positive Individuals
Keywords:
Infectiousagents,Warthin–Starrystain, HIV,immune-histochemistry, Syphilis
Abstract
Syphilis is not common, although HIV-infected people are far more likely to be infected than the general population. This may be caused by weakened cellular immunity due to HIV infection. This study aimed to find out the correlation between CD4 concentration and T. Pallidum occurrence. Methods: A assessment of a single institution identified ten patients with secondary syphilis diagnosed through a skin biopsy, positive syphilis serology, and high CD4 levels. There were 14 samples obtained from 13 individuals. Immunohistochemistry (IHC) was used to detect the presence of treponemes and CD4 levels in skin samples. These findings have also been compared with results obtained from detecting T. Pallidum by IHC in silver stain sections (Warthin-Starry). A comparison of the histological characteristics of each sample has also been made. IHC was used to determine the number of treponemes on the samples. Results: Silver stain had a sensitivity of 9 percent whereas IHC detected the treponemes at 64 percent. (p-value of 0.04). Spirochetes high incidence found only in people with less than 250 cells/ml of CD4 (>100 per 10 HPF). Conclusions: The utmost persistent histological outcome was low to highlympho-plasmocytic infiltration. However, this research did show that a high spirochete count is associated with a low CD4 count (less than 250 cells/ml). In comparison to Warthin-Starry staining results, IHC staining for T. palidum has shown superior results.
References
Arroll, T. W., Centurion-Lara, A., Lukehart, S. A., Van Voorhis, W. C. J. I., & immunity. (1999). T-cell responses to Treponema pallidum subsp. pallidum antigens during the course of experimental syphilis infection. 67(9), 4757-4763.
https://doi.org/10.1128/IAI.67.9.4757-4763.1999
Buchacz, K., Klausner, J. D., Kerndt, P. R., Shouse, R. L., Onorato, I., McElroy, P. D., . . . Coye, F. J. J. J. o. A. I. D. S. (2008). HIV incidence among men diagnosed with early syphilis in Atlanta, San Francisco, and Los Angeles, 2004 to 2005. 47(2), 234-240.
https://doi.org/10.1097/QAI.0b013e31815e4011
Carlson, J. A., Dabiri, G., Cribier, B., & Sell, S. J. T. A. j. o. d. (2011). The immunopathobiology of syphilis: the manifestations and course of syphilis are determined by the level of delayed-type hypersensitivity. 33(5), 433.
https://doi.org/10.1097/DAD.0b013e3181e8b587
Ganesan, A., Fieberg, A., Agan, B. K., Lalani, T., Landrum, M. L., Wortmann, G., . . . diseases, I. D. C. R. P. H. W. G. J. S. t. (2012). Results of a 25 year longitudinal analysis of the serologic incidence of syphilis in a cohort of HIV infected patients with unrestricted access to care. 39(6).
https://doi.org/10.1097/OLQ.0b013e318249d90f
Hartman, D. J., & Owens, S. R. J. A. j. o. c. p. (2012). Are routine ancillary stains required to diagnose Helicobacter infection in gastric biopsy specimens? An institutional quality assurance review. 137(2), 255-260.
https://doi.org/10.1309/AJCPD8FFBJ5LSLTE
Hoang, M. P., High, W. A., & Molberg, K. H. J. J. o. c. p. (2004). Secondary syphilis: a histologic and immunohistochemical evaluation. 31(9), 595-599.
https://doi.org/10.1111/j.0303-6987.2004.00236.x
Newbern, E. C., Anschuetz, G. L., Eberhart, M. G., Salmon, M. E., Brady, K. A., De Los Reyes, A., . . . Schwarz, D. F. J. A. j. o. p. h. (2013). Adolescent sexually transmitted infections and risk for subsequent HIV. 103(10), 1874-1881.
https://doi.org/10.2105/AJPH.2013.301463
Patton, M. E., Su, J. R., Nelson, R., Weinstock, H. J. M. M., & report, m. w. (2014). Primary and secondary syphilis-United States, 2005-2013. 63(18), 402.
Røttingen, J.-A., Cameron, D. W., & Garnett, G. P. J. S. t. d. (2001). A Systematic Review of the Epidemiologie Interactions Between Classic Sexually Transmitted Diseases and HIV: How Much Really Is Known? , 579-597.
https://doi.org/10.1097/00007435-200110000-00005
Salazar, J. C., Cruz, A. R., Pope, C. D., Valderrama, L., Trujillo, R., Saravia, N. G., & Radolf, J. D. J. T. J. o. i. d. (2007). Treponema pallidum elicits innate and adaptive cellular immune responses in skin and blood during secondary syphilis: a flow-cytometric analysis. 195(6), 879-887.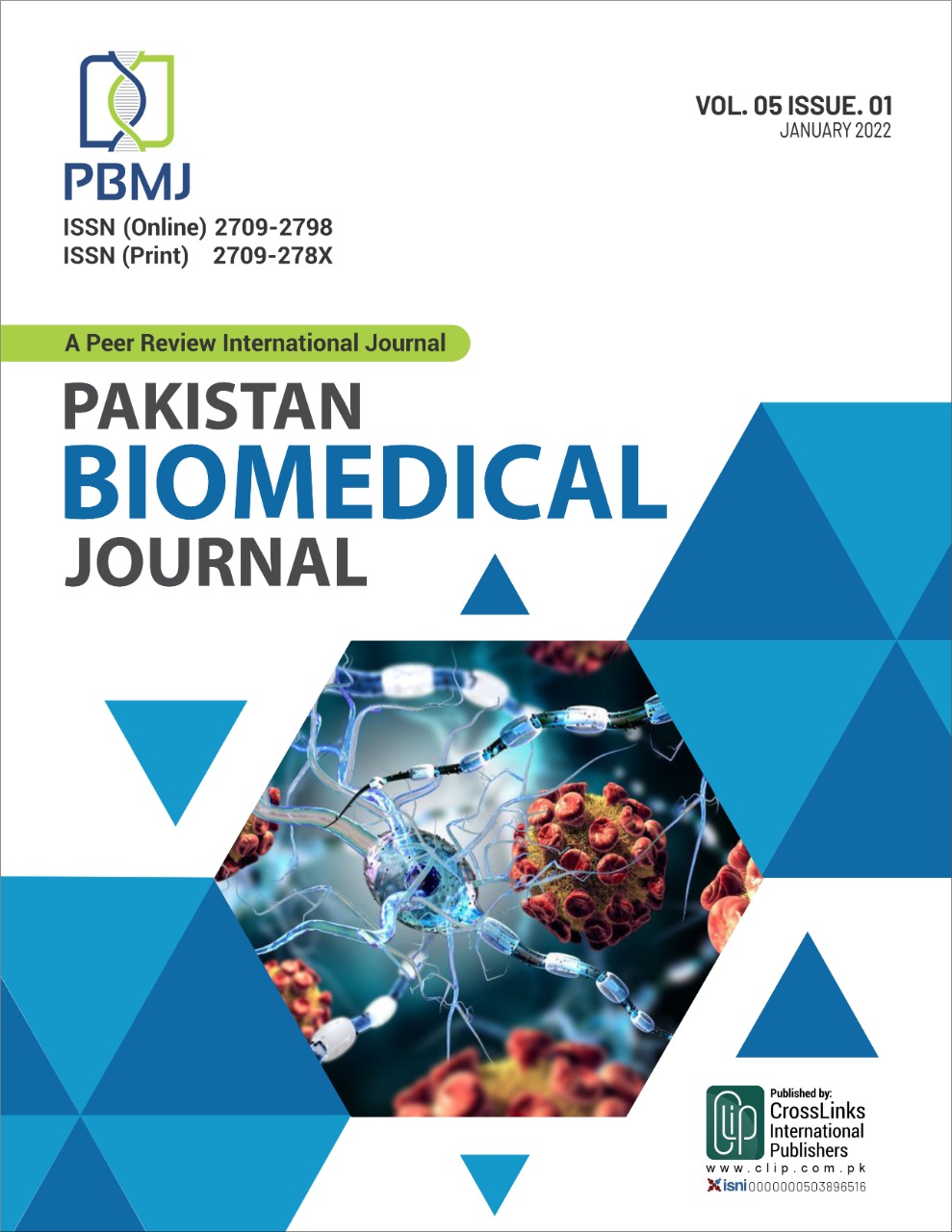 Downloads
How to Cite
Manzoor, M., Amin, A., Hussain, S., Zia, R., Sarwar, A., Shabir, M. M., llah, I.- u, Mir, H., Bangash, S. A., & Muthanna, F. (2022). Correlation Between Histopathological Findings, CD4 Counts, and Treponeme Quantity in Microscopic Sections and Secondary Syphilis in HIV Positive Individuals. Pakistan BioMedical Journal, 5(1), 253–256. https://doi.org/10.54393/pbmj.v5i1.320
License
Copyright (c) 2022 Pakistan BioMedical Journal
This work is licensed under a Creative Commons Attribution 4.0 International License.
This is an open-access journal and all the published articles / items are distributed under the terms of the Creative Commons Attribution License, which permits unrestricted use, distribution, and reproduction in any medium, provided the original author and source are credited. For comments editor@pakistanbmj.com