Association Between Foot Pain and High Heeled Shoes in Working Women
Association between Foot Pain and High Heeled Shoes
Keywords:
Foot Pain, High Heeled Shoes, Working Women, Association
Abstract
Women have been wearing high heels for decades and they remain a must-have for females going out on the town or to the workplace every day. It causes prolonged pressure on the muscles, bones, and tissues of the feet and ankles, on the other hand, may cause chronic foot discomfort or abrupt injuries that need surgical intervention in the feet and ankle. Objective: To determine an association between foot pain and high-heeled shoes in working women. Methods: A cross-sectional study was conducted to measure the prevalence of foot pain among females wearing heeled footwear, focusing only working women. A sample size of 285 was taken. Foot Health Status Questionnaire was used to collect data from the respondents from different areas of Lahore. The data was collected from office workers and school teachers. Considering inclusion and exclusion criteria. females were requested to participate. The questionnaire consisted of 13 questions that were used in this survey. The questionnaire had multiple options out of which only one option was to be selected which was nearest to representing their condition of foot. All the data was analyzed on SPSS (version 25) software. A scoring of 0-100 was used to calculate the results. Results: According to this study, a majority of 162 females had mild to moderate foot pain, 84.4% of females had foot pain and 15.6% of females had no pain. Foot pain had a statistically significant association with walking, climbing stairs, and doing work or activities, (P-value 0.000). Respondents having foot pain couldn't do all the above activities normally. Restrictions and limitations were found among the respondents with foot pain. A P-value of less than 0.05 indicates that there is a significant association between the severity of foot pain and difficulties during work or activities of daily life Conclusions: The study concluded that there is very high prevalence of foot pain (96%) among females wearing high heels. Long term use of high heels significantly affects the foot health and activities of respondents.
References
Lewis DMG, Russell EM, Al-Shawaf L, Ta V, Senveli Z, Ickes W et al. Why Women Wear High Heels: Evolution, Lumbar Curvature, and Attractiveness. Front Psychol. 2017 Nov 13;8:1875. doi: 10.3389/fpsyg.2017.01875.
Broega AC, Righetto M, Ribeiro R. Female high heel shoes: a study of comfort. InIOP Conference Series: Materials Science and Engineering 2017 Oct 1;254(23):232001.
Ko DY, Lee HS. The Changes of COP and Foot Pressure after One Hour's Walking Wearing High-heeled and Flat Shoes. J Phys Ther Sci. 2013 Oct;25(10):1309-12. doi: 10.1589/jpts.25.1309.
Singh NK, Thomas M, Parkes A. High heel shoe. Google Patents. 2016.
Melvin JM, Price C, Preece S, Nester C, Howard D. An investigation into the effects of, and interaction between, heel height and shoe upper stiffness on plantar pressure and comfort. Footwear Science. 2019 Jan 2;11(1):25-34. doi.org/10.1080/19424280.2018.1555862.
Wang M, Gu Y, Baker JS. Analysis of foot kinematics wearing high heels using the Oxford foot model. Technol Health Care. 2018;26(5):815-823. doi: 10.3233/THC-181264.
Rahimi A, Sayah A, Hosseini SM, Baghban AA. Studying the Plantar Pressure Patterns in Women Adapted to High-Heel Shoes during Barefoot Walking. Journal of Clinical Physiotherapy Research. 2017;2(2):70-4.
Gu Y, Rong M, Ruan G. The outsole pressure distribution character during high-heeled walking. Procedia environmental sciences. 2011 Jan 1;8:464-8. doi.org/10.1016/j.proenv.2011.10.073.
Khodair SA, Younes RL. Wearing high heels and plantar fasciitis; MRI evaluation. Imaging. 2019;8(1):1-5. doi: 10.11648/j.ijmi.20200801.11.
Yin CM, Pan XH, Sun YX, Chen ZB. Effects of duration of wearing high-heeled shoes on plantar pressure. Human Movement Science. 2016 Oct 1;49:196-205. doi.org/10.1016/j.humov.2016.06.005.
Smith EO, Helms WS. Natural selection and high heels. Foot & ankle international. 1999 Jan;20(1):55-7. doi.org/10.1177/107110079902000113.
Menz HB, Roddy E, Marshall M, Thomas MJ, Rathod T, Peat GM et al. Epidemiology of shoe wearing patterns over time in older women: associations with foot pain and hallux valgus. Journals of Gerontology Series A: Biomedical Sciences and Medical Sciences. 2016;71(12):1682-7. doi.org/10.1093/gerona/glw004.
Dananberg H, Hughes BG. Heel stabilizer for footwear. Google Patents. 2016.
Chen LM, Hustad KC, Kent RD, Lin YC. Dysarthria in Mandarin-Speaking Children With Cerebral Palsy: Speech Subsystem Profiles. J Speech Lang Hear Res. 2018;61(3):525-48. doi.org/10.1044/2017_JSLHR-S-17-0065.
Zhang X, Li B, Liang K, Wan Q, Vanwanseele B. An optimized design of in-shoe heel lifts reduces plantar pressure of healthy males. Gait & posture. 2016;47:43-7. doi.org/10.1016/j.gaitpost.2016.04.003.
Chorna OD, Guzzetta A, Maitre NL. Vision Assessments and Interventions for Infants 0-2 Years at High Risk for Cerebral Palsy: A Systematic Review. Pediatr Neurol. 2017;76:3-13. doi.org/10.1016/j.pediatrneurol.2017.07.011.
Kumar NV, Prasanna C, Sundar VS, Venkatesan A. High heels footwear causes heel pain and back pain: myth or reality. International Journal of Scientific Study. 2015;3(8):101-4.
Basha FYS, Devi RG, Priya AJ. A survey on comparative effects of wearing high heels among long-term and short-term users. Drug Invention Today. 2018;10(11).
Lee S, Li JX. Effects of high-heeled shoes and asymmetrical load carrying on lower-extremity kinematics during walking in young women. Journal of the American Podiatric Medical Association. 2014;104(1):58-65. doi.org/10.7547/0003-0538-104.1.58.
López DL, López MR, Prego MdlÁB, Mónaco LM, Iglesias MEL, Canosa JLS et al. Quality of life impact related to foot health in a sample of sea workers. Journal of tissue viability. 2015;24(4):146-52. doi.org/10.1016/j.jtv.2015.07.003.
Bennett PJ, Patterson C, Wearing S, Baglioni T. Development and validation of a questionnaire designed to measure foot-health status. Journal of the American Podiatric Medical Association. 1998;88(9):419-28. doi.org/10.7547/87507315-88-9-419.
Sullivan J, Burns J, Adams R, Pappas E, Crosbie J. Plantar heel pain and foot loading during normal walking. Gait & posture. 2015;41(2):688-93. doi.org/10.1016/j.gaitpost.2015.01.025.
Barnish MS, Barnish J. High-heeled shoes and musculoskeletal injuries: a narrative systematic review. BMJ open. 2016;6(1):e010053. doi.org/10.1136/bmjopen-2015-010053.
Hill CL, Gill TK, Menz HB, Taylor AW. Prevalence and correlates of foot pain in a population-based study: the North West Adelaide health study. Journal of foot and ankle research. 2008;1(1):2. doi.org/10.1186/1757-1146-1-2.
Dawson J, Thorogood M, Marks SA, Juszczak E, Dodd C, Lavis G et al. The prevalence of foot problems in older women: a cause for concern. Journal of Public Health. 2002;24(2):77-84. doi.org/10.1093/pubmed/24.2.77.
Kumar N, Prasanna C, Sundar V, Venkatesan A. High heels footwear causes heel pain and back pain: myth or reality. Int J Nurs Stud. 2015;3(8):101-4.
Chua YP, Tan WJ, Yahya T, Saw A. Prevalence of nontraumatic foot pain among urban young working women and its contributing factors. Singapore Med J. 2013;54(11):630-3. doi.org/10.11622/smedj.2013223.
Jabbar S, Sabir S, Irum S, Raza H, Wassi A, Subazwari AB. Prevalence of Forefoot Pain among High Heel Wearing Female Teachers and Students of Different Universities in Faisalabad. Health Science Journal. 2020;14(2):1-4.
Barnish M, Morgan HM, Barnish J. The 2016 HIGh Heels: Health effects And psychosexual BenefITS (HIGH HABITS) study: systematic review of reviews and additional primary studies. BMC Public Health. 2018;18(1):1-13. doi.org/10.1186/s12889-017-4573-4.
McRitchie M, Branthwaite H, Chockalingam N. Footwear choices for painful feet–an observational study exploring footwear and foot problems in women. Journal of foot and ankle research. 2018;11(1):23. doi.org/10.1186/s13047-018-0265-2.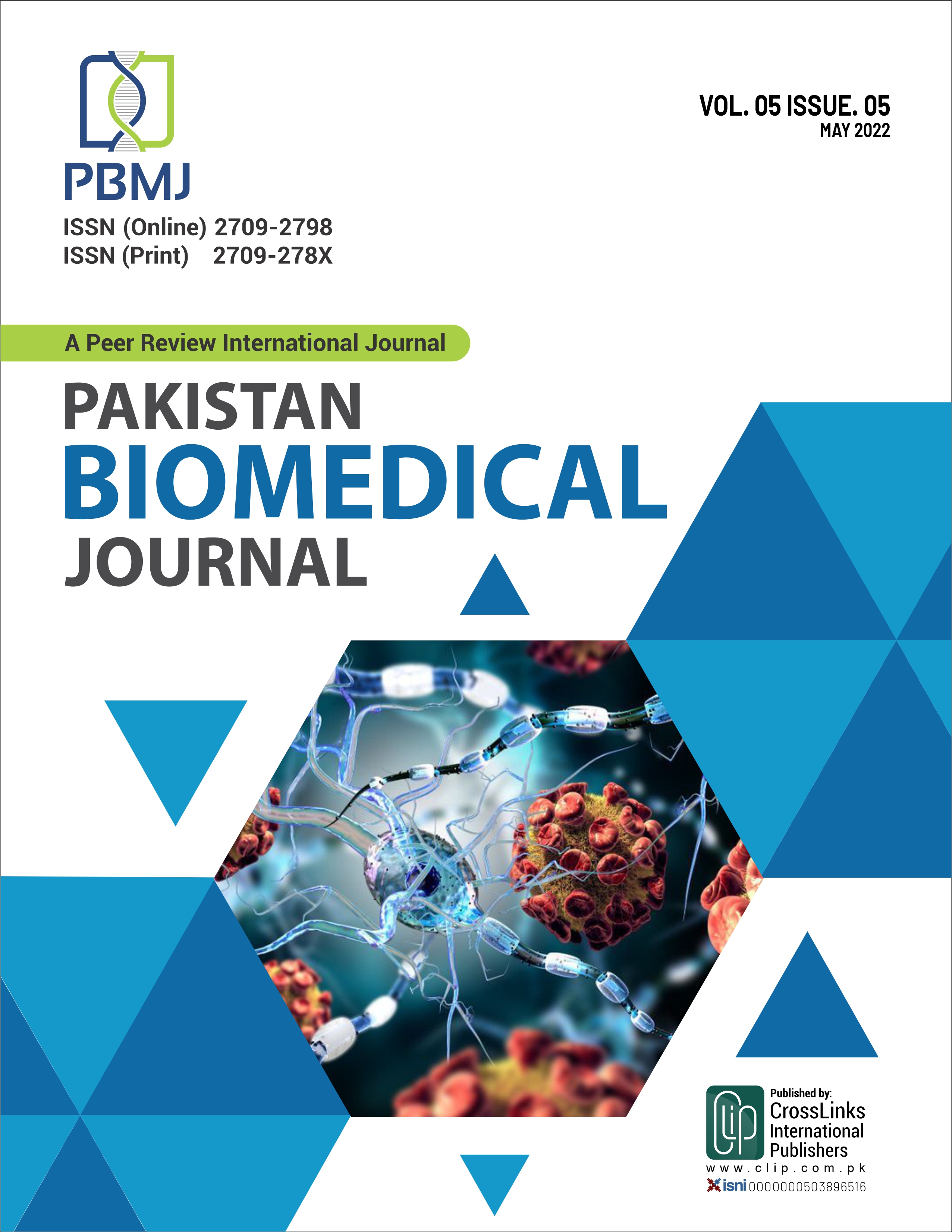 Downloads
How to Cite
Fatima , S. ., Riaz , U. ., Sadia , A. ., Khalid , M. ., Jamal , A. ., & Ilyas, T. . (2022). Association Between Foot Pain and High Heeled Shoes in Working Women: Association between Foot Pain and High Heeled Shoes . Pakistan BioMedical Journal, 5(5), 49–53. https://doi.org/10.54393/pbmj.v5i5.419
License
Copyright (c) 2022 Pakistan BioMedical Journal
This work is licensed under a Creative Commons Attribution 4.0 International License.
This is an open-access journal and all the published articles / items are distributed under the terms of the Creative Commons Attribution License, which permits unrestricted use, distribution, and reproduction in any medium, provided the original author and source are credited. For comments editor@pakistanbmj.com