Association of heavy bag lifting time with postural pain in secondary school students
Keywords:
Posture, Schools, School Bag, Physical Therapy, backpack
Abstract
To determine the association between heavy bag lifting with posture among secondary school students. METHODS: This study was a cross sectional survey. Based on sample of convenience, total 380 Students of both gendersbelonging to Beaconhouse School System, KIPS School System,Educators School and The Punjab School System were included with an age 14 to 17 years (school grade 9 to 12). The data was collected using the Reedco scale and Grimmer's Questionnaire for assessment of posture and, use of heavy bags andits associated pain, respectively. RESULTS: The majority of participants in this consisted of young adults above 12 years (39%) and below 12years (34%) with male predominant (54%). 370 students out of 380 were carrying heavy bags. The types of bags they mostly carry were backpacks (51%), satchel (34%) and others (15%). 48% of these students never used lockers and 40% of them often use locker 55% of them never use waist belt to carry bag.  Most of the students 48% spend 11 to 20 minutes for carrying bag per day.61% of them carry extra load (water bottles, lunch boxes, guide books) with them also. Out of 380 students 246 had pain in different body regions due to heavy bags 64% had neck pain and 53% had upper back pain while 19% had shoulder pain. Out of 184 students that carry bag from 11 to 20 minutes, 115 had poor neck posture, 133 had poor shoulder posture 25 had poor head posture and 5 had poor upper back pain and that carry from 21 to 30 minutes out of 167 students 122 had bad neck posture and 132 had poor shoulder posture 50 had poor head posture 105 had poor upper back posture. CONCLUSION: There was found significant association between heavy bag lifting and poor posture with related pain in regions of cervical followed by upper back in secondary school students.
References
Barkhordari A, Ehrampoush MH, Barkhordari M, Derakhshi F, Barkhoradri M, Mirzaii M. Assessment of school backpack weight and other characteristics in elementary schools, Yazd, Iran. 2013.
Robbins M, Johnson I, Cunliffe C. Encouraging good posture in school children using computers. Clinical Chiropractic. 2009;12(1):35-44.
https://doi.org/10.1016/j.clch.2009.03.003
Cheong A. Why bother with posture?
FAYYAZ A, SHOUKAT F, GILANI SA. Contribution of Bad Posture towards Development of 'Adolescent Scoliosis' among University Students. Journal of Fatima Jinnah Medical University. 2017;11(3).
Nagymáté G, Takács M, Kiss RM. Does bad posture affect the standing balance? Cogent Medicine. 2018;5(1):1503778.
https://doi.org/10.1080/2331205X.2018.1503778
Rai A, Agarawal S. Back problems due to heavy backpacks in school children. IOSR Journal Of Humanities And Social Science (IOSR-JHSS). 2013;10(6):22-6.
https://doi.org/10.9790/0837-1062226
Mitova S, Popova D, Gramatikova M. Postural disorders and spinal deformities in children at primary school age. System for screening, examination, prevention and treatment. Activities in physical education and sport, 4 (2). 2014:172-7.
Lee J-H. Effects of forward head posture on static and dynamic balance control. Journal of physical therapy science. 2016;28(1):274-7.
https://doi.org/10.1589/jpts.28.274
Dianat I, Javadivala Z, Allahverdipour H. School bag weight and the occurrence of shoulder, hand/wrist and low back symptoms among Iranian elementary schoolchildren. Health promotion perspectives. 2011;1(1):76.
Walicka-Cupryś K, Skalska-Izdebska R, Rachwał M, Truszczyńska A. Influence of the weight of a school backpack on spinal curvature in the sagittal plane of seven-year-old children. BioMed research international. 2015;2015.
https://doi.org/10.1155/2015/817913
Turmo Vidal L, Márquez Segura E, Parrilla Bel L, Waern A, editors. Training Body Awareness and Control with Technology Probes: A Portfolio of Co-Creative Uses to Support Children with Motor Challenges. Proceedings of the Fourteenth International Conference on Tangible, Embedded, and Embodied Interaction; 2020.
https://doi.org/10.1145/3374920.3375002
Barkhordari A, Ehrampoush MH, Barkhordari M, Derakhshi F, Mirzaii M. Assessment of school backpack weight and other characteristics in elementary schools, Yazd-Iran. Journals of Community Health Research. 2013;2(1):2-7.
Dugan JE. Teaching the body: A systematic review of posture interventions in primary schools. Educational Review. 2018;70(5):643-61.
https://doi.org/10.1080/00131911.2017.1359821
Rodríguez-Soto AE, Jaworski R, Jensen A, Niederberger B, Hargens AR, Frank LR, et al. Effect of load carriage on lumbar spine kinematics. Spine. 2013;38(13):E783-E91.
https://doi.org/10.1097/BRS.0b013e3182913e9f
Helmy AA, Mohammed AA, Yossif HAE-G. Knowledge and Practices of School Children and Teachers Regarding Musculoskeletal Problems: An Educational Intervention. 2019.
Matlabi H, Behtash HH, Rasouli A, Osmani N. Carrying heavy backpacks and handbags amongst elementary students: Causes and solutions. Science. 2014;4:305-8.
https://doi.org/10.11648/j.sjph.20140204.20
Kamat S, Zula NM, Rayme N, Shamsuddin S, Husain K, editors. The ergonomics body posture on repetitive and heavy lifting activities of workers in aerospace manufacturing warehouse. IOP Conference Series: Materials Science and Engineering; 2017: IOP Publishing.
https://doi.org/10.1088/1757-899X/210/1/012079
Khandan M, Vosoughi S, Poursadeghiyan M, Azizi F, Ahounbar E, Koohpaei A. Ergonomic assessment of posture risk factors among Iranian Workers: An alternative to conventional methods. Iranian Rehabilitation Journal. 2018;16(1):11-6.
https://doi.org/10.29252/nrip.irj.16.1.11
Farhood HF. Low back pain in schoolchildren: the role of school bag weight and carrying way. J Nat Sci Res. 2013;3(8):156-64.
Dockrell S, Simms C, Blake C. Schoolbag weight limit: can it be defined? Journal of School Health. 2013;83(5):368-77.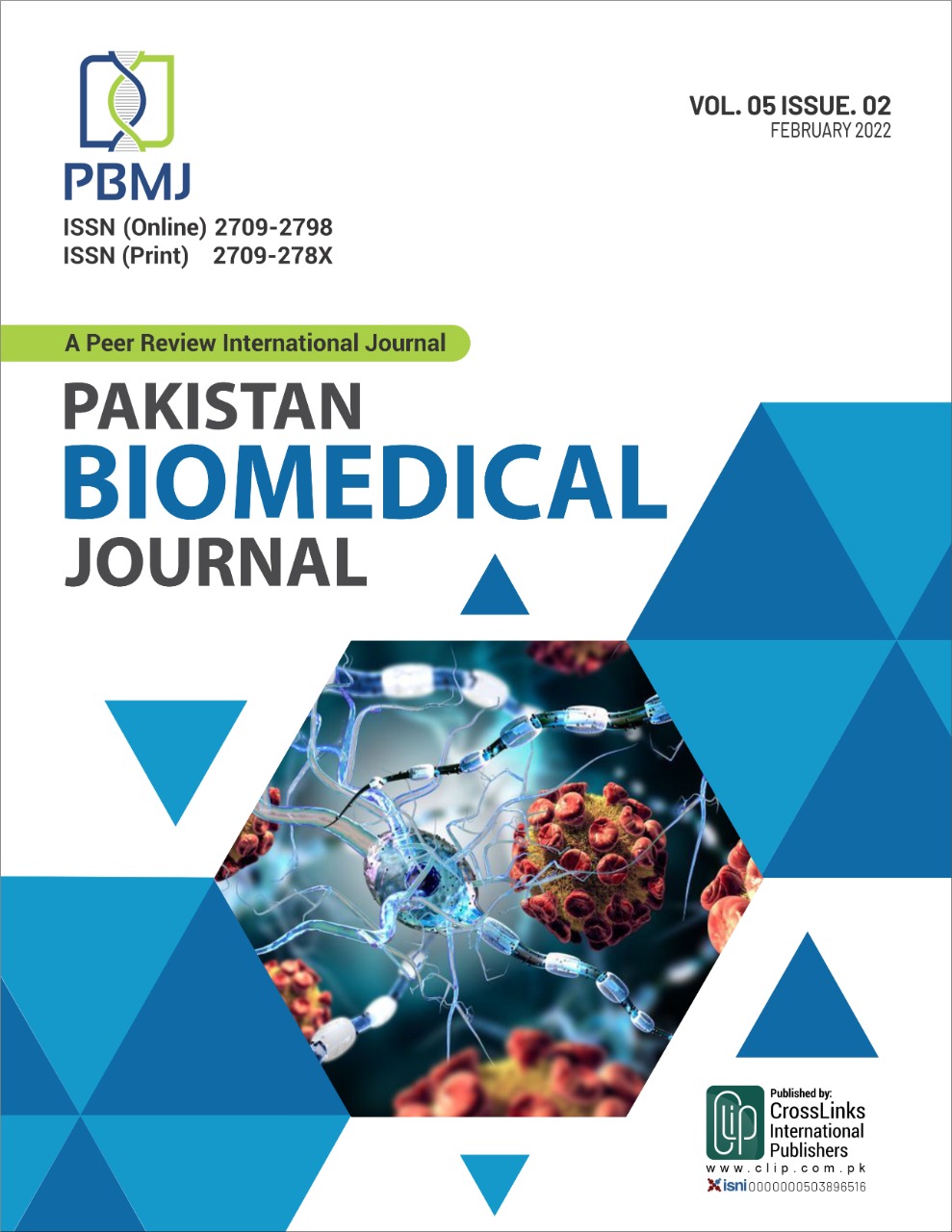 Downloads
CITATION
DOI: 10.54393/pbmj.v5i2.232
How to Cite
Zaheer, M. ., Fatima, N. ., Riaz, U. ., & Haseeb, N. . (2022). Association of heavy bag lifting time with postural pain in secondary school students. Pakistan BioMedical Journal, 5(2), 64–67. https://doi.org/10.54393/pbmj.v5i2.232
License
Copyright (c) 2021 Pakistan BioMedical Journal
This work is licensed under a Creative Commons Attribution 4.0 International License.
This is an open-access journal and all the published articles / items are distributed under the terms of the Creative Commons Attribution License, which permits unrestricted use, distribution, and reproduction in any medium, provided the original author and source are credited. For comments editor@pakistanbmj.com