Prevalence of Osteoporosis Following Menopause
Osteoporosis Following Menopause
Keywords:
Bone Density, Fragility fractures, Menopause, Osteoporosis
Abstract
Menopause which is the last menstrual period, is an unalterable and universal part of the age progression involving the female reproductive system. Menopause is labeled after 12 consecutive months of amenorrheic stage. The type of osteoporosis which is most commonly occurred after menopause can be stated as primary type 1, which is also termed as postmenopausal osteoporosis. The current study was done to evaluate the prevalence of osteoporosis following menopause in women of Pakistan. Methods: A descriptive study was conducted on 100 females having age above 40 years. The sample size was calculated using the WHO calculator keeping the Study had a six months' time period and data was collected from Lahore General Hospital and Fatima Memorial Hospital. Nonprobability convenience sampling technique was used. The bone mineral density was measured using the DEXA scan. Osteoporosis following menopause was labeled on the basis of WHO criteria. The selected variables were described utilizing the descriptive statistics which is frequency tables, bar graphs and percentages. Results: Dual energy X-Ray absorptiometry showed that n=39 (39%) participants were severely osteoporotic with fractures, n=19 (19%) females were found to be osteoporotic, n=29 (29%) osteopenic and n=13 (13%) were normal. Conclusion: Females following early menopause are at high risk of low bone density that is osteoporosis. Fragility of bone is increased in menopausal women leading to fall injuries and fractures.
References
Kanis J, Burlet N, Cooper C, Delmas P, Reginster J-Y, Borgstrom F, et al. European guidance for the diagnosis and management of osteoporosis in postmenopausal women. Osteoporosis International. 2008;19(4):399-428. https://doi.org/10.1007/s00198-008-0560-z
Kanis J, McCloskey E, Johansson H, Cooper C, Rizzoli R, Reginster J-Y. European guidance for the diagnosis and management of osteoporosis in postmenopausal women. Osteoporosis International. 2013;24(1):23-57. https://doi.org/10.1007/s00198-012-2074-y
Organization WH. Assessment of fracture risk and its application to screening for postmenopausal osteoporosis: report of a WHO study group [meeting held in Rome from 22 to 25 June 1992]. 1994.
Col NF, Fairfield KM, Ewan-Whyte C, Miller H. Menopause. Annals of internal medicine. 2009;150(7):ITC4-1. https://doi.org/10.7326/0003-4819-150-7-200904070-01004
Crepaldi G, Romanato G, Tonin P, Maggi S. Osteoporosis and body composition. Journal of endocrinological investigation. 2007;30(6 Suppl):42-7.
Duque G, Demontiero O, Troen B. Prevention and treatment of senile osteoporosis and hip fractures. Minerva medica. 2009;100(1):79-94.
Shokrollahi P, Rivaz M, Robatjaze M. Prevalence of risk factors of osteoporosis in post-menopausal women in Shiraz, southern Iran. Iranian Red Crescent Medical Journal. 2008;2008(3):193-6.
Van der Voort D, Van der Weijer P, Barentsen R. Early menopause: increased fracture risk at older age. Osteoporosis International. 2003;14(6):525-30. https://doi.org/10.1007/s00198-003-1408-1
Gupta R, Al-saeed O, Azizieh F, Albusairi A, Gupta P, Mohammed A. Evaluation of bone mineral density in postmenopausal women in Kuwait. Journal of Clinical Densitometry. 2012;15(2):211-6. https://doi.org/10.1016/j.jocd.2011.10.006
Arakane M, Castillo C, Rosero MF, Peñafiel R, Pérez-López FR, Chedraui P. Factors relating to insomnia during the menopausal transition as evaluated by the Insomnia Severity Index. Maturitas. 2011;69(2):157-61. https://doi.org/10.1016/j.maturitas.2011.02.015
Pien GW, Sammel MD, Freeman EW, Lin H, DeBlasis TL. Predictors of sleep quality in women in the menopausal transition. Sleep. 2008;31(7):991-9.
Freeman EW, Sammel MD, Lin H, Gracia CR, Pien GW, Nelson DB, et al. Symptoms associated with menopausal transition and reproductive hormones in midlife women. Obstetrics & Gynecology. 2007;110(2, Part 1):230-40. https://doi.org/10.1097/01.AOG.0000270153.59102.40
Cunha-Henriques S, Costa-Paiva L, Pinto-Neto AM, Fonsechi-Carvesan G, Nanni L, Morais SS. Postmenopausal women with osteoporosis and musculoskeletal status: a comparative cross-sectional study. Journal of clinical medicine research. 2011;3(4):168. https://doi.org/10.4021/jocmr537w
Carvalho M, Kulak CAM, Borba VZC. Prevalence of hypercalciuria in postmenopausal women with osteoporosis. Arquivos Brasileiros de Endocrinologia & Metabologia. 2012;56(1):01-5. https://doi.org/10.1590/S0004-27302012000100001
Svejme O, Ahlborg H, Nilsson JÅ, Karlsson M. Early menopause and risk of osteoporosis, fracture and mortality: a 34‐year prospective observational study in 390 women. BJOG: An International Journal of Obstetrics & Gynaecology. 2012;119(7):810-6.
https://doi.org/10.1111/j.1471-0528.2012.03324.x
Unni J, Garg R, Pawar R. Bone mineral density in women above 40 years. Journal of mid-life health. 2010;1(1):19. https://doi.org/10.4103/0976-7800.66989
Gopinathan NR, Sen RK, Behera P, Aggarwal S, Khandelwal N, Sen M. Awareness of osteoporosis in postmenopausal Indian women: An evaluation of Osteoporosis Health Belief Scale. Journal of mid-life health. 2016;7(4):180. https://doi.org/10.4103/0976-7800.195697
Aslan A, Karakoyun O, Güler E, Aydin S, Gök M, Akkurt S. Evaluation of bone mineral density, osteoporosis prevalence and regional risk factors in Turkish women living in Kastamonu: KASTÜRKOS study. Eklem hastaliklari ve cerrahisi= Joint diseases & related surgery. 2012;23(2):62-7.
Demir B, Haberal A, Geyik P, Baskan B, Ozturkoglu E, Karacay O, et al. Identification of the risk factors for osteoporosis among postmenopausal women. Maturitas. 2008;60(3):253-6. https://doi.org/10.1016/j.maturitas.2008.07.011
Banks E, Reeves GK, Beral V, Balkwill A, Liu B, Roddam A, et al. Hip fracture incidence in relation to age, menopausal status, and age at menopause: prospective analysis. PLoS medicine. 2009;6(11):e1000181. https://doi.org/10.1371/journal.pmed.1000181
Sakondhavat C, Thangwijitra S, Soontrapa S, Kaewrudee S, Somboonporn W. Prevalence of osteoporosis in postmenopausal women at Srinagarind Hospital, Khon Kaen University. Maturitas. 2009;63:S94. https://doi.org/10.1016/S0378-5122(09)70374-3
van den Bergh JP, van Geel TA, Lems WF, Geusens PP. Assessment of individual fracture risk: FRAX and beyond. Current osteoporosis reports. 2010;8(3):131-7. https://doi.org/10.1007/s11914-010-0022-3
Cho GJ, Park HT, Shin JH, Hur JY, Kim SH, Lee KW, et al. The relationship between blood mercury level and osteoporosis in postmenopausal women. Menopause. 2012;19(5):576-81. https://doi.org/10.1097/gme.0b013e3182377294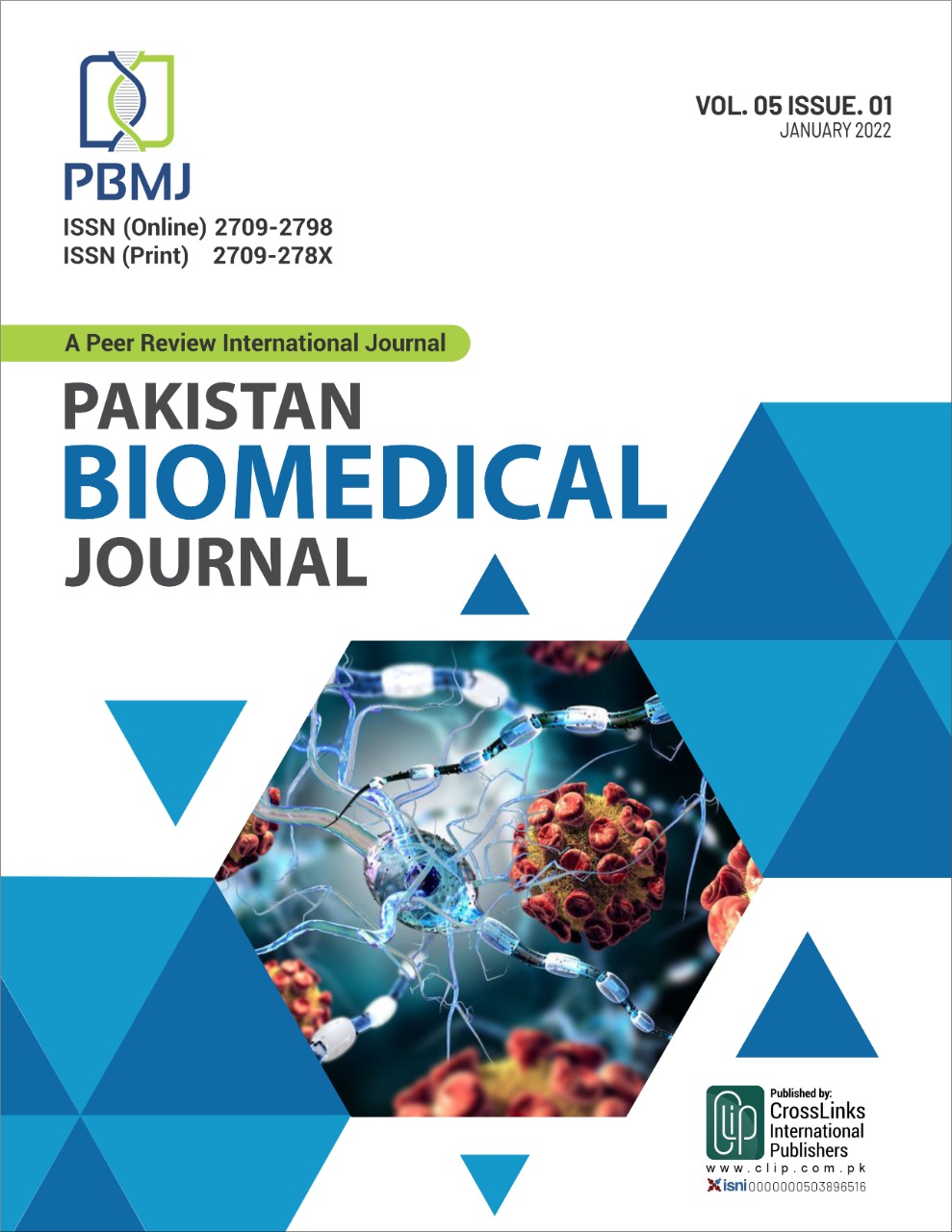 Downloads
CITATION
DOI: 10.54393/pbmj.v5i1.254
How to Cite
Niaz, T. ., Riaz, U. ., Zaheer, M. ., Shahzadi, T. ., Ayub, R., & Umar, B. . (2022). Prevalence of Osteoporosis Following Menopause: Osteoporosis Following Menopause. Pakistan BioMedical Journal, 5(1), 150–153. https://doi.org/10.54393/pbmj.v5i1.254
License
Copyright (c) 2021 Pakistan BioMedical Journal
This work is licensed under a Creative Commons Attribution 4.0 International License.
This is an open-access journal and all the published articles / items are distributed under the terms of the Creative Commons Attribution License, which permits unrestricted use, distribution, and reproduction in any medium, provided the original author and source are credited. For comments editor@pakistanbmj.com