Translating And Validating of The Foot & Ankle Disability Index (FADI) Questionnaire In Urdu
Keywords:
Validation, Translation, Cultural adaptation, Evaluation scale, Quality of life, FADI, Urdu
Abstract
To determine the translation and validation of questionnaire FADI into Urdu.METHODS:It was a cross cultural adaptation study. Data of 130 patients of age 16 to 50 year, was taken from hospital, general population or the people who are visiting orthopedic surgeon in the duration of 6 months. Guidelines of Gullimen F have been followed by researcher for this study. RESULTS:The results remained in the favor of Urdu translation. Value of the cronbach alpha coefficient (0.96-0.97) showed the excellent internal consistency. Composite reliability (CR) i.e 0.964 indicates excellent validity. Average variance extracts (AVE) (0.532) which indicates that all the items are having acceptable convergent validity. Intra-class correlation coefficient (ICC) value (0.966) indicates the excellent consistency. P value of FADI index 1.000 and P value of Urdu score .059 showed that there is non-significant difference of mean Urdu score with English score. Kappa statistics of all the items are mentioned in statistical results.CONCLUSION:This study concluded that The FOOT & ANKLE DISABILITY INDEX (FADI) QUESTIONNAIRE converted in Urdu have excellent internal consistency, high reliability of the items, excellent validity and acceptable convergent validity.
References
Guillemin F, Bombardier C, Beaton D. Cross-cultural adaptation of health-related quality of life measures: literature review and proposed guidelines. J Clin Epidemiol. 1993;46(12):1417-32. https://doi.org/10.1016/0895-4356(93)90142-N
Herdman M, Fox-Rushby J, Badia X. A Model of Equivalence in the Cultural Adaptation of HRQoL Instruments: The Universalist Approach. Quality of Life Research. 1998;7(4):323-35. https://doi.org/10.1023/A:1008846618880
Wang W-L, Lee H-L, Fetzer S. Challenges and Strategies of Instrument Translation. Western journal of nursing research. 2006;28:310-21.
https://doi.org/10.1177/0193945905284712
Andrews S, Sorensen JL, Guydish J, Delucchi K, Greenberg B. Knowledge and Attitudes About Methadone Maintenance Among Staff Working in a Therapeutic Community. J Maint Addict. 2005;3(1):47-59. https://doi.org/10.1300/J126v03n01_05
Duarte Bonini Campos JA, Dias do Prado C. Cross-cultural adaptation of the Portuguese version of the Patient-Generated Subjective Global Assessment. Nutr Hosp. 2012;27(2):583-9.
de Lima Barroso BI, Galvão CRC, da Silva LB, Lancman S. A Systematic Review of Translation and Cross-Cultural Adaptation of Instruments for the Selection of Assistive Technologies. Occup Ther Int. 2018;2018:4984170. https://doi.org/10.1155/2018/4984170
Carcia CR, Martin RL, Drouin JM. Validity of the Foot and Ankle Ability Measure in athletes with chronic ankle instability. J Athl Train. 2008;43(2):179-83. https://doi.org/10.4085/1062-6050-43.2.179
Eechaute C, Vaes P, Van Aerschot L, Asman S, Duquet W. The clinimetric qualities of patient-assessed instruments for measuring chronic ankle instability: a systematic review. BMC Musculoskelet Disord. 2007;8:6-. https://doi.org/10.1186/1471-2474-8-6
Rehman A, Jingdong L, Hussain I. The province-wise literacy rate in Pakistan and its impact on the economy. Pacific Science Review B: Humanities and Social Sciences. 2015;1(3):140-4. https://doi.org/10.1016/j.psrb.2016.09.001
Hale SA, Hertel J. Reliability and Sensitivity of the Foot and Ankle Disability Index in Subjects With Chronic Ankle Instability. J Athl Train. 2005;40(1):35-40.
Leigheb M, Rava E, Vaiuso D, Samaila EM, Pogliacomi F, Bosetti M, et al. Translation, cross-cultural adaptation, reliability, and validation of the italian version of the Foot and Ankle Disability Index (FADI). Acta Biomed. 2020;91(4-S):160-6.
Short, Communication, Haroon H. Cross cultural adaptation of shoulder pain and disability index from English into Urdu language: A study of linguistic validity. 2019.
Farooq A, Rauf K. Translation and Adaptation of Subjective Job Stress Scale into Urdu. Pakistan Business Review. 2014;16:177-95.
Ateef M, Kulandaivelan S, Alqahtani M. Cross-Cultural Validation of Urdu Version KOOS in Indian Population with Primary Knee Osteoarthritis. Int J Rheumatol. 2017;2017:1206706. https://doi.org/10.1155/2017/1206706
Amjad F, Mohseni-Bandpei MA, Gilani SA, Ahmad A, Waqas M, Hanif A. Urdu version of Oswestry disability index; a reliability and validity study. BMC Musculoskelet Disord. 2021;22(1):311. https://doi.org/10.1186/s12891-021-04173-0
Khan MN, Akhter M, Ayub M, Alam S, Laghari N. Translation and validation of Quality of life scale, the brief version. Journal of the College of Physicians and Surgeons--Pakistan : JCPSP. 2003;13:98-100.
Allana S, Ali T, Khowaja K, Khan AH, Moser DK. Validity and reliability testing: Urdu translated modified Response to Symptoms Questionnaire. J Coll Physicians Surg Pak. 2013;23(6):383-7.
Chaudhary FA, Ahmad B. The relationship between psychosocial distress and oral health status in patients with facial burns and mediation by oral health behaviour. BMC Oral Health. 2021;21(1):172. https://doi.org/10.1186/s12903-021-01532-0
Naeem F, Kingdon D, Saeed AA, Zaidi Q, Ayub M. Urdu translation of the ICD-10 chapter V (F), research diagnostic criteria (RDC): process and principles of translation. Transcult Psychiatry. 2011;48(4):484-95. https://doi.org/10.1177/1363461511409282
Salman M, Khan A, Sulaiman S, Saleem F, Asif N, Ul Mustafa Z, et al. Psychometric Validation of the Urdu Version of the Jenkins Sleep Evaluation Questionnaire. Journal of Pharmacy Practice and Community Medicine. 2018;4:04-6. https://doi.org/10.5530/jppcm.2018.1.2
Reichenheim ME, Moraes CL. [Operationalizing the cross-cultural adaptation of epidemiological measurement instruments]. Rev Saude Publica. 2007;41(4):665-73.
Gjersing L, Caplehorn J, Clausen T. Cross-cultural adaptation of research instruments: Language, setting, time and statistical considerations. BMC medical research methodology. 2010;10:13. https://doi.org/10.1186/1471-2288-10-13
Lewthwaite M. A study of international students' perspectives on cross-cultural adaptation. International Journal for the Advancement of Counselling. 1996;19:167-85. https://doi.org/10.1007/BF00114787
Guillemin F. Cross-cultural adaptation and validation of health status measures. Scand J Rheumatol. 1995;24(2):61-3.
https://doi.org/10.3109/03009749509099285
Epstein J, Santo RM, Guillemin F. A review of guidelines for cross-cultural adaptation of questionnaires could not bring out a consensus. Journal of Clinical Epidemiology. 2015;68(4):435-41. https://doi.org/10.1016/j.jclinepi.2014.11.021
De Noronha M, Refshauge KM, Kilbreath SL, Figueiredo VG. Cross-cultural adaptation of the Brazilian-Portuguese version of the Cumberland Ankle Instability Tool (CAIT). Disabil Rehabil. 2008;30(26):1959-65. https://doi.org/10.1080/09638280701809872
Analay Akbaba Y, Celik D, Ogut RT. Translation, Cross-Cultural Adaptation, Reliability, and Validity of Turkish Version of the American Orthopaedic Foot and Ankle Society Ankle-Hindfoot Scale. J Foot Ankle Surg. 2016;55(6):1139-42. https://doi.org/10.1053/j.jfas.2016.06.001
Nauck T, Lohrer H. Translation, Cross-Cultural Adaption and Validation of the German Version of the Foot and Ankle Ability Measure for Patients with Chronic Ankle Instability. British journal of sports medicine. 2009;45:785-90. https://doi.org/10.1136/bjsm.2009.067637
Beaton DE, Bombardier C, Guillemin F, Ferraz MB. Guidelines for the Process of Cross-Cultural Adaptation of Self-Report Measures. Spine. 2000;25(24). https://doi.org/10.1097/00007632-200012150-00014
Dijksterhuis A, Knippenberg A, Holland R. Evaluating Behavior Priming Research: Three Observations and a Recommendation. Social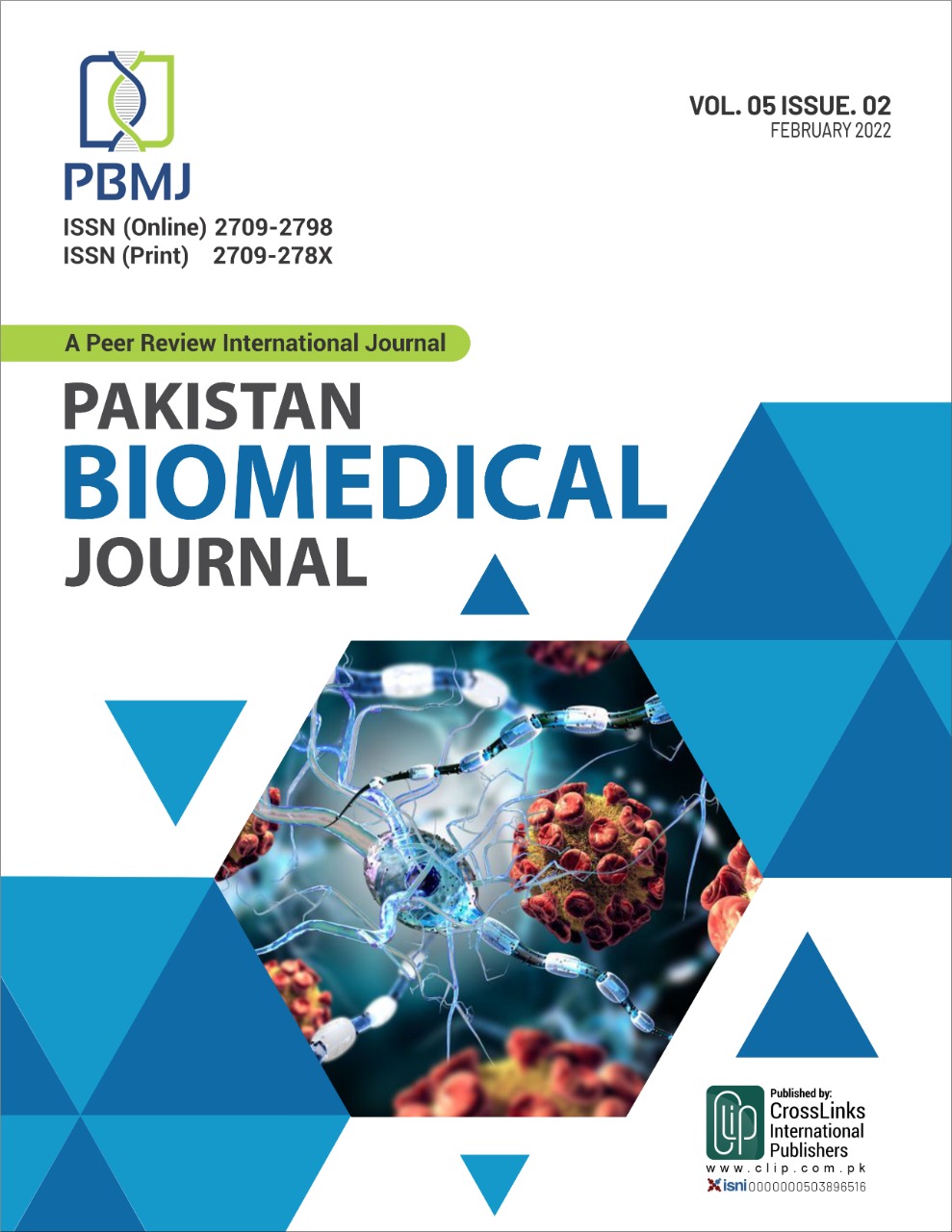 Downloads
How to Cite
Rehman, M. ul . ., Umer, M., Riaz , M. U., Zaheer, M. ., Mian, T. M., & Altaf, S. (2022). Translating And Validating of The Foot & Ankle Disability Index (FADI) Questionnaire In Urdu. Pakistan BioMedical Journal, 5(2), 55–58. https://doi.org/10.54393/pbmj.v5i2.243
License
Copyright (c) 2021 Pakistan BioMedical Journal
This work is licensed under a Creative Commons Attribution 4.0 International License.
This is an open-access journal and all the published articles / items are distributed under the terms of the Creative Commons Attribution License, which permits unrestricted use, distribution, and reproduction in any medium, provided the original author and source are credited. For comments editor@pakistanbmj.com