Computed Tomography Scan Images of Sphenoidal Sinus Septa and Their Relations to the Internal Carotid Artery
CT Scan Images of Sphenoidal Sinus Septa
Keywords:
Sphenoid Sinus, Septation, Internal Carotid Artery, Computed Tomography
Abstract
The trigeminal nerve and optic nerve, cavernous sinus optic chiasm, pituitary gland, and internal carotid artery are all encircled by the sphenoid sinus, which is located in the sphenoid. More than one asymmetrical vertical septa separate the sphenoidal sinus. Because of its position and linkages with important neurovascular and glandular systems, the sphenoid sinus poses a substantial diagnostic and therapeutic challenge. Objective: To look at the relationship between sphenoid sinus septation and the number and position of the internal carotid artery in people from Peshawar, Pakistan. Methods: The prospective study was conducted from November 2019 to April 2020 at the Radiology Department of a Khyber Teaching Hospital, Peshawar, the CT image was performed on 150 patients (100 males, 50 females) of the paranasal sinuses. From the originating axial slices, secondary coronal scans were obtained. Only individuals with no sphenoid sinus problems were included in the research to examine anatomical changes in the septation of the sphenoid sinus. Results: According to CT scans of the participants, 34% of males and 23% of females had more than one sphenoid septum, with 24 men accounting for 20.8 % and 16 female cases (16.8%) having the septum attached to the posterolateral wall of the sinus of the carotid canal. Conclusions: Prior to surgery, a CT scan of the paranasal sinuses is essential to rule out any potential complications caused by anatomical differences.
References
Aijaz A, Khan N, Mubeen S and Rasheed B. Anatomical variations of human sphenoid sinus in terms of volume and septation pattern in a subset of Pakistani population using computed tomographic images. Journal of the Pakistan Medical Association. 2022;72(4):702-6. doi.org/10.47391/JPMA.3543.
Abdulghani YS and Salih KA. Sphenoidal Air Sinuses Septum Anatomical Variations among Sudanese-A Radiological Study. Journal of Medical and Dental Science Research. 2021;8(4):39-42.
Amusa YB, Eziyi JA, Akinlade O, Famurewa OC, Adewole SA and Nwoha PU et al. Volumetric measurements and anatomical variants of paranasal sinuses of Africans (Nigerians) using dry crania. International journal of medicine and medical sciences. 2011;3(10):399-03. doi.org/10.5897/IJMMS.9000254.
Yousef M, Sulieman A, Hassan H, Ayad C, Bushara L and Saeed A et al. Computed tomography evaluation of paranasal sinuses lesions. Sudan Medical Monitor. 2014;9(3):123. doi: 10.4103/1858-5000.149837.
Yazici D. The Analysis of Computed Tomography of Paranasal Sinuses in Nasal Septal Deviation. J Craniofac Surg. 2019;30(2):e143-e147. doi: 10.1097/SCS.0000000000005077.
Adil R, Qayyum A and Qayyum A. Correaltion of X rays and computed tomography in paranasal sinus diseases. PAFMJ. 2011 Sep 30;61(3).
Vincent TE and Gendeh BS. The association of concha bullosa and deviated nasal septum with chronic rhinosinusitis in functional endoscopic sinus surgery patients. Med J Malaysia. 2010;65(2):108-11.
Jaworek-Troć J, Zarzecki M, Zamojska I, Troć P, Chrzan R and Zawiliński J et al. The total number of septa and antra in the sphenoid sinuses: evaluation before the FESS. Folia Medica Cracoviensia. 2018;58(3). DOI: 10.24425/fmc.2018.125073.
Farhan N, Naqvi SU, Rasheed B, Sattar A, Khan M and Rahim A et al. Identification of Significant Anatomical Variations in the Nose and Anterior Skull Base Using Computed Tomography: A Cross-Sectional Study. Cureus. 2020;12(6):e8449. doi: 10.7759/cureus.8449.
Gibelli D, Cellina M, Gibelli S, Cappella A, Oliva AG and Termine G et al. Relationship between sphenoid sinus volume and accessory septations: A 3D assessment of risky anatomical variants for endoscopic surgery. Anat Rec (Hoboken). 2020;303(5):1300-1304. doi: 10.1002/ar.24245.
Fadda GL, Petrelli A, Urbanelli A, Castelnuovo P, Bignami M and Crosetti E et al. Risky anatomical variations of sphenoid sinus and surrounding structures in endoscopic sinus surgery. 2022. doi.org/10.21203/rs.3.rs-1519047/v1.
Raseman J, Guryildirim M, Beer-Furlan A, Jhaveri M, Tajudeen BA and Byrne RW et al. Preoperative Computed Tomography Imaging of the Sphenoid Sinus: Striving Towards Safe Transsphenoidal Surgery. J Neurol Surg B Skull Base. 2020;81(3):251-262. doi: 10.1055/s-0039-1691831.
DeLano MC, Fun FY and Zinreich SJ. Relationship of the optic nerve to the posterior paranasal sinuses: a CT anatomic study. AJNR Am J Neuroradiol. 1996;17(4):669-75.
Papadopoulou AM, Chrysikos D, Samolis A, Tsakotos G and Troupis T. Anatomical Variations of the Nasal Cavities and Paranasal Sinuses: A Systematic Review. Cureus. 2021;13(1):e12727. doi: 10.7759/cureus.12727.
Kantarci M, Karasen RM, Alper F, Onbas O, Okur A and Karaman A. Remarkable anatomic variations in paranasal sinus region and their clinical importance. Eur J Radiol. 2004;50(3):296-302. doi: 10.1016/j.ejrad.2003.08.012.
Idowu OE, Balogun BO and Okoli CA. Dimensions, septation, and pattern of pneumatization of the sphenoidal sinus. Folia Morphol (Warsz). 2009;68(4):228-32.
Hamid O, El Fiky L, Hassan O, Kotb A and El Fiky S. Anatomic Variations of the Sphenoid Sinus and Their Impact on Trans-sphenoid Pituitary Surgery. Skull Base. 2008;18(1):9-15. doi: 10.1055/s-2007-992764.
BADEMCİ G and Birsen ÜN. Surgical importance of neurovascular relationships of paranasal sinus region. Turkish Neurosurgery. 2005;15(2).
Unal B, Bademci G, Bilgili YK, Batay F and Avci E. Risky anatomic variations of sphenoid sinus for surgery. Surg Radiol Anat. 2006;28(2):195-201. doi: 10.1007/s00276-005-0073-9.
Kim D, Kim S, Pak MG and Bae WY. A Case of Small Cell Carcinoma Originated from Sphenoid Sinus in Patient with Recurrent Pituitary Tumor. Journal of Rhinology. 2021;28(2):110-5. doi.org/10.18787/jr.2021.00351.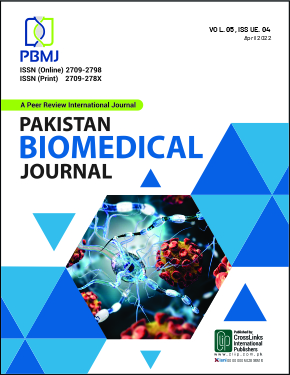 Downloads
CITATION
DOI: 10.54393/pbmj.v5i4.395
How to Cite
Khan, Z. S. ., Afridi, S. U., Afridi, M. I., Daud, F. ., Abdul Basit, S. ., Ali, F. ., Ateeq, M. ., & Ullah, I. . (2022). Computed Tomography Scan Images of Sphenoidal Sinus Septa and Their Relations to the Internal Carotid Artery: CT Scan Images of Sphenoidal Sinus Septa. Pakistan BioMedical Journal, 5(4), 185–189. https://doi.org/10.54393/pbmj.v5i4.395
License
Copyright (c) 2022 Pakistan BioMedical Journal
This work is licensed under a Creative Commons Attribution 4.0 International License.
This is an open-access journal and all the published articles / items are distributed under the terms of the Creative Commons Attribution License, which permits unrestricted use, distribution, and reproduction in any medium, provided the original author and source are credited. For comments editor@pakistanbmj.com