Association Between Screen-Time and Dietary Habits Among Students Of 11-25 Years
Screen-Time and Dietary Habits Among students
Keywords:
Screen Time, Eating Habits, Eating Patterns, Electronic Gadgets
Abstract
The continuous technological advancement has provided innovative and attractive electronic devices that led individuals to spend longer times in front of screens. Longer periods of screen time have been linked to poor dietary habits including higher consumption of sugar, low nutritional quality foods like french fries, refined grain products, snacks and desserts, lower intakes of fiber, vegetables, fruits, and whole grains. Objective: To compare the association between screen time and eating habits among the students of 11 to 25 years. Methodology: A cross-sectional study was conducted to evaluate eating habits and screen time of 150 students from different schools, colleges and universities of Lahore. Participants were selected through non-probability convenient sampling. Data were collected using a self- constructed questionnaire. In exclusion criteria, students off the selected age group, having no screen time and non-cooperative individuals were excluded. SPSS version 25.0 was used for data analysis. Results: Total participants of study were 150. Few of them were obese (8%) and more were overweight (26%). Some of them were spending 3-5 hours on screen (23%) while more were spending greater than 7 hours (32%). Mostly skipped breakfast (54%), delayed meals (45%), ate above planned limit (57%). Majority consumed fried food (56%) and sweets (44%) while using electronic gadgets. Conclusions: High prevalence of screen time had negatively affected student's eating patterns. Students with longer screen time usually consumed fast food, junk food, sugary desserts, salty snacks and caffeinated beverages as snacks.
References
Delfino LD, dos Santos Silva DA, Tebar WR, Zanuto EF, Codogno JS, Fernandes RA, Christofaro DG. Screen time by different devices in adolescents: association with physical inactivity domains and eating habits. The Journal of sports medicine and physical fitness. 2017 Apr; 58(3):318-25. doi: 10.23736/s0022-4707.17.06980-8
Kelishadi R, Mozafarian N, Qorbani M, Maracy MR, Motlagh ME, Safiri S, Ardalan G, Asayesh H, Rezaei F, Heshmat R. Association between screen time and snack consumption in children and adolescents: The CASPIAN-IV study. Journal of Pediatric Endocrinology and Metabolism. 2017 Feb; 30(2):211-19. doi.org/10.1515/jpem-2016-0312
Christofaro DG, De Andrade SM, Mesas AE, Fernandes RA, Farias Júnior JC. Higher, screen time is associated with overweight, poor dietary habits, and physical inactivity in Brazilian adolescents, mainly among girls. European Journal of Sport Science 2016; 16:498-506. doi.org/10.1080/17461391.2015.1068868
Tremblay MS, LeBlanc AG, Janssen I, Kho ME, Hicks A, Murumets K, Canadian sedentary behaviour guidelines for children and youth. Applied Physiology, Nutrition, and Metabolism 2011; 36:59-71. doi.org/10.1139/H11-012
Hamar P, Biddle S, Soos I, Takacs B, Huszar A. The prevalence of sedentary behaviours and physical activity in Hungarian youth. European Journal of Public Health. 2010 Feb; 20(1):85-90. doi.org/10.1093/eurpub/ckp100
Dubey M, Nongkynrih B, Gupta SK, Kalaivani M, Goswami AK, Salve HR. Screen-based media use and screen time assessment among adolescents residing in an Urban Resettlement Colony in New Delhi, India. Journal of Family Medicine and Primary Care. 2018 Nov; 7(6):1236-42.doi: 10.4103/jfmpc.jfmpc_190_18
Strasburger VC, Jordan AB, Donnerstein E. Health effects of media on children and adolescents. Pediatrics. 2010 Apr; 125(4):756-67. doi.org/10.1542/peds.2009-2563
Busse P, Díaz R. What are the television viewing and eating habits of children in Peru. Global health promotion. 2016 Mar; 23(1):50-60. doi.org/10.1177/1757975914547923
Christensen MA, Bettencourt L, Kaye L, Moturu ST, Nguyen KT, Olgin JE, Pletcher MJ, Marcus GM. Direct measurements of smartphone screen-time: relationships with demographics and sleep. PloS one. 2016 Nov; 11(11):e0165331. doi.org/10.1371/journal.pone.0165331
Moradi G, Mostafavi F, Azadi N, Esmaeilnasab N, Nouri B. Evaluation of screen time activities and their relationship with physical activity, overweight and socioeconomic status in children 10-12 years of age in Sanandaj, Iran: A cross-sectional study in 2015. Medical Journal of the Islamic Republic of Iran. 2016; 30:448-54.
Langøy A, Smith OR, Wold B, Samdal O, Haug EM. Associations between family structure and young people's physical activity and screen time behaviours. BMC Public Health. 2019 Dec; 19(1):1-10. doi.org/10.1186/s12889-019-6740-2
Ford ES, Schulze MB, Kroeger J, Pischon T, Bergmann MM, Boeing H. Television watching and incident diabetes: findings from the European Prospective Investigation into Cancer and Nutrition–Potsdam Study. Journal of Diabetes. 2010 Mar; 2(1):23-7. DOI:
Vizcaino M, Buman M, DesRoches T, Wharton C. From TVs to tablets: the relation between device-specific screen time and health-related behaviours and characteristics. BMC Public Health. 2020 Dec; 20(1):1-10. doi.org/10.1186/s12889-020-09410-0
Guran T, Bereket AB. The international epidemic of childhood obesity and television viewing. Minerva Pediatr. 2011 Dec 1;63(6):483-90.
Guran T, Turan S, Akcay T, Degirmenci F, Avci O, Asan A, Erdil E, Majid A, Bereket A. Content analysis of food advertising in Turkish television. Journal of Paediatrics and Child Health. 2010 Jul; 46(7‐8):427-430. doi.org/10.1111/j.1440-1754.2010.01753.x
Kolovos S, Jimenez-Moreno AC, Pinedo-Villanueva R, Cassidy S, Zavala GA. Association of sleep, screen time and physical activity with overweight and obesity in Mexico. Eating and Weight Disorders-Studies on Anorexia, Bulimia and Obesity. 2021 Feb; 26(1):169-79. doi.org/10.1007/s40519-019-00841-2
Ford C, Ward D, White M. Television viewing associated with adverse dietary outcomes in children ages 2–6. Obesity Reviews. 2012 Dec; 13(12):1139-47. doi.org/10.1111/j.1467-789X.2012.01028.x
Pearson N, Biddle SJ. Sedentary behaviour and dietary intake in children, adolescents, and adults: a systematic review. American Journal of preventive medicine. 2011 Aug; 41(2):178-88. doi.org/10.1016/j.amepre.2011.05.002
Chaput JP, Klingenberg L, Astrup A, Sjödin AM. Modern sedentary activities promote overconsumption of food in our current obesogenic environment. Obesity reviews. 2011 May; 12(5):e12-20. doi.org/10.1111/j.1467-789X.2010.00772.x
Sleddens EF, Kroeze W, Kohl LF, Bolten LM, Velema E, Kaspers PJ, Brug J, Kremers SP. Determinants of dietary behaviour among youth: an umbrella review. International Journal of Behavioral Nutrition and Physical Activity. 2015 Dec; 12(1):1-22. doi.org/10.1186/s12966-015-0164-x
Avery A, Anderson C, McCullough F. Associations between children's diet quality and watching television during meal or snack consumption: A systematic review. Maternal & child nutrition. 2017 Oct; 13(4):e12428. doi.org/10.1111/mcn.12428
Santaliestra-Pasias AM, Mouratidou T, Verbestel V, Huybrechts I, Gottrand F, Le Donne C, Cuenca-García M, Díaz LE, Kafatos A, Manios Y, Molnar D. Food consumption and screen-based sedentary behaviours in European adolescents: The Helena study. Archives of Paediatrics & Adolescent Medicine. 2012 Nov; 166(11):1010-20. doi:10.1001/archpediatrics.2012.646
Lowry R, Michael S, Demissie Z, Kann L, Galuska DA. Associations of physical activity and sedentary behaviours with dietary behaviours among US high school students. Journal of Obesity. 2015 May; 2015;1-8. doi.org/10.1155/2015/876524
Gebremariam MK, Bergh IH, Andersen LF, Ommundsen Y, Totland TH, Bjelland M, Grydeland M, Lien N. Are screen-based sedentary behaviours longitudinally associated with dietary behaviours and leisure-time physical activity in the transition into adolescence. International Journal of Behavioural Nutrition and Physical Activity. 2013 Dec; 10(1):1-9. doi.org/10.1186/1479-5868-10-9
Shang L, Wang J, O'Loughlin J, Tremblay A, Mathieu MÈ, Henderson M, Gray-Donald K. Screen time is associated with dietary intake in overweight Canadian children. Preventive Medicine Reports. 2015 Jan; 2:265-269. doi.org/10.1016/j.pmedr.2015.04.003
Al‐Hazzaa HM, Al‐Sobayel HI, Abahussain NA, Qahwaji DM, Alahmadi MA, Musaiger AO. Association of dietary habits with levels of physical activity and screen time among adolescents living in Saudi Arabia. Journal of Human Nutrition and Dietetics. 2014 Apr; 27:204-13. doi.org/10.1111/jhn.12147
Tsujiguchi H, Hori D, Kambayashi Y, Hamagishi T, Asakura H, Mitoma J, Kitaoka M, Anyenda EO, Nguyen TT, Yamada Y, Hayashi K. Relationship between screen time and nutrient intake in Japanese children and adolescents: a cross-sectional observational study. Environmental health and preventive medicine. 2018 Dec; 23(1):1-12. doi.org/10.1186/s12199-018-0725-0
Pinho MG, Adami F, Benedet J, Vasconcelos FD. Association between screen time and dietary patterns and overweight/obesity among adolescents. Revista de Nutrição. 2017 May; 30:377-389. doi.org/10.1590/1678-98652017000300010
Benaich S, Mehdad S, Andaloussi Z, Boutayeb S, Alamy M, Aguenaou H, Taghzouti K. Weight status, dietary habits, physical activity, screen time and sleep duration among university students. Nutrition and Health. 2021 Mar; 27(1):69-78. doi.org/10.1177/0260106020960863
Nastaskin RS, Fiocco AJ. A survey of diet self-efficacy and food intake in students with high and low perceived stress. Nutrition journal. 2015 Dec; 14(1):1-8. doi.org/10.1186/s12937-015-0026-z
Alghadir AH, Iqbal ZA, A Gabr S. The Relationships of Watching Television, Computer Use, Physical Activity, and Food Preferences to Body Mass Index: Gender and Nativity Differences among Adolescents in Saudi Arabia. International Journal of Environmental Research and Public Health. 2021 Jan; 18(18):9915-27. doi.org/10.3390/ijerph18189915
Hicks K, Pitts SJ, Lazorick S, Fang X, Rafferty A. Examining the association between screen time, beverage and snack consumption, and weight status among Eastern North Carolina Youth. North Carolina medical journal. 2019 Mar 1;80(2):69-75. doi.org/10.18043/ncm.80.2.69
Mathur U, Stevenson RJ. Television and eating: repetition enhances food intake. Frontiers in Psychology. 2015 Nov; 6:1657-62. doi.org/10.3389/fpsyg.2015.01657
Tambalis KD, Panagiotakos DB, Psarra G, Sidossis LS. Insufficient sleep duration is associated with dietary habits, screen time, and obesity in children. Journal of Clinical Sleep Medicine. 2018 Oct; 14(10):1689-96. doi.org/10.5664/jcsm.7374
Jensen ML, Carpentier FR, Corvalán C, Popkin BM, Evenson KR, Adair L, Taillie LS. Television viewing and using screens while eating: Associations with dietary intake in children and adolescents. Appetite. 2022 Jan; 168:105670. doi.org/10.1016/j.appet.2021.105670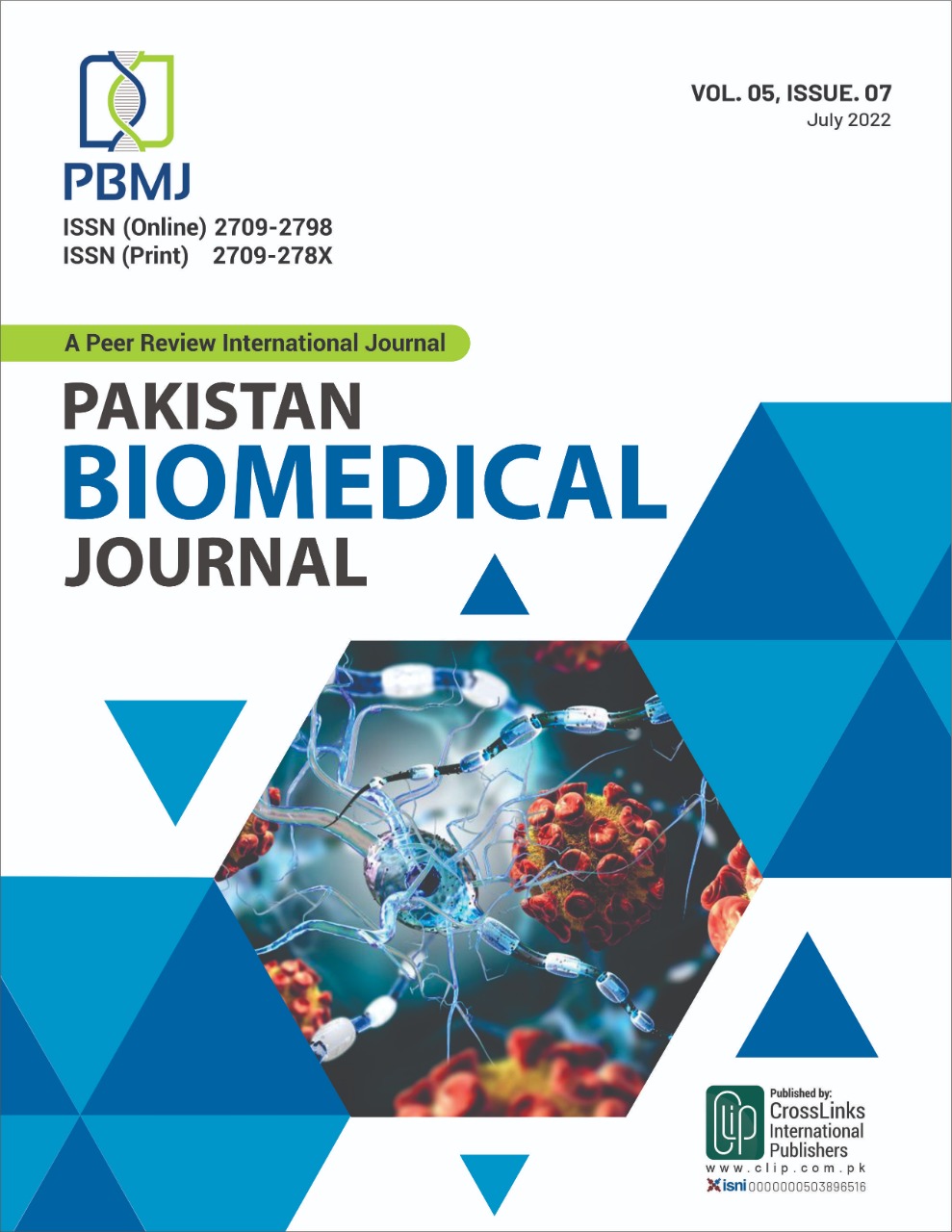 Downloads
How to Cite
Ahmed, H. ., Rizwan, B. ., Fatima, A. ., Iqra, ., Tariq, M. ., Zafar, R. ., Naeem, M. ., Ali, S., Moazzam, A. ., & Tahir, N. . (2022). Association Between Screen-Time and Dietary Habits Among Students Of 11-25 Years: Screen-Time and Dietary Habits Among students. Pakistan BioMedical Journal, 5(7), 240–245. https://doi.org/10.54393/pbmj.v5i7.608
License
Copyright (c) 2022 Pakistan BioMedical Journal
This work is licensed under a Creative Commons Attribution 4.0 International License.
This is an open-access journal and all the published articles / items are distributed under the terms of the Creative Commons Attribution License, which permits unrestricted use, distribution, and reproduction in any medium, provided the original author and source are credited. For comments editor@pakistanbmj.com