Histology of Placenta in Normotensive and Hypertensive Cases in Khyber Pakhtunkhwa: A Comparative Study
Histology of Placenta in Normotensive and Hypertensive Cases
Keywords:
Morbid alterations, hypertensive, normotensive, women's, placentas
Abstract
One of the most common pregnancy complications is Hypertension. It has a major effect on maternal and neonatal morbidities and fatalities. The placenta is an important organ for the maintenance of pregnancy and the nourishment of the fetus.  Objective: To compare the morbid variations in the placenta of hypertensive and normotensive mothers. Methods: From the obstetrics and gynecology department, a hundred placentae of hypertension and normotensive females were collected. The placentae were preserved in formalin and sectioned. Blocks prepared were stained with hematoxylin and eosin. Results: The placentae from 50 normotensive mothers with 26±3.1 years (mean age) and 50 hypertensive mothers with 26± 2 years (mean age). In normotensive patients 12% Infarction was seen and 70% of severe hypertensive patients while syncytial knots were found in 70% of cases of severe hypertension, while calcification was observed in 90%. In severe hypertension, stroma fibrosis and hypervascularity increase in proportion to the degree of hypertension, with 50% and 30% cases seen in severe hypertension, respectively. Conclusions: In pregnancy hypertension causes, Stromal fibrosis syncytial knots, calcified, hypervascularity, all of which impair the uteroplacental flow of blood and lower newborn weight.
References
Chhatwal J, Chaudhary DN, Chauhan NJIJoR, Contraception, Obstetrics, Gynecology. Placental changes in hypertensive pregnancy: a comparison with normotensive pregnancy. 2018;7(9):3808-14.
Spradley FTJJoh. Sympathetic nervous system control of vascular function and blood pressure during pregnancy and preeclampsia. 2019;37(3):476.
Johnson M, Fitzpatrick E, Dyer T, Jowett J, Brennecke S, Blangero J, et al. Identification of two novel quantitative trait loci for pre-eclampsia susceptibility on chromosomes 5q and 13q using a variance components-based linkage approach. 2007;13(1):61-7.
Jena MK, Sharma NR, Petitt M, Maulik D, Nayak NRJB. Pathogenesis of preeclampsia and therapeutic approaches targeting the placenta. 2020;10(6):953.
Awuah SP, Okai I, Ntim EA, Bedu-Addo KJPo. Prevalence, placenta development, and perinatal outcomes of women with hypertensive disorders of pregnancy at Komfo Anokye Teaching Hospital. 2020;15(10):e0233817.
Bandekar PK, Kale PBJIJoR, Contraception, Obstetrics, Gynecology. Placenta in pregnancy induced hypertension. 2018;7(2):467-70.
Antza C, Cifkova R, Kotsis VJM. Hypertensive complications of pregnancy: a clinical overview. 2018;86:102-11.
Gómez RP, Ottone NE, Bianchi HJIJoM. Morphological Features of the Human Placenta and its Free Chorionic Villi in Normal Pregnancies and those with Diabetes and High Blood Pressure. Literature Review. 2018;36(4).
Motwani R, Sontakke Y, Goyal MJg. Effects of pregnancy induced hypertension on human placenta. 2013;2:3.
Majumdar S, Dasgupta H, Bhattacharya K, Bhattacharya AJJASI. A study of placenta in normal and hypertensive pregnancies. 2005;54(2):1-9.
Browne JM, Veall NJBAIJoO, Gynaecology. The maternal placental blood flow in normotensive and hypertensive women. 1953;60(2):141-7.
Sodhi S, Mohan H, Jaiswal T, Mohan P, Rathee SJIJoP, Microbiology. Placental pathology in pre-eclampsia eclampsia syndrome. 1990;33(1):11-6.
Karmakar MK, Kar S, Kumar S, Chattopadhyay SK, Vaid L, Sen SJIJoR, Contraception, Obstetrics, et al. A study of histological changes of human placenta in rural population of eastern India. 2018;7(8):3280-8.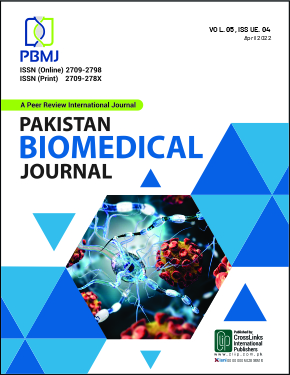 Downloads
How to Cite
Sarfaraz Khan, Z. ., Khan, F. ., Amir, A. ., Daud, F., Ataullah, M., Ateeq, M. ., & Ullah, I. . (2022). Histology of Placenta in Normotensive and Hypertensive Cases in Khyber Pakhtunkhwa: A Comparative Study : Histology of Placenta in Normotensive and Hypertensive Cases. Pakistan BioMedical Journal, 5(4), 218–221. https://doi.org/10.54393/pbmj.v5i4.387
License
Copyright (c) 2022 Pakistan BioMedical Journal
This work is licensed under a Creative Commons Attribution 4.0 International License.
This is an open-access journal and all the published articles / items are distributed under the terms of the Creative Commons Attribution License, which permits unrestricted use, distribution, and reproduction in any medium, provided the original author and source are credited. For comments editor@pakistanbmj.com