Characterization of solid liver masses on ultrasound in adults
Characterization of Solid Liver Masses on Ultrasound
Keywords:
Solid liver masses, Hepatocellular carcinoma (HCC), Hemangioma, cholangiocarcinoma, Ultrasound
Abstract
Liver carcinoma is the fifth leading cancer globally and the third top cause of mortality in 2012, there were 14 million new cases and 8.2 million fatalities. Objective: To accurately define solid liver masses in adults based on clinical presentation and ultrasound findings in order to obtain a definitive diagnosis in adults. Methods: It was a retrospective study consisting of total 128 individuals with untreated liver lesions examined on ultrasound (Toshiba Xario 100) at a private tertiary care hospital in Gujrat. From January 2021 to January 2022, 65 males and 63 females, ages ranging from 30 to 70 years. A convenient sampling technique was used to collect data by fully informed consent from patients to access. Data was entered and analyzed on SPSS version 22. Results: The current study included 128 patients aged ranging from 30–70 years, being examined using ultrasound for solid liver masses. The gender frequency was 65(50.8%) males and 63(49.2%) females. Ultrasound diagnosis interprets as 62(48.4%) Hepatocellular-carcinoma, 38(29.7%) hemangioma, 11(8.6%) FNH, 3(2.3%) metastasis, and 13(10.2%) cholangiocarcinoma. Moreover, ultrasound findings regarding liver masses diagnosed includes 99(38.7%) single masses, 29(11.3%) multiple masses, 47(18.4%) normal liver parenchyma and 81(31.6%) coarse liver. The common clinical complaints associated with solid hepatic lesions were right upper quadrant pain 80(35.4%), splenomegaly 69(30.5%) and 77(34.1%) hepatomegaly. Conclusions: It is concluded that the right upper quadrant pain, hepatomegaly has a correlation to solid liver masses and a weak relation to splenomegaly irrespective to age and gender. The most common solid liver mass was Hepatocellular carcinoma (HCC). Ultrasound is a noteworthy imaging modality to diagnose solid hepatic masses.
References
Uz Zaman M. Abstracts of 33rd RSP Conference (27-29th October 2017) Karachi, Pakistan. PJR. 2017;27(4).
Mortelé KJ, Segatto E, Ros PR. The infected liver: radiologic-pathologic correlation. Radiographics. 2004;24(4):937-955.
https://doi.org/10.1148/rg.244035719
Mathew RP, Sam M, Raubenheimer M, Patel V, Low G. Hepatic hemangiomas: the various imaging avatars and its mimickers. La radiologia medica. 2020;125(9):801-815.
https://doi.org/10.1007/s11547-020-01185-z
Parker GA, Lawrence Jr W, Horsley 3rd J, Neifeld JP, Cook D, Walsh J, et al. Intraoperative ultrasound of the liver affects operative decision making. Annals of surgery. 1989;209(5):569.
https://doi.org/10.1097/00000658-198905000-00009
Del Poggio P, Buonocore M. Cystic tumors of the liver: a practical approach. World Journal of Gastroenterology: WJG. 2008;14(23):3616.
https://doi.org/10.3748/wjg.14.3616
Kudo M, editor Imaging diagnosis of hepatocellular carcinoma and premalignant/borderline lesions. Seminars in liver disease; 1999: © 1999 by Thieme Medical Publishers, Inc.
https://doi.org/10.1055/s-2007-1007119
Murakami T, Imai Y, Okada M, Hyodo T, Lee W-J, Kim M-J, et al. Ultrasonography, computed tomography and magnetic resonance imaging of hepatocellular carcinoma: toward improved treatment decisions. Oncology. 2011;81(Suppl. 1):86-99.
https://doi.org/10.1159/000333267
Beymer C, Kowdley KV, Larson A, Edmonson P, Dellinger EP, Flum DR. Prevalence and predictors of asymptomatic liver disease in patients undergoing gastric bypass surgery. Archives of Surgery. 2003;138(11):1240-1244.
https://doi.org/10.1001/archsurg.138.11.1240
Cowles RA, Mulholland MW. Solitary hepatic cysts. Journal of the American College of Surgeons. 2000;191(3):311-321.
https://doi.org/10.1016/S1072-7515(00)00345-8
Sherlock S. Hepatic adenomas and oral contraceptives. Gut. 1975;16(9):753.
https://doi.org/10.1136/gut.16.9.753
Mastrangelo G, Fedeli U, Fadda E, Valentini F, Agnesi R, Magarotto G, et al. Increased risk of hepatocellular carcinoma and liver cirrhosis in vinyl chloride workers: synergistic effect of occupational exposure with alcohol intake. Environmental health perspectives. 2004;112(11):1188-1192.
https://doi.org/10.1289/ehp.6972
Razumilava N, Gores GJ. Cholangiocarcinoma. The Lancet. 2014;383(9935):2168-79.
https://doi.org/10.1016/S0140-6736(13)61903-0
Bellentani S, Tiribelli C, Saccoccio G, Sodde M, Fratti N, De Martin C, et al. Prevalence of chronic liver disease in the general population of northern Italy: the Dionysos Study. Hepatology. 1994;20(6):1442-1449.
https://doi.org/10.1002/hep.1840200611
Schneider PD. Preoperative assessment of liver function. Surgical Clinics. 2004;84(2):355-373.
https://doi.org/10.1016/S0039-6109(03)00224-X
Chen C-J, Yang H-I, Su J, Jen C-L, You S-L, Lu S-N, et al. Risk of hepatocellular carcinoma across a biological gradient of serum hepatitis B virus DNA level. Jama. 2006;295(1):65-73.
https://doi.org/10.1001/jama.295.1.65
Pack GT, Islami AH. Tumors of the Liver: Springer Science & Business Media; 2012.
Assy N, Nasser G, Djibre A, Beniashvili Z, Elias S, Zidan J. Characteristics of common solid liver lesions and recommendations for diagnostic workup. World journal of gastroenterology: WJG. 2009;15(26):3217.
https://doi.org/10.3748/wjg.15.3217
Torre LA, Bray F, Siegel RL, Ferlay J, Lortet‐Tieulent J, Jemal A. Global cancer statistics, 2012. CA: a cancer journal for clinicians. 2015;65(2):87-108.
https://doi.org/10.3322/caac.21262
Bosch FX, Ribes J, Díaz M, Cléries R. Primary liver cancer: worldwide incidence and trends. Gastroenterology. 2004;127(5):S5-S16.
https://doi.org/10.1053/j.gastro.2004.09.011
Golabi P, Fazel S, Otgonsuren M, Sayiner M, Locklear CT, Younossi ZM. Mortality assessment of patients with hepatocellular carcinoma according to underlying disease and treatment modalities. Medicine. 2017;96(9).
https://doi.org/10.1097/MD.0000000000005904
Bray F, Ferlay J, Soerjomataram I, Siegel RL, Torre LA, Jemal A. Global cancer statistics 2018: GLOBOCAN estimates of incidence and mortality worldwide for 36 cancers in 185 countries. CA: a cancer journal for clinicians. 2018;68(6):394-424.
https://doi.org/10.3322/caac.21492
Befeler AS, Di Bisceglie AM. Hepatocellular carcinoma: diagnosis and treatment. Gastroenterology. 2002;122(6):1609-1619.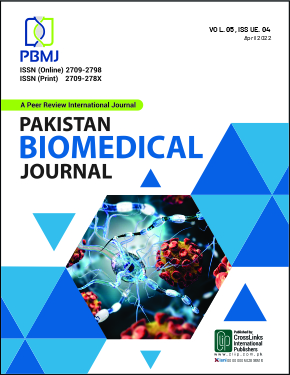 Downloads
How to Cite
Ahmad, N. ., John, A. ., Ali, A. ., Nawaz, N. ., & Naeem, M. A. (2022). Characterization of solid liver masses on ultrasound in adults: Characterization of Solid Liver Masses on Ultrasound. Pakistan BioMedical Journal, 5(4), 59–62. https://doi.org/10.54393/pbmj.v5i4.343
License
Copyright (c) 2022 Pakistan BioMedical Journal
This work is licensed under a Creative Commons Attribution 4.0 International License.
This is an open-access journal and all the published articles / items are distributed under the terms of the Creative Commons Attribution License, which permits unrestricted use, distribution, and reproduction in any medium, provided the original author and source are credited. For comments editor@pakistanbmj.com