Ultrasound Diagnosis and Risk Factors of 1st Trimester Complications in Pregnancy
Ultrasound Diagnosis and Risk Factors of 1st Trimester
Keywords:
Pregnancy, 1st Trimester, Complication, Abortion
Abstract
Ultrasound provides accurate gestational age and diagnosis of any complications. The complication can be due to nulliparity, aged females, and a history of abortion. The common complications of the first trimester are blighted ovum, ectopic pregnancy, and abortion. Objective: The objective of this study was to determine risk factors causing complications of pregnancy in the first trimester. Material and methodology: This retrospective study was performed with a sample size of 60 patients in 6 months from October-2022 to March-2022 calculated via convenient sampling technique by taking mean from previously published studies. This study was carried out at 3 private hospitals in Gujrat, Pakistan. An ultrasound machine (Aplio 300) was used to evaluate females with early pregnancy loss after informed consent. Data were statistically analyzed using SPSS version 28. Frequency and percentages were mentioned for age groups, Obstetrical history, and ultrasound findings. Results: The most common complication in 1st trimester was incomplete abortion (29, 48.3%) following missed abortion 17(28.3%). The risk factors causing complications were gravidity, parity, abortions, fibroids, trauma, and molar pregnancy. The age group of 30-39 years has the maximum number of patients (30, 50%) diagnosed with complications. The common risk factor causing complication was due to age 30(50%), trauma 18(30%), gravidities were G4 (14, 23.3%) and G2 (10, 16.7%) and parity P1 (19 patients, 31.7%) and P2 (14 patients, 23.3%). Conclusion: In conclusion, the incidence of complication increased in nulliparous, aged females and decreased in females having less gravidity. Patients with a history of abdominal pain and vaginal bleeding were noticed to have a higher incidence of complications. Nulliparous and multiparous women having poor obstetrical history are at high risk. Transvaginal ultrasound is very effective in diagnosing ectopic pregnancy and missed abortion.
References
Salomon L, Alfirevic Z, Da Silva Costa F, Deter R, Figueras F, Ghi Ta, et al. ISUOG Practice Guidelines: ultrasound assessment of fetal biometry and growth. Ultrasound in obstetrics & gynecology. 2019;53(6):715-723.
https://doi.org/10.1002/uog.20272
Kuthe A. Intra-uterine Fetal Death. A Practical Guide to Third Trimester of Pregnancy & Puerperium. 2016.
https://doi.org/10.5005/jp/books/12870_10
Timor-Tritsch IE, Monteagudo A. Unforeseen consequences of the increasing rate of cesarean deliveries: early placenta accreta and cesarean scar pregnancy. A review. American journal of obstetrics and gynecology. 2012;207(1):14-29.
https://doi.org/10.1016/j.ajog.2012.03.007
Rouse CE, Eckert LO, Babarinsa I, Fay E, Gupta M, Harrison MS, et al. Spontaneous abortion and ectopic pregnancy: Case definition & guidelines for data collection, analysis, and presentation of maternal immunization safety data. Vaccine. 2017;35(48Part A):6563.
https://doi.org/10.1016/j.vaccine.2017.01.047
Bricker L, Medley N, Pratt JJ. Routine ultrasound in late pregnancy (after 24 weeks gestation). Cochrane database of systematic reviews. 2015(6).
https://doi.org/10.1002/14651858.CD001451.pub4
Foundation ACoC, Guidelines AHATFoP, Surgery AAfT, Radiology ACo, Association AS, Anesthesiologists SoC, et al. 2010 ACCF/AHA/AATS/ACR/ASA/SCA/SCAI/SIR/STS/SVM guidelines for the diagnosis and management of patients with thoracic aortic disease. Journal of the American College of Cardiology. 2010;55(14):e27-e129.
Wilson K, Czerwinski J, Hoskovec J, Noblin S, Sullivan C, Harbison A, et al. NSGC practice guideline: prenatal screening and diagnostic testing options for chromosome aneuploidy. Journal of genetic counseling. 2013;22(1):4-15.
https://doi.org/10.1007/s10897-012-9545-3
Hay SB, Sahoo T, Travis MK, Hovanes K, Dzidic N, Doherty C, et al. ACOG and SMFM guidelines for prenatal diagnosis: Is karyotyping sufficient? Prenatal Diagnosis. 2018;38(3):184-189.
https://doi.org/10.1002/pd.5212
Marek J, Tomek V, Škovránek J, Povýšilová V, Šamánek M. Prenatal ultrasound screening of congenital heart disease in an unselected national population: a 21-year experience. Heart. 2011;97(2):124-130.
https://doi.org/10.1136/hrt.2010.206623
Salomon LJ, Alfirevic Z, Berghella V, Bilardo C, Hernandez‐Andrade E, Johnsen S, et al. Practice guidelines for performance of the routine mid‐trimester fetal ultrasound scan. Ultrasound in Obstetrics & Gynecology. 2011;37(1):116-126.
https://doi.org/10.1002/uog.8831
Death SIF. Fetal Demise in Twins: Single and Double Fetal Loss. Twin and Higher-order Pregnancies. 2021:205.
https://doi.org/10.1007/978-3-030-47652-6_14
Benn P, Cuckle H, Pergament E. Non‐invasive prenatal testing for aneuploidy: current status and prospects. Ultrasound in Obstetrics & Gynecology. 2013;42(1):15-33.
https://doi.org/10.1002/uog.12513
Romero S, Geiersbach K, Paxton C, Rose N, Schisterman E, Branch D, et al. Differentiation of genetic abnormalities in early pregnancy loss. Ultrasound in Obstetrics & Gynecology. 2015;45(1):89-94.
https://doi.org/10.1002/uog.14713
Doubilet PM. Ultrasound evaluation of the first trimester. Radiologic Clinics. 2014;52(6):1191-9.
https://doi.org/10.1016/j.rcl.2014.07.004
Jurkovic D, Overton C, Bender-Atik R. Diagnosis and management of first-trimester miscarriage. BMJ. 2013;346.
https://doi.org/10.1136/bmj.f3676
Rayburn WF, Jolley JA, Simpson LL. Advances in ultrasound imaging for congenital malformations during early gestation. Birth Defects Research Part A: Clinical and Molecular Teratology. 2015;103(4):260-268.
https://doi.org/10.1002/bdra.23353
Johnson CY, Honein MA, Dana Flanders W, Howards PP, Oakley Jr GP, Rasmussen SA. Pregnancy termination following prenatal diagnosis of anencephaly or spina bifida: a systematic review of the literature. Birth Defects Research Part A: Clinical and Molecular Teratology. 2012;94(11):857-863.
https://doi.org/10.1002/bdra.23086
Hailu D, Berhe H. Knowledge about obstetric danger signs and associated factors among mothers in Tsegedie district, Tigray region, Ethiopia 2013: a community-based cross-sectional study. PloS one. 2014;9(2):e83459.
https://doi.org/10.1371/journal.pone.0083459
Buonsenso D, De Rose C. Implementation of lung ultrasound in low-to middle-income countries: a new challenge global health? European Journal of Pediatrics. 2021:1-8.
https://doi.org/10.1007/s00431-021-04179-9
McClure EM, Nathan RO, Saleem S, Esamai F, Garces A, Chomba E, et al. First look: a cluster- randomized trial of ultrasound to improve pregnancy outcomes in low-income country settings. BMC pregnancy and childbirth. 2014;14(1):1-8.
https://doi.org/10.1186/1471-2393-14-73
Hassan SMD. Study of Causes of First Trimester Complications using ultrasonography: Sudan University of Science and Technology; 2018.
Suliman MAM. Study the causes of first trimester complications using Ultrasonography in Nyala city: Sudan University of Science and Technology; 2017.
Saso S, Al‐Memar M, Ismail L, Bobdiwala S, Roelants P, Nikolic G, et al. OC19. 09: Do pregnancy outcomes correlate with the amount and duration of vaginal bleeding or abdominal pain in the first trimester? A preliminary study. Ultrasound in Obstetrics & Gynecology. 2015;46:42-43.
https://doi.org/10.1002/uog.15074
Lane BF, Wong-You-Cheong JJ, Javitt MC, Glanc P, Brown DL, Dubinsky T, et al. ACR appropriateness criteria® first trimester bleeding. Ultrasound quarterly. 2013;29(2):91-96.
https://doi.org/10.1097/RUQ.0b013e31829158c2
Salamanca A, Fernández-Salmerón P, Beltrán E, Mendoza N, Florido J, Mozas J. Early embryonic morphology sonographically assessed and its correlation with a yolk sac in missed abortion. Archives of gynecology and obstetrics. 2013;287(1):139-142.
https://doi.org/10.1007/s00404-012-2499-8
Doubilet PM, Benson CB, Bourne T, Blaivas M. Diagnostic criteria for nonviable pregnancy early in the first trimester. New England Journal of Medicine. 2013;369(15):1443-1451.
https://doi.org/10.1056/NEJMra1302417
Murugan VA, Murphy BOS, Dupuis C, Goldstein A, Kim YH. Role of ultrasound in the evaluation of first-trimester pregnancies in the acute setting. Ultrasonography. 2020;39(2):178.
https://doi.org/10.14366/usg.19043
Canavan TP, Mastrobattista JM. First-trimester ultrasound: early pregnancy failure. First-Trimester Ultrasound: Springer; 2016. p. 253-282.
https://doi.org/10.1007/978-3-319-20203-7_15
Burai M, Gameraddin M, Yahya R. Miscarriage in the first trimester: risk factors and sonographic assessment in Sudanese Pregnant Women. International Journal of Health Sciences and Research. 2017;7(2):52-56.
Kurmi D, Jadhav VR, Misri A, Mishra N, Prabhu S, Savani G. Role of pelvic sonography in the first trimester bleeding. Journal of Evolution of Medical and Dental Sciences. 2015;4(49):8516-8526.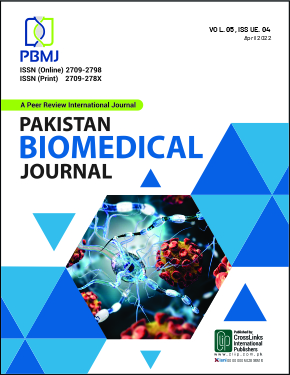 Downloads
CITATION
DOI: 10.54393/pbmj.v5i4.293
How to Cite
Bakhtawar , K. ., John, A. . ., Ali , A. ., & Mubbarka , M. . (2022). Ultrasound Diagnosis and Risk Factors of 1st Trimester Complications in Pregnancy: Ultrasound Diagnosis and Risk Factors of 1st Trimester. Pakistan BioMedical Journal, 5(4), 41–45. https://doi.org/10.54393/pbmj.v5i4.293
License
Copyright (c) 2022 Pakistan BioMedical Journal
This work is licensed under a Creative Commons Attribution 4.0 International License.
This is an open-access journal and all the published articles / items are distributed under the terms of the Creative Commons Attribution License, which permits unrestricted use, distribution, and reproduction in any medium, provided the original author and source are credited. For comments editor@pakistanbmj.com