Clinical Correlation of Dengue Strains on the Basis of Seroprevalence in a Tertiary Care Hospital.
Clinical Correlation of Dengue Strains
Keywords:
Dengue, Reverse transcriptase polymerase chain reaction, Enzyme linked immunosorbent assay, White blood cells and Platelets
Abstract
Dengue viruses are icosahedral in structure and contain a single-stranded positive- sense RNA sequence of 11kb inside their capsid protein, which belongs to Flaviviridae family, genera Flavivirus. DENV a vector dependent viral virus which presents a severe health danger worldwide. Objective: To study the different strains of dengue  on the basis of serotypes Methods: A cross sectional study was conducted at a tertiary care hospital Lahore, Primary and Secondary Health Department Lahore. The blood samples of 103 patients were collected from non-random sampling technique to check out the data of different parameters such as WBC's & Platelets through Complete Blood Count (CBC), NS1 from ELISA and nature of dengue strains through RT- PCR. Results: Of 103 positive dengue patients, there were n= 58 (33.63 ± 16.54) males and n=45 (40.64± 16.00) females. Data for the total patients is subjected to statistical differences by Paired t-test (*p<0.05). The overall percentage of dengue strains within the sample population was DENV-2 (96%), DENV-3 (2%), DENV-1 & DENV-2 (2% in females, nil in males) DENV-2 & DENV-3 (2% both in males and females). According to clinical parameters the correlation of ELISA results with WBC's was significant (<0.0001) as well as ELISA and platelets of patients had no correlation with each other. Conclusions: Leukopenia and Thrombocytopenia is found particularly in DENV-2 strain as well as we found two different strains in two patients. So, our research work is helpful for the identification in genetic similarity of dengue strains.
References
Haroon M, Jan H, Faisal S, Ali N, Kamran M, et al. Dengue outbreak in Peshawar: clinical features and laboratory markers of dengue virus infection. Journal of infection and public health. 2019,12(2):258-62. doi.org/10.1016/j.jiph.2018.10.138
Viennet E, Ritchie SA, Williams CR, Faddy HM, Harley D. Public health responses to and challenges for the control of dengue transmission in high-income countries: four case studies. PLoS neglected tropical diseases. 2016,10(9): e0004943. doi.org/10.1371/journal.pntd.0004943
Nathan M, Dayal-Drager R. Recent epidemiological trends, the global strategy and public health advances in dengue. Report on Dengue. 2006:30-4.
Organization WH. Comprehensive guideline for prevention and control of dengue and dengue hemorrhagic fever. 2011, Revised and expanded edition.
Ubol S, Chareonsirisuthigul T, Kasisith J, Klungthong C. Clinical isolates of dengue virus with distinctive susceptibility to nitric oxide radical induce differential gene responses in THP-1 cells. Virology. 2008,376(2): 290-6.doi.org/10.1016/j.virol.2008.03.030
Norazharuddin H, Lai NS. Roles and prospects of dengue virus non-structural proteins as antiviral targets: an easy digest. The Malaysian Journal of Medical Sciences: MJMS. 2018,25(5):6. doi.org/10.21315/mjms2018.25.5.2
Perera R, Kuhn RJ. Structural proteomics of dengue virus. Current opinion in microbiology. 2008,11(4):369-77. doi.org/10.1016/j.mib.2008.06.004
Halim SA, Khan S, Khan A, Wadood A, Mabood F, et al. Targeting dengue virus NS-3 helicase by ligand-based pharmacophore modeling and structure based virtual screening. Frontiers in Chemistry. 2017; 5: 88.doi.org/10.3389/fchem.2017.00088
Limon‐Flores AY, Perez‐Tapia M, Estrada‐Garcia I, Vaughan G, Escobar‐Gutierrez A, et al. Dengue virus inoculation to human skin explants: an effective approach to assess in situ the early infection and the effects on cutaneous dendritic cells. International journal of experimental pathology. 2005,86(5): 323-34.doi.org/10.1111/j.0959-9673.2005. 00445.x
Durbin AP, Vargas MJ, Wanionek K, Hammond SN, Gordon A, et al. Phenotyping of peripheral blood mononuclear cells during acute dengue illness demonstrates infection and increased activation of monocytes in severe cases compared to classic dengue fever. Virology. 2008,376(2):429-35. doi.org/10.1016/j.virol.2008.03.028
Organization WH, Research SPf, Diseases TiT, Diseases WHODoCoNT, Epidemic WHO, Alert P. Dengue: guidelines for diagnosis, treatment, prevention and control. Switzerland: World Health Organization; 2009.
Wang SM, Sekaran SD. Evaluation of a commercial SD dengue virus NS1 antigen capture enzyme-linked immunosorbent assay kit for early diagnosis of dengue virus infection. Journal of clinical microbiology. 2010,48(8): 2793-7.doi.org/10.1128/JCM.02142-09
Hue KDT, Tuan TV, Thi HTN, Bich CTN, Le Anh HH, et al. Validation of an internally controlled one-step real-time multiplex RT-PCR assay for the detection and quantitation of dengue virus RNA in plasma. Journal of virological methods. 2011,177(2):168-73. doi.org/10.1016/j.jviromet.2011.08.002
Rao AA, Gosavi S, Menon S. Dengue Fever: Prognostic Insights from a Complete Blood Count. Cureus. 2020,12(11).
Nascimento EJ, George JK, Velasco M, Bonaparte MI, Zheng L, et al. Development of an anti-dengue NS1 IgG ELISA to evaluate exposure to dengue virus. Journal of virological methods. 2018, 257:48-57. doi.org/10.1016/j.jviromet.2018.03.007
Angelo M, Ramalho WM, Gurgel H, Belle N, Pilot E. Dengue surveillance system in Brazil: A qualitative study in the federal district. International Journal of Environmental Research and Public Health. 2020,17(6):2062. doi.org/10.3390/ijerph17062062
Sun J, Lu L, Wu H, Yang J, Xu L, et al. Epidemiological trends of dengue in mainland China, 2005–2015. International Journal of Infectious Diseases. 2017,57:86-91. doi.org/10.1016/j.ijid.2017.02.007
Pepin KM, Lambeth K, Hanley KA. Asymmetric competitive suppression between strains of dengue virus. Bmc Microbiology. 2008,8(1):1-10. doi.org/10.1186/1471-2180-8-28
Wiwanitkit S, Wiwanitkit V, Broor S. Rapid diagnosis of dengue infection in acute phase/Author's Reply. Journal of Vector Borne Diseases. 2015,52(1):110.
Ageep AK, Malik AA, Elkarsani MS. Clinical presentations and laboratory findings in suspected cases of dengue virus. Saudi medical journal. 2006,27(11):1711-3.
Dhanoa A, Hassan SS, Ngim CF, Lau CF, Chan TS, et al. Impact of dengue virus (DENV) co-infection on clinical manifestations, disease severity and laboratory parameters. BMC infectious diseases. 2016,16(1):1-14. doi.org/10.1186/s12879-016-1731-8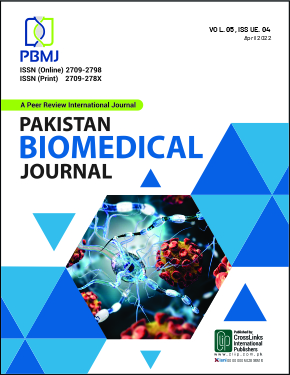 Downloads
How to Cite
Haider, A. ., Ullah, F. ., Bilal, M. ., Saif, Z., Awais, H., Mannan, T., Javed, H. ., & Bashir, F. . (2022). Clinical Correlation of Dengue Strains on the Basis of Seroprevalence in a Tertiary Care Hospital.: Clinical Correlation of Dengue Strains. Pakistan BioMedical Journal, 5(4), 149–153. https://doi.org/10.54393/pbmj.v5i4.341
License
Copyright (c) 2022 Pakistan BioMedical Journal
This work is licensed under a Creative Commons Attribution 4.0 International License.
This is an open-access journal and all the published articles / items are distributed under the terms of the Creative Commons Attribution License, which permits unrestricted use, distribution, and reproduction in any medium, provided the original author and source are credited. For comments editor@pakistanbmj.com