Successful Eradication of Hepatitis C Virus with Sofosbuvir based Antiviral treatment results in improvement in quality of life in cirrhotic patients
Eradication of HCV with Sofosbuvir in cirrhotic patients
Keywords:
HCV, Patients, Liver, Disease
Abstract
Hepatitis C virus (HCV) infection has long been a serious global public health concern; it is not only the main cause of end-stage liver disease, but it is also a leading source of liver cancer, but it also increases the risk of mortality from a variety of extrahepatic illnesses. Objective: The study's main objective is to see if successfully eradicating the Hepatitis-C virus with sofosbuvir-based antiviral therapy improves cirrhotic patients' quality of life. Methods: This cross-sectional study was conducted in Faisalabad Medical University from June 2019 to June 2020. The data was collected from 70 patients. The data was collected through a non-probability consecutive sampling technique. Results: The data were collected from 70 patients of both genders. We compared patients' quality of life. With sofosbuvir and ribavirin, 56 patients (79%) reached Sustained Virologic Response 12 (SVR12), Sofosbuvir, daclatasvir, and ribavirin were administered to 13 patients (18%), while sofosbuvir and ledipasvir were administered to two individuals (3%).Conclusions: Infection with chronic HCV, which is made worse by cirrhosis, has a major negative influence on the patient's physical, mental, social, and functional well-being, leading to a considerable reduction in their overall quality of life. 
References
Younossi ZM, Stepanova M, Younossi Z, Stepanova M, Feld J, et al. Sofosbuvir and Velpatasvir Combination Improves Patient-reported Outcomes for Patients with HCV Infection, With-out or with Compensated or Decompensated Cirrhosis. Clin Gastroenterol Hepatol. 2017,15(3):421-430.e6. doi: 10.1016/j.cgh.2016.10.037
Nguyen DT, Tran TTT, Nghiem NM, Le PT, Vo QM, et al. Effectiveness of sofosbuvir based direct-acting antiviral regimens for chronic hepatitis C virus genotype 6 patients: Real-world experience in Vietnam. PLoS ONE 2020,15(5): e0233446. doi.org/10.1371/journal.pone.0233446
Bourliere M, Gordon SC, Flamm SL, Cooper CL, Ramji A, et al. Sofosbuvir, Velpatasvir, and Voxilaprevir for Previously Treated HCV Infection. N Engl J Med. 2017,376(22):2134–46. doi.org/10.1056/NEJMoa1613512
Li C, Yuan M, Lu L, Lu T, Xia W, et al. The genetic diversity and evolutionary history of hepatitis C virus in Vietnam. Virology. 2014,468–470:197–206. doi.org/10.1016/j.virol.2014.07.026
Lai CL, Wong VW, Yuen MF, Yang JC, Knox SJ, et al. Sofosbuvir plus ribavirin for the treatment of patients with chronic genotype 1 or 6 hepatitis C virus infection in Hong Kong. Aliment Pharmacol Ther. 2016,43(1):96–101. doi.org/10.1111/apt.13429
Shiffman ML, James AM, Long AG, Alexander PC. Treatment of chronic HCV with sofosbuvir and simeprevir in patients with cirrhosis and contraindications to interferon and/or ribavirin. Am J Gastroenterol. 2015,110(8):1179–85. doi.org/10.1038/ajg.2015.218
Le Ngoc C, Tran Thi Thanh T, Tran Thi Lan P, Nguyen Mai T, Nguyen Hoa T, et al. Differential prevalence and geographic distribution of hepatitis C virus genotypes in acute and chronic hepatitis C patients in Vietnam. PLoS One. 2019,14(3): e0212734.doi.org/10.1371/journal.pone.0212734
Teshale E, Lu M, Rupp LB, Holmberg SD, Moorman AC, et al. APRI and FIB-4 are good predictors of the stage of liver fibrosis in chronic hepatitis B: The Chronic Hepatitis Cohort Study (CHeCS). J Viral Hepat. 2014,21(12):917–20. Epub 2014/08/19. doi.org/10.1111/jvh.12279
Yen YH, Kuo FY, Kee KM, Chang KC, Tsai MC, et al. APRI and FIB-4 in the evaluation of liver fibrosis in chronic hepatitis C patients stratified by AST level. PLoS One. 2018,13(6): e0199760. doi.org/10.1371/journal.pone.0199760
Thanh Dung Nguyen T TTT, My Ngoc Nghiem, Nguyen Huyen Anh, Thanh Phuong Le, Minh Quang Vo, et al. Baseline Characteristics and Treatment Cost of Hepatitis C at Hospital for Tropical Diseases, Ho Chi Minh City, Vietnam in Direct-Acting Antiviral Treatment Era. Journal of Gastroenterology and Hepatology Research. 2019,8(5):1–9. doi.org/10.17554/j.issn.2224-3992.2019.08.857
Gane EJ, Hyland RH, D. An et al. "Efficacy of Ledipasvir and Sofosbuvir, with or Without Ribavirin, for 12 Weeks in Patients with HCV Genotype 3 or 6 Infection," Gastroenterology, vol. 149, no. 6, pp. 1454–1461.e1, 2015. doi.org/10.1053/j.gastro.2015.07.063
European Association for the Study of the Liver, "EASL recommendations on treatment of Hepatitis C 2015," Journal of Hepatology, vol. 63, no. 1, pp. 199–236, 2015. doi.org/10.1016/j.jhep.2015.03.025
Smith D, Magri A, and Bonsall D, "Resistance analysis of genotype 3 HCV indicates subtypes inherently resistant to NS5A inhibitors," Hepatology, 2018. doi.org/10.1002/hep.29837
Hill A, Khwairakpam G, Wang J, Golovin S, Dragunova J, et al. High sustained virological response rates using imported generic direct acting antiviral treatment for hepatitis C. Journal of virus eradication. 2017,3(4):200-3. doi.org/10.1016/S2055-6640(20)30324-1
Zeng QL, Xu GH, Zhang JY, Li W, Zhang DW, et al. Generic ledipasvir-sofosbuvir for patients with chronic hepatitis C: A real-life observational study. Journal of Hepatology. 2017,66(6):1123-9.doi.org/10.1016/j.jhep.2017.01.025
Martini S, Sacco M, Strona S, Arese D, Tandoi F, et al. Impact of viral eradication with sofosbuvir-based therapy on the outcome of post-transplant hepatitis C with severe fibrosis. Liver Int. 2017 ,37(1):62-70. doi: 10.1111/liv.13193.
Huang YT, Hsieh YY, Chen WM. et al. Sofosbuvir/velpatasvir is an effective treatment for patients with hepatitis C and advanced fibrosis or cirrhosis in a real-world setting in Taiwan. BMC Gastroenterol 21, 259 2021. doi.org/10.1186/s12876-021-01837-y
Zignego A L, Monti M, & Gragnani L. Sofosbuvir/Velpatasvir for the treatment of Hepatitis C Virus infection. Acta bio-medica: Atenei Parmensis,2018, 89(3), 321–331. doi.org/10.23750/abm. v89i3.7718
Juanbeltz, Regina et al. "Impact of successful treatment with direct-acting antiviral agents on health-related quality of life in chronic hepatitis C patients." PloS one vol.2018, 13,10 e0205277. doi: 10.1371/journal.pone.0205277
Su Pin-Shuoa, Wu Sih-Hsiena, Chu Chi-Jena,b,*, Su Chien-Weia,b, Lin Chung-Chib,c, et al.Sofosbuvir-based antiviral therapy provided highly treatment efficacy, safety, and good tolerability for Taiwanese chronic hepatitis C patients with decompensated cirrhosis, Journal of the Chinese Medical Association:2022,85(2):152-159. doi: 10.1097/JCMA.0000000000000653
Juanbeltz R, Martínez-Baz I, San Miguel R, Goñi-Esarte S, Cabasés JM, et al.Impact of successful treatment with direct-acting antiviral agents on health-related quality of life in chronic hepatitis C patients. PLoS ONE 2018,13(10): e0205277. doi.org/10.1371/journal.pone.0205277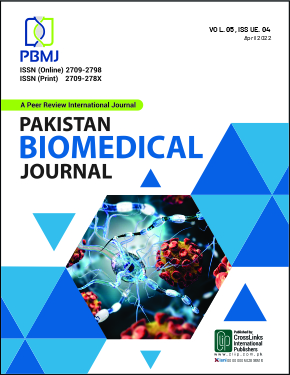 Downloads
How to Cite
Shabbir, A. B. ., Liaqat, M. ., & Muhammad Atif, H. . (2022). Successful Eradication of Hepatitis C Virus with Sofosbuvir based Antiviral treatment results in improvement in quality of life in cirrhotic patients: Eradication of HCV with Sofosbuvir in cirrhotic patients. Pakistan BioMedical Journal, 5(4), 141–144. https://doi.org/10.54393/pbmj.v5i4.385
License
Copyright (c) 2022 Pakistan BioMedical Journal
This work is licensed under a Creative Commons Attribution 4.0 International License.
This is an open-access journal and all the published articles / items are distributed under the terms of the Creative Commons Attribution License, which permits unrestricted use, distribution, and reproduction in any medium, provided the original author and source are credited. For comments editor@pakistanbmj.com