Identification of Patients having Pre-ACS Pain Impending Cardiac Events & Their Risk Management
Pre-ACS Pain Impending Cardiac Events & Their Risk Management
Abstract
If you're experiencing angina (UA), an acute myocardial infarction (AMI), or sudden cardiac death, you're suffering from an acute coronary syndrome (ACS). Southeast Asia, particularly Pakistan, has seen a dramatic rise in the prevalence of the disease. We aimed to identify incidence of Pre-ACS pain and to find out its association with future risk of any cardiac events. Methods: Islamabad's KRL hospital hosted this Cross-Sectional Study from November 2021 to February 2022. All the patients presenting with the diagnosis of ACS for the first time were included in our study. Inferential statistics were performed using SPSS version 23 and the Chi square test. Results: There were 72.7% men and 27.3% women. The average age was 57.12years. NSTMI was found in 30% of patients, followed by Anterior Wall MI in 20% and Acute Coronary Syndrome in 14.7%. Of the total population, 28% were in the normal BMI range and 49% were overweight or obese. BMI, obesity, sedentary lifestyle, fast food eating, smoking and exercise all have a significant p value when it comes to predicting cardiac events in patients. Conclusion: About 80% to 90% of people who experience acute chest syndrome (ACS) do so for no apparent reason. Consistent medical investigations are required to rule out the possibility of underlying ischemic heart disease. To identify the communities at risk, a grading approach is required.
References
Susilo C, Qomaruddin MB, Fahrera MP. Acute Coronary Syndrome and patient behavior factors in overcoming the event of chest pain in pre hospital phase. J Public Health Res. 2020 Jul 2;9(2):1810. doi: 10.4081/jphr.2020.1810. PMID: 32728556; PMCID: PMC7376453.
DeVon HA, Ryan CJ. Chest pain and associated symptoms of acute coronary syndromes. J Cardiovasc Nurs. 2005 Jul-Aug;20(4):232-8. doi: 10.1097/00005082-200507000-00006. PMID: 16000908.
Butt Z, Shahbaz U, Hashmi AT, Naseem T, Khan MM, Bukhari MH. Frequency of conventional risk factors in patients with acute coronary syndrome in males and females. Annals of King Edward Medical University. 2010;16(1):56
Ayachandra S, Agnihotram G, Rao RP, Murthy CV. Risk factor profile for coronary artery disease among young and elderly patients in Andhra Pradesh. Heart India. 2014;2(1):11
Fanaroff AC, Rymer JA, Goldstein SA, Simel DL, Newby LK. Does This Patient With Chest Pain Have Acute Coronary Syndrome?: The Rational Clinical Examination Systematic Review. JAMA. 2015 Nov 10;314(18):1955-65. doi: 10.1001/jama.2015.12735. PMID: 26547467.
Post F, Giannitsis E, Riemer T, Maier LS, Schmitt C, Schumacher B, Heusch G, Mudra H, Voigtländer T, Erbel R, Darius H, Katus H, Hamm C, Senges J, Gori T, Münzel T. Pre- and early in-hospital procedures in patients with acute coronary syndromes: first results of the "German chest pain unit registry". Clin Res Cardiol. 2012 Dec;101(12):983-91. doi: 10.1007/s00392-012-0487-4. Epub 2012 Jul 25. PMID: 22829016.
Yan AT, Yan RT, Huynh T, Casanova A, Raimondo FE, Fitchett DH, Langer A, Goodman SG; Canadian Acute Coronary Syndrome Registry 2 Investigators. Understanding physicians' risk stratification of acute coronary syndromes: insights from the Canadian ACS 2 Registry. Arch Intern Med. 2009 Feb 23;169(4):372-8. doi: 10.1001/archinternmed.2008.563. PMID: 19237721.
Kyaw K, Latt H, Aung SSM, Tun NM, Phoo WY, Yin HH. Atypical Presentation of Acute Coronary Syndrome and Importance of Wellens' Syndrome. Am J Case Rep. 2018 Feb 22;19:199-202. doi: 10.12659/ajcr.907992. PMID: 29467360; PMCID: PMC5829624.
Cervellin G, Rastelli G. The clinics of acute coronary syndrome. Ann Transl Med. 2016 May;4(10):191. doi: 10.21037/atm.2016.05.10. PMID: 27294087; PMCID: PMC4885904.
E A Amsterdam, J D Kirk, D A Bluemke, D Diercks, M E Farkouh, J L Garvey, et al. Testing of Low-Risk Patients Presenting to the Emergency Department With Chest Pain. Circulation. 2010;122:1756–1776. https://doi.org/10.1161/CIR.0b013e3181ec61df
U Ralapanawa, P V R Kumarasiri, K P Jayawickreme, P Kumarihamy , Y Wijeratne , M Ekanayake , et al. Epidemiology and risk factors of patients with types of acute coronary syndrome presenting to a tertiary care hospital in Sri Lanka. BMC Cardiovasc Disord. 2019. Oct 21;19(1):229. doi: 10.1186/s12872-019-1217-x.
Reuter, PG., Pradeau, C., Huo Yung Kai, S. et al. Predicting acute coronary syndrome in males and females with chest pain who call an emergency medical communication centre. Scand J Trauma Resusc Emerg Med 27, 92 (2019). https://doi.org/10.1186/s13049-019-0670-y
TIMI Risk Score for UA/NSTEMI. MD+CALC. https://www.mdcalc.com/timi-risk-score-ua-nstemi
F Beygui, M Castren, N D Brunetti, F R-Ortiz, M Christ, U Zeymer, et al. Pre-hospital management of patients with chest pain and/ or dyspnoea of cardiac origin. ACCA study group on pre-hospital care, Pre-hospital management of patients with chest pain and/or dyspnoea of cardiac origin. A position paper of the Acute Cardiovascular Care Association (ACCA) of the ESC., European Heart Journal. Acute Cardiovascular Care, Volume 9, Issue 1_suppl, 1 March 2020, Pages 59-81, https://doi.org/10.1177/2048872615604119
Ekelund, U., Akbarzadeh, M., Khoshnood, A. et al. Likelihood of acute coronary syndrome in emergency department chest pain patients varies with time of presentation. BMC Res Notes 5, 420 (2012). https://doi.org/10.1186/1756-0500-5-420
Om Parkash, Aysha Almas, Aamir Hameed, Muhammad Islam. Comparison of Non Cardiac Chest Pain (NCCP) and Acute Coronary Syndrome (ACS) patients presenting to a tertiary care center. J Pak Med Assoc Vol. 59, No. 10, October 2009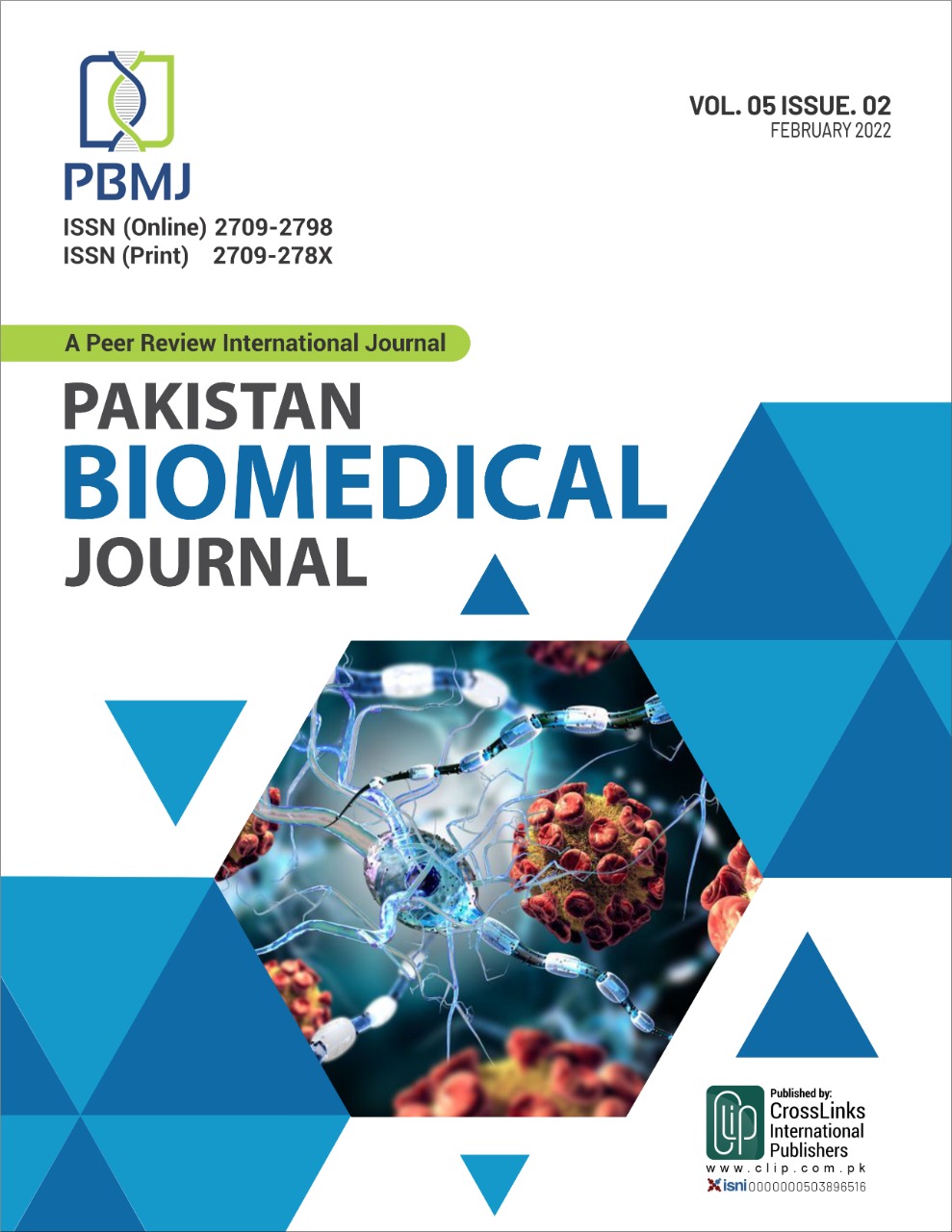 Downloads
How to Cite
Zeeshan, M., Khan, A. G. ., Ali, U. ., Mumtaz , H. ., & Ismail, M. . (2022). Identification of Patients having Pre-ACS Pain Impending Cardiac Events & Their Risk Management: Pre-ACS Pain Impending Cardiac Events & Their Risk Management. Pakistan BioMedical Journal, 5(2), 88–91. https://doi.org/10.54393/pbmj.v5i2.297
License
Copyright (c) 2022 Pakistan BioMedical Journal
This work is licensed under a Creative Commons Attribution 4.0 International License.
This is an open-access journal and all the published articles / items are distributed under the terms of the Creative Commons Attribution License, which permits unrestricted use, distribution, and reproduction in any medium, provided the original author and source are credited. For comments editor@pakistanbmj.com