Survey on Prevalance & Comparison of Back Pain Among Surgeons
Survey on Prevalence & Comparison of Back Pain Among Surgeons
Keywords:
Otolaryngology, Gynecologist & Obstetrician surgeons, Lower back pain
Abstract
The objective was to determine the prevalence of lower back pain (LBP) and comparison of lower back pain among surgeons of different specialties. METHODS:
For this research 100 surgeons sample size was estimated. A self-prepared questionnaire having 25 items was distributed in respondents to gather data about the prevalence of lower back pain in surgeons of   different specialties. Using SPSS V-19 data was analyzed having quantitative and qualitative variables. RESULT: It was noted that out of 10, general (4), cardiac (2), plastic (2), ENT(4),  trauma(6), pediatric(4), and orthopedic(7), neuro (2), urology(2) and gynecology (6) specialty felt lower back pain during surgeries. Out of 100 surgeons of diverse specialty 43 surgeons have lower back pain during the surgery. Out of 100 diverse specialty surgeons' 25 surgeons have LBP in region of lumbar, thoracic region (2 surgeons) and 29 in their region of lower lumbar. CONCLUSIONS: It was concluded that Gyne & Obs and ENT surgeons are more prone to lower back pain (LBP) as compare to the surgeons of other specialties. The reason of the lower back pain was tough routine, lengthy standing time during surgeries of patients, adaptation of abnormal postures and due to less rest time.
References
Hartvigsen J, Hancock MJ, Kongsted A, Louw Q, Ferreira ML, Genevay S, et al. What low back pain is and why we need to pay attention. Lancet 2018;391:2356-67.
https://doi.org/10.1016/S0140-6736(18)30480-X
Urits I, Burshtein A, Sharma M, Testa L, Gold PA, Orhurhu V, et al. Low Back Pain, a Comprehensive Review: Pathophysiology, Diagnosis, and Treatment. Curr Pain Headache Rep 2019;23:1-10.
https://doi.org/10.1007/s11916-019-0757-1
Kant IJ, de Jong LC, van RijssenMoll M, Borm PJ. A survey of static and dynamic work postures of operating room staff. Int Arch Occup Environ Health 1992;63:423-8.
https://doi.org/10.1007/BF00386939
Darvishi E, Khotanlou H, Khoubi J, Giahi O, Mahdavi N. Prediction effects of personal, psychosocial, and occupational risk factors on low back pain severity using artificial neural networks approach in industrial workers. J Manipulative Physiol Ther 2017;40:486-93.
https://doi.org/10.1016/j.jmpt.2017.03.012
Govindu NK, Babski-Reeves KL. Effects of personal, psychosocial and occupational factors on low back pain severity in workers. Int J Ind Ergon 2014;44:335-41.
https://doi.org/10.1016/j.ergon.2012.11.007
Lorusso A, Bruno S, L'Abbate N. A review of low back pain and musculoskeletal disorders among Italian nursing personnel. Ind Health 2007;45:637-44.
https://doi.org/10.2486/indhealth.45.637
Bin Homaid M, Abdelmoety D, Alshareef W, Alghamdi A, Alhozali F, Alfahmi N, et al. Prevalence and risk factors of low back pain among operation room staff at a tertiary care center, makkah, Saudi Arabia: A cross-sectional study. Ann Occup Environ Med 2016;28:1
https://doi.org/10.1186/s40557-016-0089-0
Cassidy JD, Côté P, Carroll LJ, Kristman V. Incidence and course of low back pain episodes in the general population. Spine (Phila Pa 1976) 2005;30:2817-23.
https://doi.org/10.1097/01.brs.0000190448.69091.53
Al Wassan K, Almas K, Al Shethri SE, Al-Qahtani MQ (2001) Back & neck problems among dentists and dental auxiliaries. J Contemp Dent Pract 2: 1730.
https://doi.org/10.5005/jcdp-2-3-1
Taguchi TJ (2003) Low back pain in young and middle-aged people. JMAJ 46: 417-423. Link:
Alexopoulos EC, Stathi IC, Charizani FJB (2004) Prevalence of musculoskeletal disorders in dentists. BMC Musculoskelet Disord 5: 16.
https://doi.org/10.1186/1471-2474-5-16
Falavigna A, Teles AR, Mazzocchin T, de Braga GL, Kleber FD, et al. (2011) Increased prevalence of low back pain among physiotherapy students compared to medical students. Eur Spine J 20: 500-505.
https://doi.org/10.1007/s00586-010-1646-9
Ali AA, Haq N, Hussain A, Rafi que M, MR MI, et al. (2021) Assessment of Frequent Work Related Musculoskeletal Disorders in Patients Visiting the Physiothrapy OPD of Civil Hospital Quetta, Pakistan: A Cross Sectional Survey. Indian Journal of Physiotherapy and Occupational Therapy - An International Journal 15: 91.
Balagué F, Mannion AF, Pellisé F, Cedraschi C: Non-specific low back pain. Lancet. 2012, 379:482-91.
https://doi.org/10.1016/S0140-6736(11)60610-7
Allegri M, Montella S, Salici F, et al.: Mechanisms of low back pain: a guide for diagnosis and therapy. F1000Res.
Koes BW, van Tulder MW, Thomas S: Diagnosis and treatment of low back pain. BMJ. 2006, 332:1430-4.
https://doi.org/10.1136/bmj.332.7555.1430
Hoy D, March L, Brooks P, et al.: The global burden of low back pain: estimates from the Global Burden of Disease 2010 study. Ann Rheum Dis. 2014, 73:968-74.
https://doi.org/10.1136/annrheumdis-2013-204428
Babar-Craig H, Banfield G, Knight J. J Laryngol Otol. 2003 Dec;117(12):979-82. PMID: 14738610.Department of Otolaryngology, St George's Hospital, London, UK.Humerababar1@AOL.com
https://doi.org/10.1258/002221503322683885
Mohseni-Bandpei MA1, Ahmad-Shirvani M, Golbabaei N, Behtash H, Shahinfar Z, Fernández-de-las-Peñas C. Prevalence and risk factors associated with low back pain in Iranian surgeons. Department of Physiotherapy, The University of Social Welfare and Rehabilitation, Sciences, Tehran, Iran. Mohseni_Bandpei@yahoo.com
Back and Neck Pain in Gynecologists. Daniel M. Avery, Jr., MD Daniel M. Aver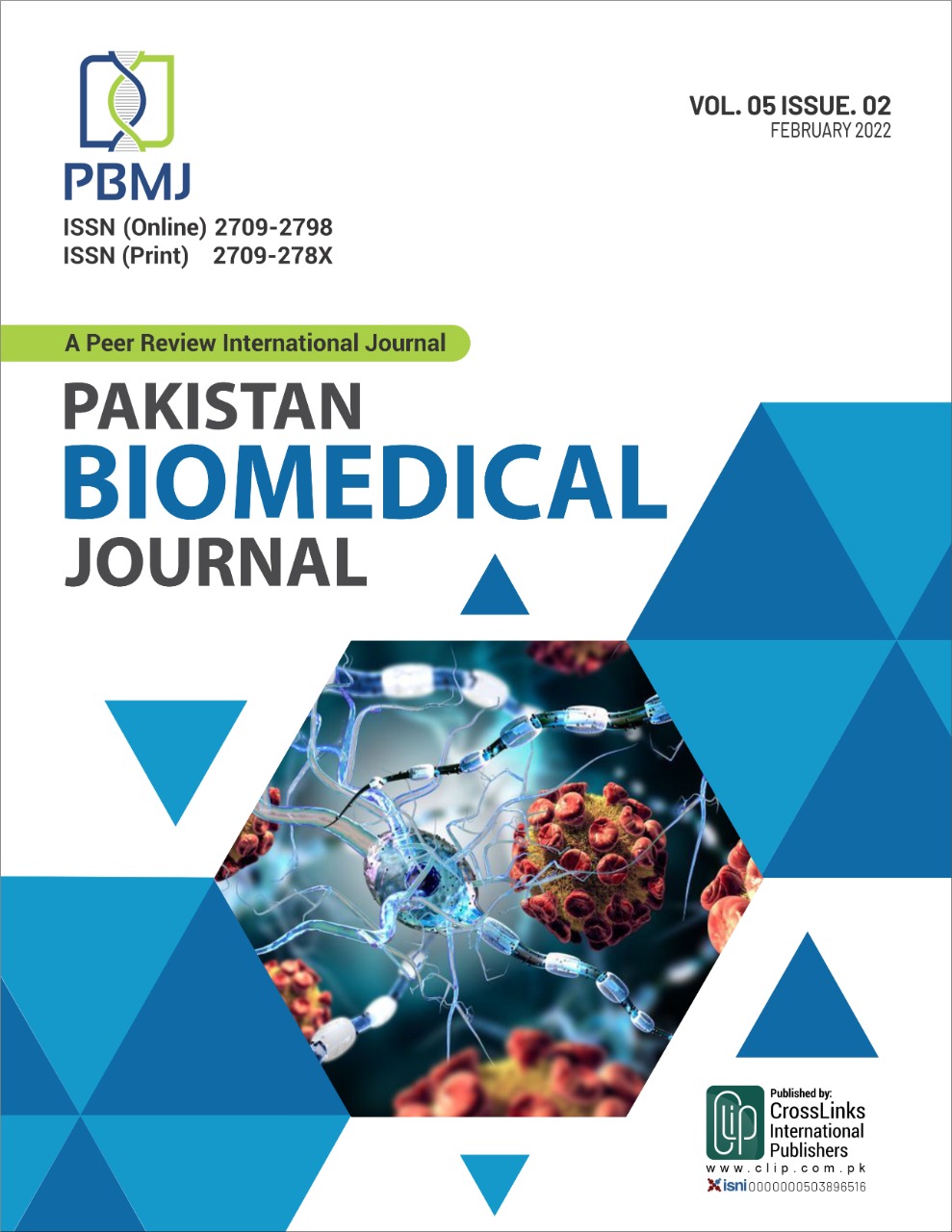 Downloads
How to Cite
Aslam, J. ., Nawaz, M. I., Sajjad, M. A., Aslam, M., Naz, I., Masood, R., Zafar, I. ., & Nadeem , K. (2022). Survey on Prevalance & Comparison of Back Pain Among Surgeons: Survey on Prevalence & Comparison of Back Pain Among Surgeons. Pakistan BioMedical Journal, 5(2), 92–94. https://doi.org/10.54393/pbmj.v5i2.285
License
Copyright (c) 2021 Pakistan BioMedical Journal
This work is licensed under a Creative Commons Attribution 4.0 International License.
This is an open-access journal and all the published articles / items are distributed under the terms of the Creative Commons Attribution License, which permits unrestricted use, distribution, and reproduction in any medium, provided the original author and source are credited. For comments editor@pakistanbmj.com