An Explanatory Research to Undermine the Knowledge Related Attributes of Polycystic Ovary Syndrome Among Adult Females
Polycystic Ovary Syndrome Among Adult Females
Keywords:
PCOS, dietary habits, junk food, menstrual cycle, BMI
Abstract
Polycystic ovary syndrome is a worldwide common syndrome of reproductive women described as reproductive, endocrine and metabolic abnormalities. PCOS is affecting 5-15% women all around the world. PCOS is defined as multifactorial pathology, determined by the association of many factors such as genetic, endocrine and environmental. Prevalence rate of PCOS in Pakistan is more than 50% and it is increasing day by day in young females. The objective of study is to access the females who are at risk of PCOS and relationship between PCOS and infertility in young females. The method of study was cross-sectional, done among female students of university. The respondents were asked about some physical signs and symptoms such as, oily skin, gain weight, darkened skin around their neck, excessive hair growth, and acne. In the end of the research, it is concluded that 20 percent of females out 100 have PCO's and are unaware of their symptoms. 48% respondents said they do not have PCOS but the symptoms that they answered according to the questionnaire shows that they have PCOS. The respondents were asked about their periods regularity. 53.9% respondents have irregular periods 33.3% shows they have regular period 3.9% says that some time they have irregular periods and 6.9% says they never faced any irregularity in their periods. Results   showed that 45% participants faced weight gain while the 15% does not know that they have gain any weight or not. Cravings percentage in PCOS patients increases from normal patients so the results shows that 39.2% participants have increase in cravings and 28.4% participants show they have no cravings and 30.4% don't know about their cravings. The study concluded that adolescent girls were unaware of PCOS symptoms and their diet normally constitutes of junk food and beverages that effect their menstrual cycles.
References
Jian Li QW, Xiao Ke Wu, Zhong Ming Zhou, Ping Pu, Ying Yan, et al. Effect of exposure to second hand smoke from husbands on biochemical hyperandrogenism, metabolic syndrome and conception rates in women with PCCOS undergoing ovulation induction. Human Reproduction. 2018; 33:1-9.
Da Li JJ, Zhou YM, Wang XX. Epigenetic regulation of traf2-and Nck-interacting kinase (TNIK) in polycystic ovary syndrome. American journal of translational research. 2015;7(6):1152.
Palomba S, Daolio J, La Sala GB. Oocyte competence in women with polycystic ovary syndrome. Trends in Endocrinology & Metabolism. 2017;28(3): 186-98.
https://doi.org/10.1016/j.tem.2016.11.008
Kabel AM. Polycystic ovarian syndrome: insights into pathogenesis, diagnosis, prognosis, pharmacological and non-pharmacological treatment. Pharmaceutical Bioprocessing. 2016;4(1): 7-12.
Azziz R, Carmina E, Chen Z, Dunaif A, Laven J, Legro R, et al. Polycystic ovary syndrome. Nature Reviews Disease Primers, 2: 16057. 2016.
https://doi.org/10.1038/nrdp.2016.57
Wang X QF, Wang C, Wang Y, Wang D, Zhao M, et al. Variation analysis of Ghrelin gene in Chinese patients with obesity, having POS. 2020:1-5.
E. Sorensen PBU, M.L. Wissing, A. L. M. Englund, L. T. Dalgaard. Micro RNAs related to androgen metabolism and PCOS. Chemico-biological interactions. 2016; 259:8-16.
https://doi.org/10.1016/j.cbi.2016.06.008
D. Garg RT. Inositol treatment and ART outcomes in women with PCOS. International Journal of endocrinology. 2016:1-9.
https://doi.org/10.1155/2016/1979654
Butterworth J, Deguara J, Borg CM. Bariatric surgery, polycystic ovary syndrome, and infertility. Journal of obesity. 2016 Oct;2016.
https://doi.org/10.1155/2016/1871594
Moghadam ZB, Fereidooni B, Saffari M, Montazeri A. Measures of health-related quality of life in PCOS women: a systematic review. International journal of women's health. 2018; 10:397.
https://doi.org/10.2147/IJWH.S165794
Artini PG, Obino ME, Sergiampietri C, Pinelli S, Papini F, Casarosa E, Cela V. PCOS and pregnancy: a review of available therapies to improve the outcome of pregnancy in women with polycystic ovary syndrome. Expert review of endocrinology & metabolism. 2018 Mar 4;13(2):87-98.
https://doi.org/10.1080/17446651.2018.1431122
Angin P, Yoldemir T, Atasayan K. Quality of life among infertile PCOS patients. Archives of gynecology and obstetrics. 2019 Aug;300(2):461-7.
https://doi.org/10.1007/s00404-019-05202-z
Sawant S, Bhide P. Fertility treatment options for women with polycystic ovary syndrome. Clinical Medicine Insights: Reproductive Health. 2019 Dec; 13:1179558119890867
https://doi.org/10.1177/1179558119890867
Khmil M, Khmil S, Marushchak M, Halnykina S, Khmil A. Reproductive hormone metabolism in women with infertility due to polycystic ovary syndrome depending on the constitutional body types. Pol Merkur Lekarski. 2020 Jun 1;48(285):152-6.
Morgante G, Massaro MG, Di Sabatino A, Cappelli V, De Leo V. Therapeutic approach for metabolic disorders and infertility in women with PCOS. Gynecological Endocrinology. 2018 Jan 2;34(1):4-9.
https://doi.org/10.1080/09513590.2017.1370644
Alchami A, O'Donovan O, Davies M. PCOS: diagnosis and management of related infertility. Obstetrics, Gynaecology & Reproductive Medicine. 2015 Oct 1;25(10):279-82.
https://doi.org/10.1016/j.ogrm.2015.07.005
Koneru A. Polycystic ovary syndrome (PCOS) and sexual dysfunctions. Journal of Psychosexual Health. 2019 Apr;1(2):154-8.
https://doi.org/10.1177/2631831819861471
Chadha C, Kataria J, Chugh P, Choudhary A. Quality of life in young adult females with PCOS. Indian J Physiother Occup Ther. 2019 Jan; 1:40-2.
https://doi.org/10.5958/0973-5674.2019.00008.X
Barbosa G, de Sá LB, Rocha DR, Arbex AK. Polycystic ovary syndrome (PCOS) and fertility. Open Journal of Endocrine and Metabolic Diseases. 2016 Jan 12;6(1):58-65.
https://doi.org/10.4236/ojemd.2016.61008
Costello MF, Misso ML, Balen A, Boyle J, Devoto L, Garad RM, Hart R, Johnson L, Jordan C, Legro RS, Norman RJ. A brief update on the evidence supporting the treatment of infertility in polycystic ovary syndrome. Australian and New Zealand Journal of Obstetrics and Gynaecology. 2019 Dec;59(6):867-73.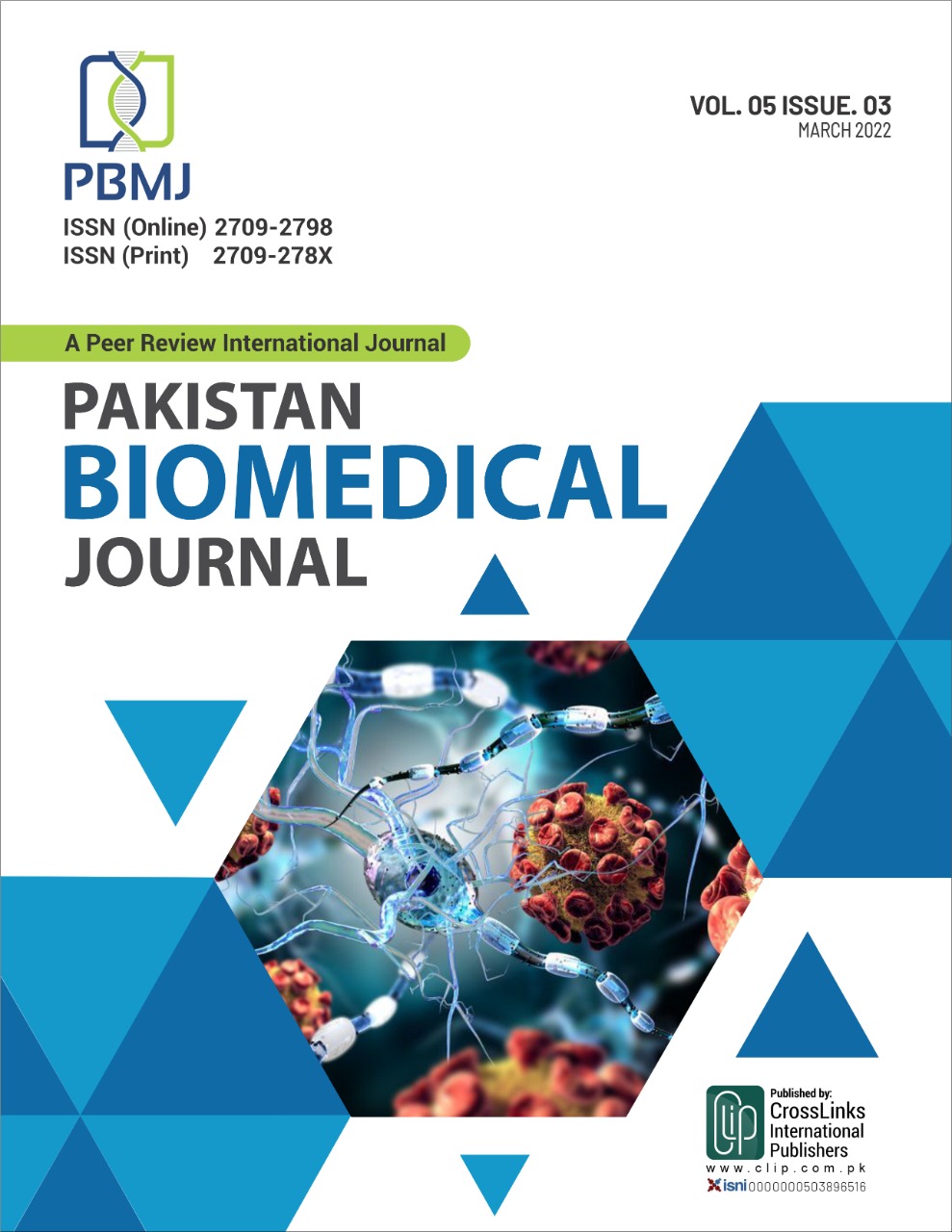 Downloads
CITATION
DOI: 10.54393/pbmj.v5i3.179
How to Cite
Aslam, M., Batool, M. ., Tahir, M. ., Asmat, A. ., Naeem, S. ., tul Wusqa, U. ., Haneef, Y. ., & Sabir, U. . (2022). An Explanatory Research to Undermine the Knowledge Related Attributes of Polycystic Ovary Syndrome Among Adult Females : Polycystic Ovary Syndrome Among Adult Females. Pakistan BioMedical Journal, 5(3), 73–77. https://doi.org/10.54393/pbmj.v5i3.179
License
Copyright (c) 2021 Pakistan BioMedical Journal
This work is licensed under a Creative Commons Attribution 4.0 International License.
This is an open-access journal and all the published articles / items are distributed under the terms of the Creative Commons Attribution License, which permits unrestricted use, distribution, and reproduction in any medium, provided the original author and source are credited. For comments editor@pakistanbmj.com