Prevalence of Metabolic Syndrome in Polycystic Ovarian Syndrome
Metabolic Syndrome in PCOS
Keywords:
Polycystic Ovarian Syndrome; Metabolic Syndrome, Obesity; High blood pressure; Diabetes; Dyslipidemia
Abstract
Metabolic Syndrome has High Prevalence in PCOS.Objective:This present study was conducted to evaluate the prevalence of MetS in PCOS patients using the related previously published data.Methods: The present systematic review was based on the Preferred Items for Systematic Reviews and Meta-Analyses (PRISMA) guidelines. The search was done using MeSH keywords in databases of PubMed, biomedcentral.com, Obgyn science and Google scholar search. We used Cochran's Q test and I2 Index to evaluate the relation among the studies and the random effects model was used to combine the results. Article review and discussion were precisely described with their refrences on the end of study.Results: 12 studies including 2600 plus patients with PCOS were included in the final analysis. Total heterogeneity was high . The prevalence of MetS in PCOS patients was estimated to about 70% in total patients with the history of pcos.Conclusion:Considering the prevalence of Metaboolic Syndrome in PCOS patients, diagnosis of Metabolic Syndrome in PCOS patients is necessary to reduce the causes and effects on the mortality rate.
References
Grundy SM. Metabolic syndrome pandemic. Arterioscler Thromb Vasc Biol 2008; 28: 629-636.
Cameron AJ, Shaw JE, Zimmet PZ. The metabolic syndrome: prevalence in worldwide populations. Endocrinol Metab Clin North Am 2006; 33: 351-375.
Ford ES, Giles WH, Mokdad AH. Increasing prevalence of the metabolic syndrome among U.S. adults. Diabetes Care 2004; 27: 2444-2449.
Nesto RW. The relation of insulin resistance syndromes to risk of cardiovascular disease. Rev Cardiovasc Med 2003;4: S11-S18.
Alberti KG, Zimmet PZ. Should we dump the metabolic syndrome? BMJ 2008; 336: 641-643.
Kahn R, Ferrannini E, Buse J, Stern M. The metabolic syndrome: time for a critical appraisal. Diabetes Care 2005; 28: 2289-2304.
Azziz R, Woods KS, Reyna R, Key TJ, Knochenhauer ES, Yildiz BO 2004 The prevalence and features of the polycystic ovary syndrome in an unselected population. J Clin Endocrinol Metab 89:2745–2749.
Ehrmann DA 2005 Medical progress: polycystic ovary syndrome. N Engl J Med 352:1223–1236 3.
Franks S 1995 Polycystic ovary syndrome. N Engl J Med 333:853– 861 4.
Faloia E, Canibus P, Gatti C, Frezza F, Santangelo M, Garrapa GG, Boscaro M 2004 Body composition, fat distribution and metabolic characteristics in lean and obese women with polycystic ovary syndrome. J Endocrinol Invest 27: 424 – 429
Legro RS 2003 Polycystic ovary syndrome and cardiovascular disease: a premature association? Endocr Rev 24:302–312
Dunaif A 1997 Insulin resistance and the polycystic ovary syndrome: mechanism and implications for pathogenesis. Endocr Rev 18:774 – 800
Legro RS, Urbanek M, Kunselman AR, Leiby BE, Dunaif A 2002 Self-selected women with polycystic ovary syndrome are reproductively and metabolically abnormal and undertreated. Fertil Steril 78:51–57
2002 Third report of the National Cholesterol Education Program (NCEPexpert panel on detection, evaluation, and treatment of high blood cholesterol in adults (Adult Treatment Panel III) final report. Circulation 106:3143–3421
Ford ES 2004 The metabolic syndrome and mortality from cardiovascular disease and all-causes: findings from the National Health and Nutrition Examination Survey II Mortality Study. Atherosclerosis 173:307–312
Haffner SM, Valdez RA, Hazuda HP, Mitchell BD, Morales PA, Stern MP 1992 Prospective analysis of the insulin-resistance syndrome (syndrome X). Diabetes Care 41:715–722
Isomaa B, Almgren P, Tuomi T, Forsen B, Lahti K, Nissen M, Taskinen MR, Groop L 2001 Cardiovascular morbidity and mortality associated with the metabolic syndrome. Diabetes Care 24:683– 689
Lakka HM, Laaksonen DE, Lakka TA, Niskanen K, Kumpusalo E, Toumilehto J, Salonen JT 2002 The metabolic syndrome and total and cardiovascular disease mortality in middle-aged men. JAMA 288:2709 –2716
Trevisan M, Liu J, Bahass FB, Menotti A 1998 Syndrome X and mortality: a population-based study. Risk factor and life expectancy research group. Am J Epidemiol 148:958 –966.
Teimuraz Apridonidze, Paulina A. Essah, Maria J. Iuorno, and John E. Nestler "Prevalence & Characteristics of the Metabolic Syndrome in Women with Polycystic Ovarian Syndrome. The Journal of Clinical Endocrinology 10.1210. 2004-1045.
David A. Ehrmann, David R Lijenquist, Kristen kasza, Ricardo Azziz, Richard S Legro, and Mahmoud N Ghazzi, for the PCOS/ Troglitazone study group. The Journal of Clinical Endocrinologyy and Metabolism 91(1):48-53-(2006).
E Carmina, N Napoli, R A Longo, G B Rini, R A Lobo "Metabollic Syndrome in Polycystic Ovary Syndrome (PCOS) . Eur J Endocrinol, 2006 Jan, 154(1):141-5. Doi: 10.1530/eje.1.02058.
Sudhindra Mohan Bhattacharya. On "Prevalence of Metabolic Syndrome in women with Polycystic Ovarian Syndrome, using two proposed definitions". Published on 02 Nov 2009.
Sawaek Weerakie, Pongamon Bunnag, Bunyong Phakdeekitcharoen, Surapee Wansumrith, Suwanee Chanprasertyothin, RattiyaJultanmass, on " Prevalence of the Metabolic Syndrome in Asian Women with PCOS: Using the International Diabetes Federation criteria, Published on 07 july 2009.
Ashraf Moini, M.D, Fatemah Javanmard M.D, Bita Eslami, M.P.H, & Najmeh Aletah, M.D, Prevalence of Metabolic Syndrome in PCOS women in Tehran. Iran J Reprod Med 2012 Mar > v.10(2);2012Mar > PMC4163274.
Min-Ju kim, Nam-Kyoo Lim, Young-Min Choi, Jin-Ju Kim, Kyu-Ri Hwang, Soo- jin,Chan-Woo Park, Doo-Seok Choi, Byung-Moon Kang, Byung-seok Lee, Tak Kim, Hyun-Young Park. "'Prevalence of Metabolic Syndrome is higher in non-obese PCOS women with Hyperandrogenism & menstrual Irregularity in Korea. PLos One,2014 june 5;9(6);e99252, doi; 10.1371/journal.pone.0099252. eCollection 2014.
Fahimeh Ramezani Tehrani et al. Reprod Biol Endocrinol. 2014. "The Prevalence of Metabolic Disorder in various Phenotypes of PCOS: a community based study in Iran. >Reprod Biol Endocrinol 2014 Sep 16; 12:89, doi: 10.1186/1477-7827-12-89.
Ziba Zahiri, M.D, Seyedah Hajar Sharami, M.D, Forozan Milani, M.D, Fereshtah Mohammadi, M.D, Ehsan Kazemnejad, PhD, Hannan Ebrahmini, M.D & Seyedah Fatemah Dalil Heirati B.Sc. "Metabolic Syndrome in Patients with Polycystic
Ovarian Ovary Syndrome in Iran". 2015 Dec 23 doi: 10.22074/ijfs.20155.4607
Sangita Sharma &Abha Majumdar on "Prevalence of Metabolic syndrome in relation to BMI & Polycystic Ovarian Syndrome in Indian Women" 2015 Oct-Dec, 8(4); 202-208 doi: 10.4103/0974-1208. 170394.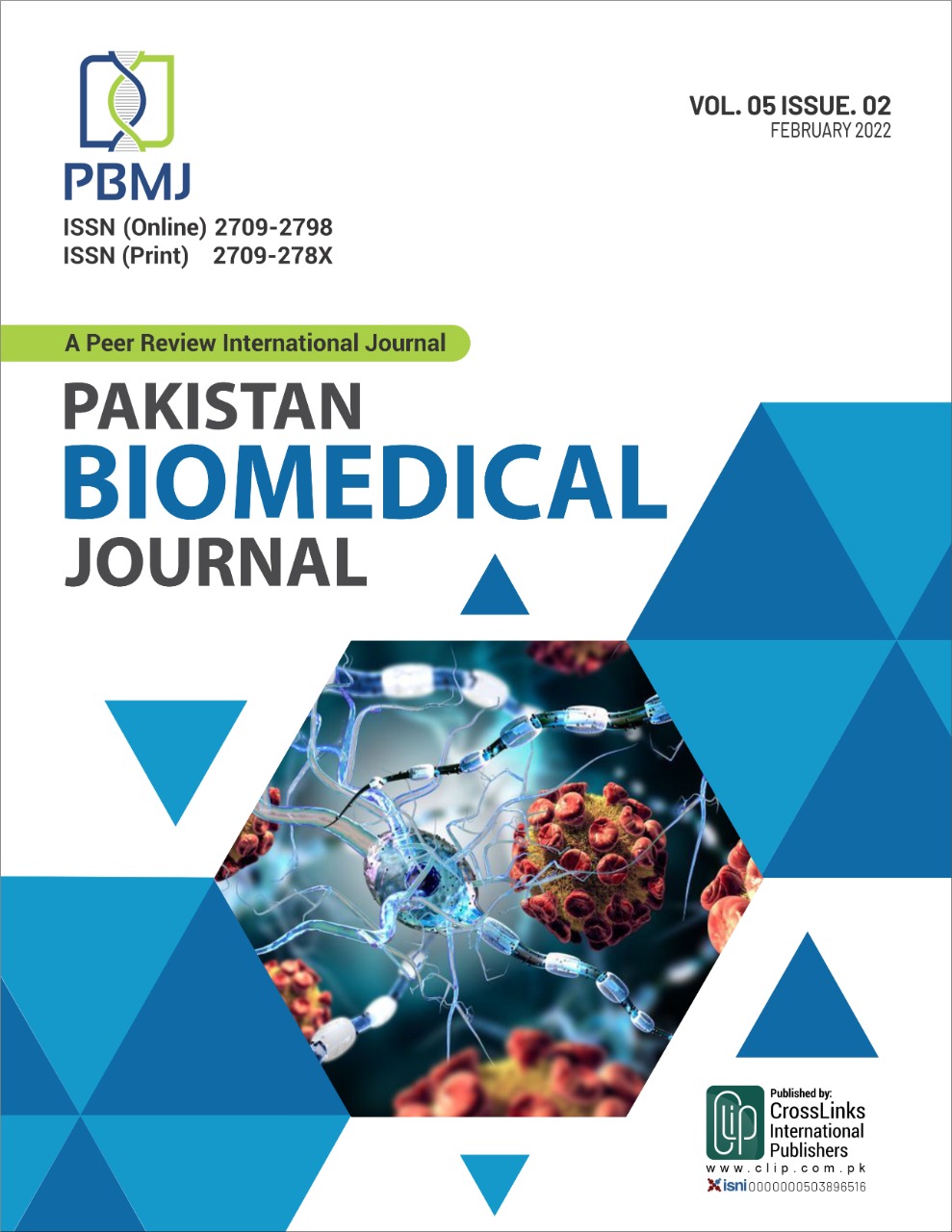 Downloads
How to Cite
Sana, A. ., Khadija , S. ., Shazadi, R. ., Zafar, W. ., Rasool , K. ., & Fazal, A. . (2022). Prevalence of Metabolic Syndrome in Polycystic Ovarian Syndrome: Metabolic Syndrome in PCOS. Pakistan BioMedical Journal, 5(2), 07–09. https://doi.org/10.54393/pbmj.v5i2.163
License
Copyright (c) 2021 Pakistan BioMedical Journal
This work is licensed under a Creative Commons Attribution 4.0 International License.
This is an open-access journal and all the published articles / items are distributed under the terms of the Creative Commons Attribution License, which permits unrestricted use, distribution, and reproduction in any medium, provided the original author and source are credited. For comments editor@pakistanbmj.com