What is The Prevalence of Genetic Disorders That Cause Effects On In Fertility?
Genetic Disorders & Infertility
Keywords:
Genetic disorders, Fertility, Prevalence, Chromosomal abnormality
Abstract
Infertility rates increases day by day and major reason can be genetic disorders.Objective: To review the prevalence and effects of genetic defects that can cause infertility.10 to 20% of patients have severe infertility disorders. To find out whether genetic material defects are really major infertility cause or not? And what are their prevalence.. Infertility is common health condition. Genetic cause are majorly unexplained but 2300 genes expressed that can retranslate and their mutation can cause of infertility.Handfull of genes and genetic effects are associated with human genome to express genes. Mostly tests added to check male infertility annually.Methods: I analyse and evaluate 12 articles from (1997-2011) from Google scholar, PubMed etc. All data is reviewed from infertility complaints. The data is extracted from Medline, PubMed and Obsgyne online library.Results: Those studies which conducted between years 1985 to 2011 are included in review. The sample size included more than 300 men and women aged between 20 to 40 years. In this study we evaluated that genomic technologies and advent of fertility tips can help in fertile patients. Metabolic chromosomal defects can be genetic disorders by deletion of chromosomes abnormLly.SOX9 chromosome is also play basic role in men fertility. Semen collection and measurements done and proper advances can be seen through research to follow up infertile patients. Comprehensive diagnosis started to advance the research and to increase the prognostic information.Conclusions: Infertility can be caused by genomic abnormalities and chromosomal abnormalities. Molecular techniques can help to reduce the abnormalities. In reality we are unable to establish genotype phenotype relationship and various testicular pattern to see infertile men.
References
Cameron, Fergus J., and Andrew H. Sinclair. "Mutations in SRY and SOX9: testis-determining genes." Human mutation 9, no. 5 (1997): 388.
Matzuk, M. M., & Lamb, D. J. (2008). The biology of infertility: research advances and clinical challenges. Nature medicine, 14(11), 1197–1213. https://doi.org/10.1038/nm.f.1895
Thirumavalavan, Nannan, J. Scott Gabrielsen, and Dolores J. Lamb. "Where are we going with gene screening for male
infertility?." Fertility and sterility 111, no. 5 (2019): 842-850.
Peng, Hongli, Panlin Zhao, Jiaonan Liu, Jinxia Zhang, Jie Zhang, Youxin Wang, Lijuan Wu, Manshu Song, and Wei Wang. "Novel epigenomic biomarkers of male infertility identified by methylation patterns of CpG sites within imprinting control regions of H19 and SNRPN genes." Omics: a journal of integrative biology 22, no. 5 (2018): 354-364.
Skakkebaek, N. E., MAJ HULTÉN, PETREA JACOBSEN, and MARGARETA MIKKELSEN. "Quantification of human seminiferous epithelium." Reproduction 32, no. 3 (1973): 391-401.
Wiktor, Anne E., Grant Bender, and Daniel L. Van Dyke. "Identification of sex chromosome mosaicism: is analysis of 20 metaphase cells sufficient?." American journal of medical genetics. Part A 149, no. 2 (2009): 257-259.
Robay, Amal, Saleha Abbasi, Ammira Akil, Haitham El-Bardisi, Mohamed Arafa, Ronald G. Crystal, and Khalid A. Fakhro. "A systematic review on the genetics of male infertility in the era of next- generation sequencing." Arab journal of urology 16, no. 1 (2018): 53- 64.
Hann, Michael C., Patricio E. Lau, and Helen G. Tempest. "Meiotic recombination and male infertility: from basic science to clinical reality?." Asian journal of andrology 13, no. 2 (2011): 212.
THARAPEL, AVIRACHAN T., SUGANDHI A. THARAPEL, and ROBIN M. BANNERMAN. "Recurrent pregnancy losses and parental chromosome abnormalities: a review." BJOG: An International Journal of Obstetrics & Gynaecology 92, no. 9 (1985): 899-914.
Cameron, Fergus J., and Andrew H. Sinclair. "Mutations in SRY and SOX9: testis-determining genes." Human mutation 9, no. 5 (1997): 388.
van Golde, Ron JT, Alex MM Wetzels, Ruurd de Graaf, Joep HAM Tuerlings, Didi DM Braat, and Jan AM Kremer. "Decreased fertilization rate and embryo quality after ICSI in oligozoospermic men with microdeletions in the azoospermia factor c region of the Y chromosome." Human Reproduction 16, no. 2 (2001): 289-292.
Preece, Mary Anne, and Anne Green. "Pregnancy and inherited metabolic disorders: maternal and fetal complications." Annals of clinical biochemistry 39, no. 5 (2002): 444-455.
Layman, Lawrence C., Sewit Amde, David P. Cohen, Mei Jin, and Jun Xie. "The Finnish follicle-stimulating hormone receptor gene mutation is rare in North American women with 46, XX ovarian
failure." Fertility and sterility 69, no. 2 (1998): 300-302.
Shah, Kavita, Gayathri Sivapalan, Nicola Gibbons, Helen Tempest, and Darren K. Griffin. "The genetic basis of infertility." REPRODUCTION-CAMBRIDGE- 126, no. 1 (2003): 13-25.
Isidor, Bertrand, Carmen Capito, Françoise Paris, Sabine Baron, Nadege Corradini, Blandine Cabaret, Marc-David Leclair et al. "Familial frameshift SRY mutation inherited from a mosaic father with testicular dysgenesis syndrome." The Journal of Clinical Endocrinology & Metabolism 94, no. 9 (2009): 3467-3471.
Dayangaç, Didem, Hayat Erdem, Engin Yilmaz, Ahmet Şahin, Christof Sohn, Meral Özgüç, and Thilo DoÈrk. "Mutations of the CFTR gene in Turkish patients with congenital bilateral absence of the vas deferens." Human reproduction 19, no. 5 (2004): 1094-1100.
Matzuk, Martin M., and Dolores J. Lamb. "The biology of infertility: research advances and clinical challenges." Nature medicine 14, no. 11 (2008): 1197-1213.
Juul, Anders, Kristian Almstrup, Anna-Maria Andersson, Tina
K. Jensen, Niels Jørgensen, Katharina M. Main, Ewa Rajpert-De Meyts, Jorma Toppari, and Niels E. Skakkebæk. "Possible fetal determinants of male infertility." Nature Reviews Endocrinology 10, no. 9 (2014): 553-562.
ESHRE Capri Workshop Group. "Fertility and ageing." Human reproduction update 11, no. 3 (2005): 261-276.
Crisponi, Laura, Manila Deiana, Angela Loi, Francesca Chiappe, Manuela Uda, Patrizia Amati, Luigi Bisceglia et al. "The putative forkhead transcription factor FOXL2 is mutated in blepharophimosis/ptosis/epicanthus inversus syndrome." Nature genetics 27, no. 2 (2001): 159-166.
Simpson, Joe Leigh, and Aleksandar Rajkovic. "Ovarian differentiation and gonadal failure." American journal of medical genetics 89, no. 4 (1999): 186-200.
Robker, Rebecca L., and JoAnne S. Richards. "Hormonal control of the cell cycle in ovarian cells: proliferation versus differentiation." Biology of reproduction 59, no. 3 (1998): 476-482.
Achermann, John C., Jeffrey Weiss, Eun-Jig Lee, and J. Larry Jameson. "Inherited disorders of the gonadotropin hormones." Molecular and cellular endocrinology 179, no. 1-2 (2001): 89-96.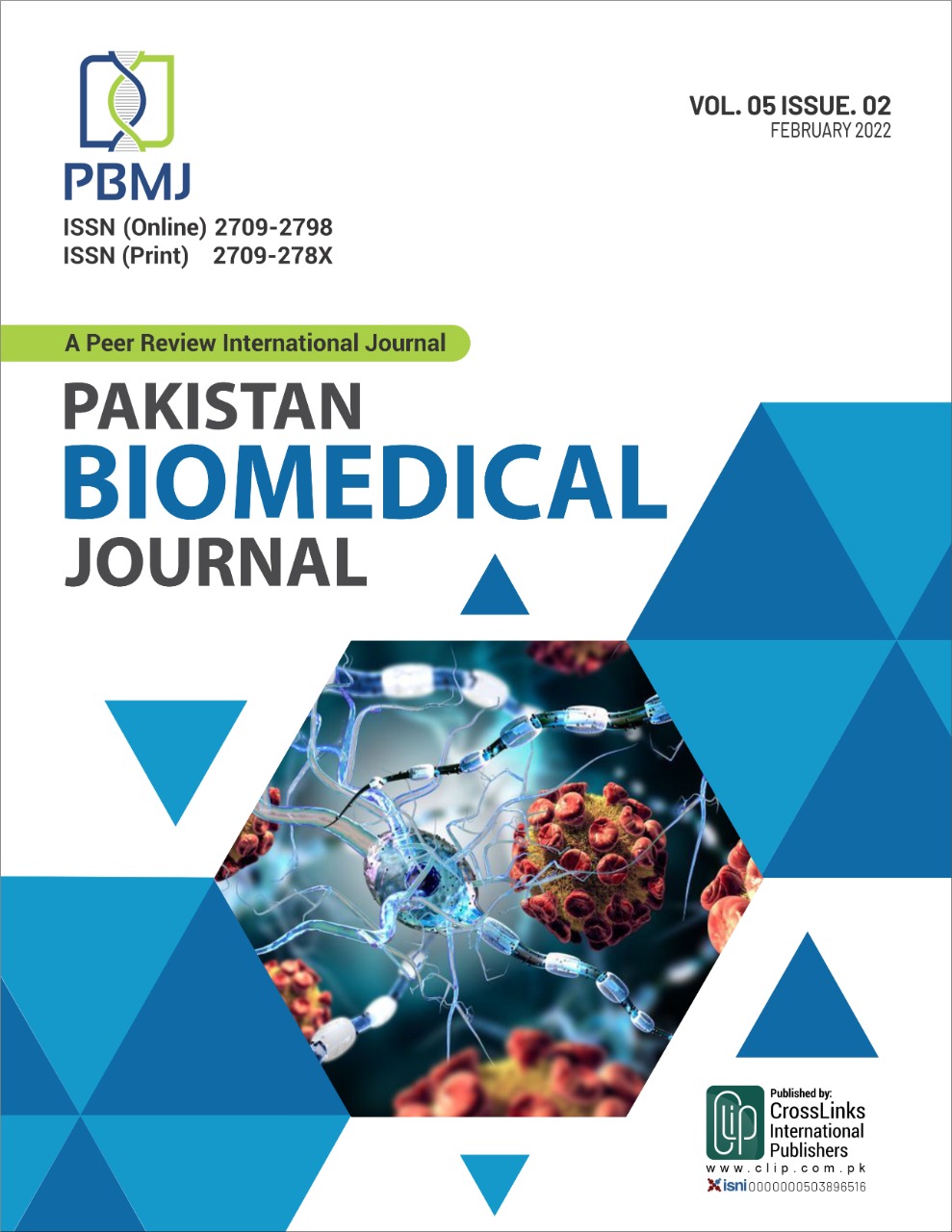 Downloads
How to Cite
Shazadi, R. ., Khadija , S. ., Sana, A. ., Rasool, K., Fazal, A. ., & Zafar , W. . (2022). What is The Prevalence of Genetic Disorders That Cause Effects On In Fertility? Genetic Disorders & Infertility. Pakistan BioMedical Journal, 5(2), 23–26. https://doi.org/10.54393/pbmj.v5i2.162
License
Copyright (c) 2021 Pakistan BioMedical Journal
This work is licensed under a Creative Commons Attribution 4.0 International License.
This is an open-access journal and all the published articles / items are distributed under the terms of the Creative Commons Attribution License, which permits unrestricted use, distribution, and reproduction in any medium, provided the original author and source are credited. For comments editor@pakistanbmj.com