Therapeutic effect of garlic containing S-allyl cysteine and Diallyl-di-sulfide on improving blood lipid profile
Garlic Containing S-allyl Cysteine and Diallyl-di-Sulfide in Lipid Profile
Keywords:
Therapeutic, Garlic, S-allyl cysteine, Diallyl-disul
Abstract
Cardiovascular-related diseases are considered as the major risk for health and may lead to many illnesses. Hyperlipidemia is the highest common cause of diseases related to heart known as CHD. Since ancient times, innumerable herbs and organic foods are used to treat diseases among which garlic has been shown beneficial for treating hyperlipidemia and normalizing lipid profile levels. Garlic may be used in different forms like powder, tablets, extracts or after ageing. Its sulfur containing compounds like allicin, S-allylcysteine, alliin, ajoene, diallyl disulfide are proven to have the pharmacological benefits. The main aim of the current review is to analyze and evaluate the studies regarding anti-hyperlipidemic effects of garlic and its supplements on normalizing lipid profile among hyperlipidemicsubjects.After analyzing different studies being carried out earlier, it is concluded that garlic is effective in managing lipid profile including total cholesterol, triglycerides, LDL, HDL levels among people with hyperlipidemia ranging from mild to moderate intensity.
References
World Health Organization. The Global Burden of Disease: 2004 Update. Geneva, Switzerland: World Health Organization; 2008.
Casas R, Sacanella E, Urpí-Sardà M, Corella D, Castaner O, Lamuela-Raventos RM, et al. Long-term immunomodulatory effects of a mediterranean diet in adults at high risk of cardiovascular disease in the Preventión con DietaMediterránea (PREDIMED) randomized controlled trial. The Journal of nutrition. 2016 Sep 1;146(9):1684-93.
https://doi.org/10.3945/jn.115.229476
Rafieian-Kopaei M, Setorki M, Doudi M, Baradaran A, Nasri H. Atherosclerosis: process, indicators, risk factors and new hopes. Int J Prev Med. 2014;5:927-946.
Pencina MJ, Navar-Boggan AM, D'AgostinoSr RB, Williams K, Neely B, Sniderman AD, Peterson ED. Application of new cholesterol guidelines to a population-based sample. N Engl J Med. 2014 Apr 10;370:1422-31.
https://doi.org/10.1056/NEJMoa1315665
Clebak KT, Dambro AB. Hyperlipidemia: An Evidence-based Review of Current Guidelines. Cureus. 2020;12(3).
https://doi.org/10.7759/cureus.7326
Sarfraz M, Sajid S, Ashraf MA. Prevalence and pattern of dyslipidemia in hyperglycemic patients and its associated factors among Pakistani population. Saudi Journal of Biological Sciences. 2016;23(6):761-6.
https://doi.org/10.1016/j.sjbs.2016.03.001
Brooks DC, Schindler JL. Management of Hyperlipidemia After Stroke. Current Treatment Options in Cardiovascular Medicine. 2019;21(12):93.
https://doi.org/10.1007/s11936-019-0774-8
Ballantyne CM, Grundy SM, Oberman A, Kreisberg RA, Havel RJ. Hyperlipidemia: diagnostic and therapeutic perspectives. The Journal of clinical endocrinology and metabolism. 2000;85(6):2089-112.
https://doi.org/10.1210/jcem.85.6.6642-1
Sidhu JS, Zafar TA. Fruits of Indian Subcontinent and Their Health Benefits. InHerbal Medicine in India 2020 (pp. 451-478). Springer, Singapore.
https://doi.org/10.1007/978-981-13-7248-3_28
Khurana SK, Tiwari R, Sharun K. Mohd. Iqbal Yatoo, Mudasir Bashir Gugjoo and KuldeepDhama, Emblicaofficinalis (Amla) with a Particular Focus on its Antimicrobial potentials: A Review. J Pure ApplMicrobiol. 2019;13(4).
https://doi.org/10.22207/JPAM.13.4.11
Mradu G, Dailya B, Arup M. Studies Of Anti Inflammatory, Antipyretic And Analgesic Effects Of Aqueous Extract Of Traditional Herbal Drug Of Rodents. Int Res J Pharm. 2013;4(3):113-20.
https://doi.org/10.7897/2230-8407.04321
Sharma DI, Bhatt SA. Comprehensive review on ulcer healing potential of medicinal plants. Int J Pharm Pharm Sci. 2014;6(10).
Aviello G, Abenavoli L, Borrelli F, Capasso R, Izzo AA, Lembo F, et al. Garlic: empiricism or science?.Natural Product Communication. 2017 Dec 1;4(12):85-96.
https://doi.org/10.1177/1934578X0900401231
Gupta N, Porter TD. Garlic and garlic-derived compounds inhibit human squalenemonooxygenase. The Journal of nutrition. 2018 Jun 1;131(6):1662-67.
https://doi.org/10.1093/jn/131.6.1662
Corzo-Martínez M, Corzo N, Villamiel M. Biological properties of onions and garlic. Trends in food science & technology. 2017 Dec 1;18(12):609-25.
https://doi.org/10.1016/j.tifs.2007.07.011
Iciek M, Kwiecień I, Włodek L. Biological properties of garlic and garlic‐derived organosulfur compounds. Environmental and molecular mutagenesis. 2016 Apr 1;50(3):247-65.
https://doi.org/10.1002/em.20474
Agarwal KC: Therapeutic actions of garlic constituents. Med Res Rev 2003,16:111-24.
https://doi.org/10.1002/(SICI)1098-1128(199601)16:1<111::AID-MED4>3.0.CO;2-5
Choi DJ, Lee SJ, Kang MJ, Cho HS, Sung NJ, Shin JH. Physicochemical characteristics of black garlic (Allium sativum L.). Journal of the Korean Society of Food Science and Nutrition. 2018 Jan 1;37(4):465-71.
https://doi.org/10.3746/jkfn.2008.37.4.465
Yilmaz Y, Toledo R. Antioxidant activity of water-soluble Maillard reaction products. Food chemistry. 2005 Nov 1;93(2):273-8.
https://doi.org/10.1016/j.foodchem.2004.09.043
Kang OJ. Physicochemical characteristics of black garlic after different thermal processing steps. Preventive nutrition and food science. 2016 Dec;21(4):348.
https://doi.org/10.3746/pnf.2016.21.4.348
Zaid M, Hasnain S. Plasma lipid abnormalities in Pakistani population: trends, associated factors, and clinical implications. Brazilian Journal of Medical and Biological Research. 2018 July 23;51(9):1-2.
https://doi.org/10.1590/1414-431x20187239
García-Villalón AL, Amor S, Monge L, Fernández N, Prodanov M, Muñoz M, et al. In vitro studies of an aged black garlic extract enriched in S-allylcysteine and polyphenols with cardioprotective effects. Journal of functional foods. 2016 Dec 1;27:189-200.
https://doi.org/10.1016/j.jff.2016.08.062
Orekhov AN, Grünwald J. Effects of garlic on atherosclerosis. Nutrition. 1997 Jul 1;13(7-8):656-63.
https://doi.org/10.1016/S0899-9007(97)83010-9
Yeh YY, Liu L. Cholesterol-lowering effect of garlic extracts and organosulfur compounds: human and animal studies. The journal of nutrition. 2001 Mar;131(3):989S-93S.
https://doi.org/10.1093/jn/131.3.989S
Munday JS, James KA, Fray LM, Kirkwood SW, Thompson KG. Daily supplementation with aged garlic extract, but not raw garlic, protects low density lipoprotein against in vitro oxidation. Atherosclerosis. 1999 Apr 1;143(2):399-404.
https://doi.org/10.1016/S0021-9150(98)00293-7
Lau BH. Suppression of LDL oxidation by garlic. The Journal of nutrition. 2001 Mar;131(3):985S-8S.
https://doi.org/10.1093/jn/131.3.985S
Kannar D, Wattanapenpaiboon N, Savige GS. Hypocholesterolemic effect of an enteric-coated garlic supplement. J Am Coll Nutr.2001;20:225-231.
https://doi.org/10.1080/07315724.2001.10719036
Kojuri J, Vosoughi AR, Akrami M. Effects of anethumgraveolens and garlic on lipid profile in hyperlipidemic patients. Lipids in Health and Disease. 2007 Dec;6(1):1-5.
https://doi.org/10.1186/1476-511X-6-5
Jung ES, Park SH, Choi EK, Ryu BH, Park BH, Kim DS, Kim YG, Chae SW. Reduction of blood lipid parameters by a 12-wk supplementation of aged black garlic: a randomized controlled trial. Nutrition. 2014 Sep 1;30(9):1034-9.
https://doi.org/10.1016/j.nut.2014.02.014
Alobaidi HAA. Effect of Nigella Sativa and Allium sativumcoadminstered with Simvastatin in Dyslipidemia Patients: A Prospective, Randomized, Double-Blind Trial. Anti-Inflammatory & Anti-Allergy Agents in Medicinal Chemistry (Formerly Current Medicinal Chemistry-Anti-Inflammatory and Anti-Allergy Agents). 2014 Mar 1;13(1):68-74.
https://doi.org/10.2174/18715230113129990013
Sobenin IA, Pryanishnikov VV, Kunnova LM, Rabinovich YA, Martirosyan DM, Orekhov AN. The effects of time-released garlic powder tablets on multifunctional cardiovascular risk in patients with coronary artery disease. Lipids in health and disease. 2010 Dec;9(1):1-6.
https://doi.org/10.1186/1476-511X-9-119
Parastouei K, Ravanshad SH, Mostaphavi H, Setoudehmaram E. Effects of garlic tablet on blood sugar, plasma lipids and blood pressure in type 2 diabetic patients with hyperlipidemia. Journal of Medicinal Plants. 2006 Mar 10;5(17):48-54.
Steiner M, Khan AH, Holbert D, Lin RI. A double-blind crossover study in moderately hypercholesterolemic men that compared the effect of aged garlic extract and placebo administration on blood lipids. The American journal of clinical nutrition. 1996 Dec 1;64(6):866-70.
https://doi.org/10.1093/ajcn/64.6.866
Adler AJ, Holub BJ. Effect of garlic and fish-oil supplementation on serum lipid and lipoprotein concentrations in hypercholesterolemic men. The American journal of clinical nutrition. 1997 Feb 1;65(2):445-50.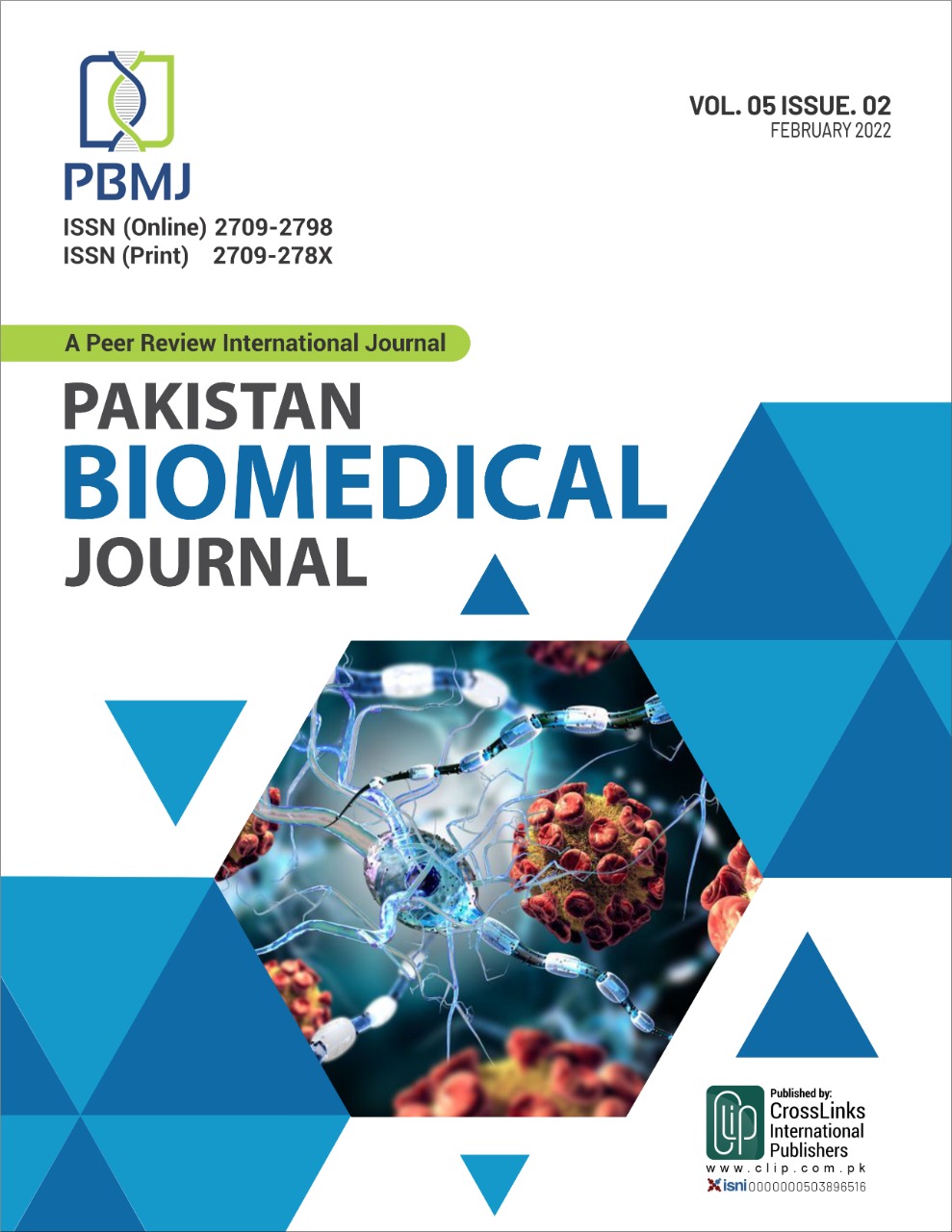 Downloads
CITATION
DOI: 10.54393/pbmj.v5i2.110
How to Cite
Siddiqa, A. ., Basharat, S. ., Mubarik, F. ., Farooq, F. ., & Ali, M. (2022). Therapeutic effect of garlic containing S-allyl cysteine and Diallyl-di-sulfide on improving blood lipid profile: Garlic Containing S-allyl Cysteine and Diallyl-di-Sulfide in Lipid Profile. Pakistan BioMedical Journal, 5(2), 18–22. https://doi.org/10.54393/pbmj.v5i2.110
License
Copyright (c) 2021 Pakistan BioMedical Journal
This work is licensed under a Creative Commons Attribution 4.0 International License.
This is an open-access journal and all the published articles / items are distributed under the terms of the Creative Commons Attribution License, which permits unrestricted use, distribution, and reproduction in any medium, provided the original author and source are credited. For comments editor@pakistanbmj.com