Health Status and Academic Progress Among Day Scholars Vs Hostelites in Allied Health Sciences Students
Health Status and Academic Progress Among Day Scholars Vs Hostilities
Keywords:
Academic progress, Allied health sciences students, Day scholars, Hostilities, Health status
Abstract
Students are the most important aspect of future in any nation, which depends incredibly on its health and academic quality. Students are either day scholar or hostilities. Students from faraway places for study purposes comes and live in a hostel in which they live in a supervised and secure environment. Objective: The purpose of this study was to determine the nutritional status and academic performance of day scholars in comparison with hostilities of allied health science students of Lahore. Methods: This was a cross sectional comparative analytic study in which sample of 171 students was included out of which 77 were male and 94 were female. 93 hostel students and 78 where day scholars were selected in this study. Data were collected by using comparative survey design questionnaire which consist of 2 sections of demographic data involving both day scholars and hostel student's data related to nutritional health and over all academic performance. After collecting data, it was analyzed by using SPSS version 22.0. Results: After analyzation of data it was found that 36.5% of hostilities have good physical health, 63.5% hostilities have poor physical health, 53.9% day-scholars have good physical health and 46.1% day-scholars have poor physical health. And 65.5% hostilities have good academic performance, 34.5% hostilities have poor academic performance, 56.4%-day scholars have good academic performance and 43.5% day-scholars have poor academic performance. Conclusion: On the basis of results, it was concluded that health status of day scholars was better than hostilities and the academic performance of hostel students was slightly better as compared to day scholars.
References
Altaf B, Rehman A, Ali FA. Comparison of Academic Performance among Boarders and Day-Scholars: Academic Performance of Boarders & Day Scholars. Journal of Aziz Fatimah Medical & Dental College. 2019 Nov 19;1(2):60-2.
Marwaha S. Analysis and comparison of adjustment level of college day scholars and hostellers in terms of their home, health, social, emotional and educational adjustment. Human Movement Science. 2015;1:1-8.
Sughra A, Amber T, Jawaher K, Nikhat Ashraf A. Pre menstrual syndrome in undergraduate medical students: hostellers versus dayscholars.
Iftikhar A, Ajmal A. A qualitative study investigating the impact of hostel life. International Journal of Emergency Mental Health and Human Resilience. 2015;17(2):511-5.
Jacob AM, Kaushik A. A Comparative Study to Assess the Health Status and Academic Progress among Day Scholars and Hostellers in a Selected College of Nursing in New Delhi. International journal of community based nursing and midwifery.
;4(2).
Ravichandran H. Measuring stress in hostelites and day scholars. Research Journal of Pharmacy and Technology. 2015;8(6):710-2.
Munir A, Khalid S, Sadiq R. Prevalence And Comparison Of Psychological Problems Among Hostelites And Day Scholars Of University.
Jagero NO, Agak J, Ayodo TM. An evaluation of home environmental factors affecting performance of boarding secondary school students in Kenya.
Eckhardt C, Norlander B, Deffenbacher J. The assessment of anger and hostility: A critical review. Aggression and violent behavior. 2004 Jan 1;9(1):17-43.
Upadhyaya C. A comparative study of adjustment among day scholars and hostel students. The International Journal of Indian Psychology. 2016 Sep 15;3(4):122-8.
Perveen S, Kazmi SF. Personality dynamics of boarders and day scholars who belong to madrassah and public school. Academic Research International. 2011 Jul 1;1(1):157-72.
Rehman OU, Amjad F, Waqas M. Effects of smoking on lung function in students of university of Lahore, Pakistan. Rawal Medical Journal. 2021 Oct 14;46(4):803-.
Mahdi JG. Student attitudes towards chemistry: An examination of choices and preferences. American Journal of Educational Research. 2014;2(6):351-6.
Tomar P, Singh K, Santha B, Tiwari V, Gupta R, Choudaha P. Personality dynamics amid students in a dental institute. International journal of social science research 2015;2:54-7.
Khan MS, Malik AR, Butt AU, Khalid A, Maqbool S, Khan H, Younas MW. Personality dynamism and academic performance among boarders and non-boarders studying in a medical university. Cureus. 2019 Jul 3;11(7).
Bhattacharya R, Bhattacharya BJIJfR, Technology Di. Psychological factors affecting students' academic performance in higher education among students. 2015; 4(1): 63-71.
Upadhyaya C. A comparative study of adjustment among day scholars and hostel students. The International Journal of Indian Psychology. 2016 Sep 15;3(4):122-8.
Nassa R, Bhatia B. A comparative study on nutritional status of day scholar and hosteller adolescent boys with intellectual disability. International Journal of Food and Nutritional Sciences. 2014 Jul;3(4):125-9.
Nivethitha R, Priya AJ, Devi G. Comparative study on the sleeping pattern between hostellers and day scholars among South Indian population. Drug Invention Today. 2018 Oct 1;10(10).
Almojali AI, Almalki SA, Alothman AS, Masuadi EM, Alaqeel MK. The prevalence and association of stress with sleep quality among medical students. Journal of epidemiology and global health. 2017 Sep;7(3):169-174. doi: 10.1016/j.jegh.2017.04.005.
Abolfotouh MA, Bassiouni FA, Mounir GM, Fayyad RC. Health-related lifestyles and risk behaviours among students living in Alexandria University Hostels. EMHJ-Eastern Mediterranean Health Journal, 13 (2), 376-391, 2007. 2007.
Ali A, Amjad F, Chugtai AS, Naseer R. Comparison of Medical and Fine Arts Students in Terms of Their Level of Stress and Depression during Academic Years. Pakistan Journal of Physical Therapy (PJPT). 2021 Aug 12:23-6.
Faisal R, Shinwari L, Izzat S. Academic performance of day scholars versus boarders in pharmacology examinations of a medical school in Pakistan. JPMA. The Journal of the Pakistan Medical Association 2016 Sep; 66(9):1094-97.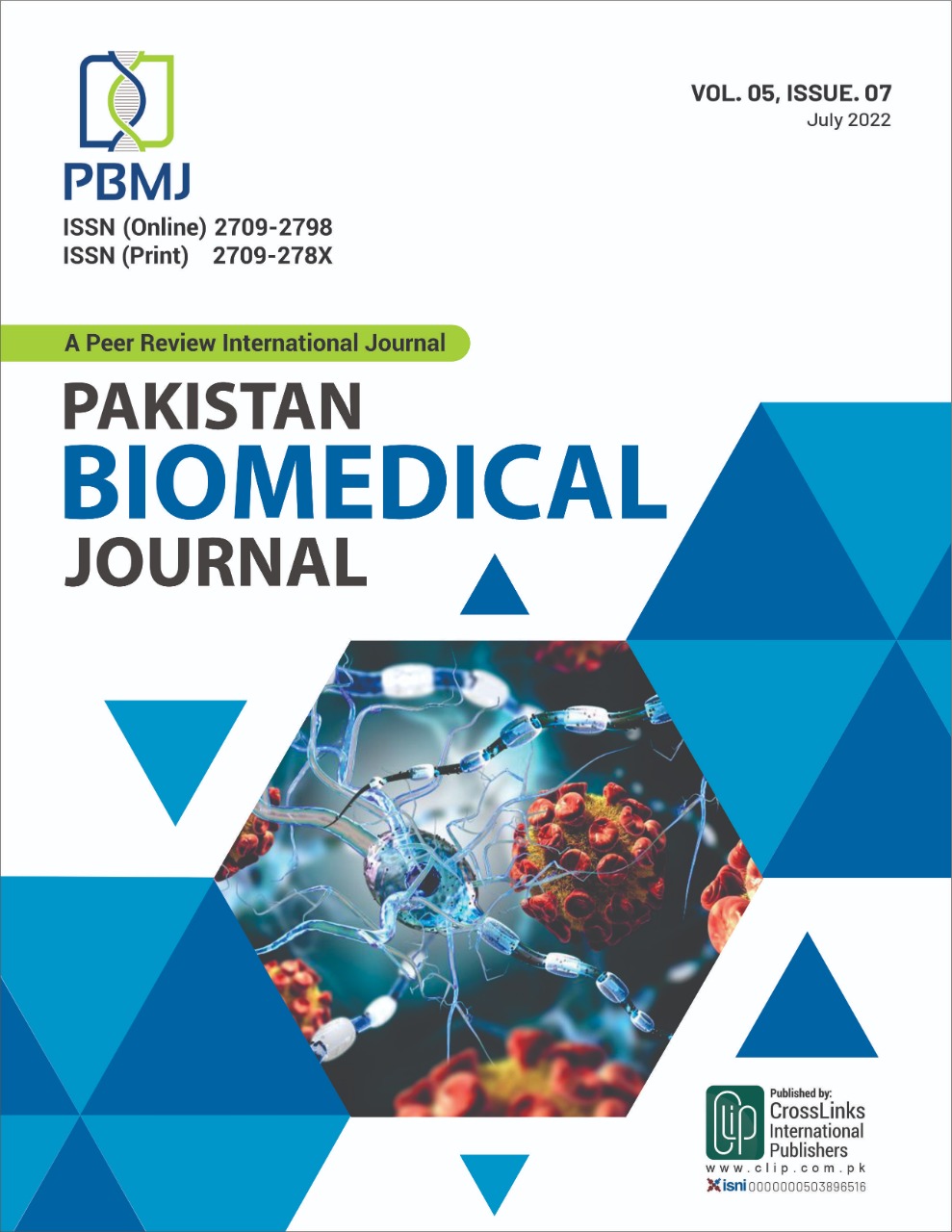 Downloads
CITATION
DOI: 10.54393/pbmj.v5i7.625
How to Cite
Ghulam Rasool, S., Amjad, F. ., Zuha , A. ., & Ahmad, A. . (2022). Health Status and Academic Progress Among Day Scholars Vs Hostelites in Allied Health Sciences Students: Health Status and Academic Progress Among Day Scholars Vs Hostilities. Pakistan BioMedical Journal, 5(7), 66–69. https://doi.org/10.54393/pbmj.v5i7.625
License
Copyright (c) 2022 Pakistan BioMedical Journal
This work is licensed under a Creative Commons Attribution 4.0 International License.
This is an open-access journal and all the published articles / items are distributed under the terms of the Creative Commons Attribution License, which permits unrestricted use, distribution, and reproduction in any medium, provided the original author and source are credited. For comments editor@pakistanbmj.com