Ethical Issues and Use of Animal Models in Dentistry - A Systematic Review
Animal studies, Ethical issues, Dentistry, Artificial Intelligence
Keywords:
Animal studies, Ethical issues, Dentistry, Artificial Intelligence
Abstract
Prior to conducting therapeutic trials on people, it is critical to do experimental studies on animal models to determine the origin and pathophysiology of the illness process Objective: The objective of this systematic review was to outline the ethical issues involved in the need of animal studies in dentistry. Methods: This research was conducted using latest Prisma guidelines 2020. Data retrieved for this study was searched on PubMed, google scholar, and Cochrane libraries. Results: Safe and valid experimentation is the key for successful research. In health sector, the precision, accuracy, and validation of the experiment is very critical. It has been a common practice in health sector, that medicine and other surgical research is tested and validated on non-human primates. Once these tests on non-human subjects are replicated and validated multiple times, then the trials on human volunteers are initiated. However, over the years, researchers and different groups have raised serious questions about the abuse of animal studies. Moreover, the technology has progressed quite rapidly. Conclusions: The contemporary world is currently dealing with artificial intelligence, virtual reality, and augmented reality. The dentistry is also strong pillar of health services and is not alien to these issues. The outcome of this review is to explore the possibilities of using technology as an alternative to animal in dentistry
References
Merceron G, Blondel C, Brunetiere N, Francisco A, Gautier D, Ramdarshan A. Dental microwear and controlled food testing on sheep: the TRIDENT project. Biosurface and Biotribology. 2017 Dec;3(4): 174-83. doi.org/10.1016/j.bsbt.2017.12.005
Guvva S, Patil MB, Mehta D. Rat as laboratory animal model in periodontology. International Journal of Oral Health Sciences. 2017 Jul;7(2): 68. doi.org/10.4103/ijohs.ijohs_47_17
Cao J, Zhang L, Liu YJ, Wang WL, Wang YG, Li CF, et al. Properties of a Novel Animal Model of LPR. J Voice. 2021 Sep;35(5): 805.e17-e26. doi.org/10.1016/j.jvoice.2020.01.021
Tan SSH, Tjio CKE, Wong JRY, Wong KL, Chew JRJ, Hui JHP, et al. Mesenchymal stem cell exosomes for cartilage regeneration: a systematic review of preclinical in vivo studies. Tissue Engineering Part B: Reviews. 2021 Feb;27(1): 1-13. doi.org/10.1089/ten.teb.2019.0326
Smith EL, Locke M, Waddington RJ, Sloan AJ. An ex vivo rodent mandible culture model for bone repair. Tissue Engineering Part C: Methods. 2010 Dec;16(6): 1287-96. doi.org/10.1089/ten.tec.2009.0698
Diaz-Gomez L, Kontoyiannis PD, Melchiorri AJ, Mikos AG. Three-dimensional printing of tissue engineering scaffolds with horizontal pore and composition gradients. Tissue Engineering Part C: Methods. 2019 Jul;25(7): 411-20. doi.org/10.1089/ten.tec.2019.0112
Doke SK, Dhawale SC. Alternatives to animal testing: A review. Saudi Pharmaceutical Journal. 2015;23(3): 223-9. doi.org/10.1016/j.jsps.2013.11.002
Guittin P, Decelle T. Future improvements and implementation of animal care practices within the animal testing regulatory environment. ILAR journal. 2002 Jan;43(Suppl_1): S80-S4. doi.org/10.1093/ilar.43.Suppl_1. S80
Singhrao SK, Sloan AJ, Smith EL, Archer CW. Technical advances in the sectioning of dental tissue and of on‐section cross‐linked collagen detection in mineralized teeth. Microscopy research and technique. 2010 Aug;73(8): 741-5. doi.org/10.1002/jemt.20815
Arora T, Mehta A, Joshi V, Mehta K, Rathor N, Mediratta P, et al. Substitute of animals in drug research: an approach towards fulfillment of 4R's. Indian journal of pharmaceutical sciences. 2011 Jan;73(1): 1. doi.org/10.4103/0250-474X.89750
Richmond J. Refinement, reduction, and replacement of animal use for regulatory testing: future improvements and implementation within the regulatory framework. ILAR journal. 2002 Jan;43(Suppl_1): S63-S8. doi.org/10.1093/ilar.43.Suppl_1. S63
Pereira S, Veeraraghavan P, Ghosh S, Gandhi M. Animal experimentation and ethics in India: the CPCSEA makes a difference. Alternatives to laboratory animals. 2004 Jan;32(1_suppl):411-5. doi.org/10.1177/026119290403201s67
Olfert ED, Cross BM, McWilliam AA. Guide to the care and use of experimental animals: Canadian Council on Animal Care Ottawa; 1993.
Cantley M, Bartold P, Marino V, Reid R, Fairlie D, Wyszynski R, et al. The use of live‐animal micro‐computed tomography to determine the effect of a novel phospholipase A2 inhibitor on alveolar bone loss in an in vivo mouse model of periodontitis. Journal of periodontal research. 2009 Jun;44(3): 317-22. doi.org/10.1111/j.1600-0765.2008. 01132.x
Ekuni D, Yamanaka R, Yamamoto T, Miyauchi M, Takata T, Watanabe T. Effects of mechanical stimulation by a powered toothbrush on the healing of periodontal tissue in a rat model of periodontal disease. Journal of periodontal research. 2010 Feb;45(1): 45-51. doi.org/10.1111/j.1600-0765.2009. 01195.x
Hokamura K, Inaba H, Nakano K, Nomura R, Yoshioka H, Taniguchi K, et al. Molecular analysis of aortic intimal hyperplasia caused by Porphyromonas gingivalis infection in mice with endothelial damage. Journal of periodontal research. 2010 Jun;45(3): 337-44. doi.org/10.1111/j.1600-0765.2009. 01242.x
Liang S, Hosur KB, Domon H, Hajishengallis G. Periodontal inflammation and bone loss in aged mice. Journal of periodontal research. 2010 Aug;45(4): 574-8. doi.org/10.1111/j.1600-0765.2009. 01245.x
Park JC, Su C, Jung IH, Choi SH, Cho KS, Kim CK, et al. Mechanism of alveolar bone loss in a collagen‐induced arthritis model in mice. Journal of clinical periodontology. 2011 Feb;38(2): 122-30. doi.org/10.1111/j.1600-051X.2010. 01645.x
Barros S, Arce R, Galloway P, Lawter R, Offenbacher S. Therapeutic effect of a topical CCR2 antagonist on induced alveolar bone loss in mice. Journal of periodontal research. 2011 Apr;46(2): 246-51. doi.org/10.1111/j.1600-0765.2010. 01340.x
Moro CA, Hanna-Rose W. Animal Model Contributions to Congenital Metabolic Disease. Adv Exp Med Biol. 2020 Apr; 1236: 225-44. doi.org/10.1007/978-981-15-2389-2-9
Wilson-Sanders SE. Invertebrate models for biomedical research, testing, and education. ILAR journal. 2011 Jan;52(2): 126-52. doi.org/10.1093/ilar.52.2.126
Robinson NB, Krieger K, Khan FM, Huffman W, Chang M, Naik A, et al. The current state of animal models in research: A review. Int J Surg. 2019 Dec; 72: 9-13. doi.org/10.1016/j.ijsu.2019.10.015
Öner A, Moerke C, Wolff A, Kischkel S, Schmidt W, Grabow N, et al. A preclinical animal model for evaluating the sealing capacity of covered stent grafts in acute vessel perforation. Eur J Med Res. 2020 Dec;25(1): 28. doi.org/10.1186/s40001-020-00429-y
Vedani A. [Computer-aided drug design-an alternative to animal testing in the pharmacological screening] [Article in German]. ALTEX-Alternatives to animal experimentation. 1991 Apr;8(1):39-60.
Schmidt K. Concepts of animal welfare in relation to positions in animal ethics. Acta biotheoretica. 2011 Jun;59(2): 153-71. doi.org/10.1007/s10441-011-9128-y
Fernandes MR, Pedroso AR. Animal experimentation: A look into ethics, welfare and alternative methods. Rev Assoc Med Bras (1992). 2017 Nov;63(11): 923-8. doi.org/10.1590/1806-9282.63.11.923
Lewejohann L, Schwabe K, Häger C, Jirkof P. Impulse for animal welfare outside the experiment. Lab Anim. 2020 Apr;54(2): 150-8. doi.org/10.1177/0023677219891754
Reaves M, Northcut B. Animal welfare is the primary concern. Lab Anim (NY). 2019 Oct;48(10): 275. doi.org/10.1038/s41684-019-0396-5
Cornejo YR, Holguin L, Tu J. Considering animal welfare with scientific justification in mind. Lab Anim (NY). 2018 Jun;47(6): 140. doi.org/10.1038/s41684-018-0070-3
Joers V, Tansey MG, Mulas G, Carta AR. Microglial phenotypes in Parkinson's disease and animal models of the disease. Prog Neurobiol. 2017 Aug; 155: 57-75. doi.org/10.1016/j.pneurobio.2016.04.006
Freires IA, Sardi JdCO, de Castro RD, Rosalen PL. Alternative animal and non-animal models for drug discovery and development: bonus or burden? Pharmaceutical research. 2017 Apr;34(4): 681-6. doi.org/10.1007/s11095-016-2069-z
Meigs L, Smirnova L, Rovida C, Leist M, Hartung T. Animal testing and its alternatives - the most important omics is economics. Altex. 2018 Jul;35(3): 275-305. doi.org/10.14573/altex.1807041
Kim S, Shin S-J, Song Y, Kim E. In vivo experiments with dental pulp stem cells for pulp-dentin complex regeneration. Mediators of Inflammation. 2015; Nov 24:1-6. doi.org/10.1155/2015/409347
Iohara K, Nakashima M, Ito M, Ishikawa M, Nakasima A, Akamine A. Dentin regeneration by dental pulp stem cell therapy with recombinant human bone morphogenetic protein 2. Journal of dental research. 2004 Aug;83(8): 590-5. doi.org/10.1177/154405910408300802
Pelaz B, Alexiou C, Alvarez-Puebla RA, Alves F, Andrews AM, Ashraf S, et al. Diverse applications of nanomedicine. ACS nano. 2017 Mar;11(3): 2313-81. doi.org/10.1021/acsnano.6b06040
Lawrence JM, Orlans J, Evans G, Orville AM, Foadi J, Aller P. High-throughput in situ experimental phasing. Acta Crystallographica Section D: Structural Biology. 2020 Aug;76(8): 790-801. doi.org/10.1107/S2059798320009109
Conev A, Litsa EE, Perez MR, Diba M, Mikos AG, Kavraki LE. Machine Learning-Guided Three-Dimensional Printing of Tissue Engineering Scaffolds. Tissue Engineering Part A. 2020 Jun;26(23-24): 1359-68. doi.org/10.1089/ten.tea.2020.0191
Rein ML, Deussing JM. The optogenetic (r) evolution. Molecular Genetics and Genomics. 2012 Feb;287(2): 95-109. doi.org/10.1007/s00438-011-0663-7
Craighead HG. Nanoelectromechanical systems. Science. 2000 Nov;290(5496):1532-5. doi.org/10.1126/science.290.5496.1532
Panneerselvam S, Choi S. Nanoinformatics: emerging databases and available tools. International journal of molecular sciences. 2014 May;15(5): 7158-82. doi.org/10.3390/ijms15057158
Lifson MA, Ozen MO, Inci F, Wang S, Inan H, Baday M, et al. Advances in biosensing strategies for HIV-1 detection, diagnosis, and therapeutic monitoring. Advanced drug delivery reviews. 2016 Aug; 103: 90-104. doi.org/10.1016/j.addr.2016.05.01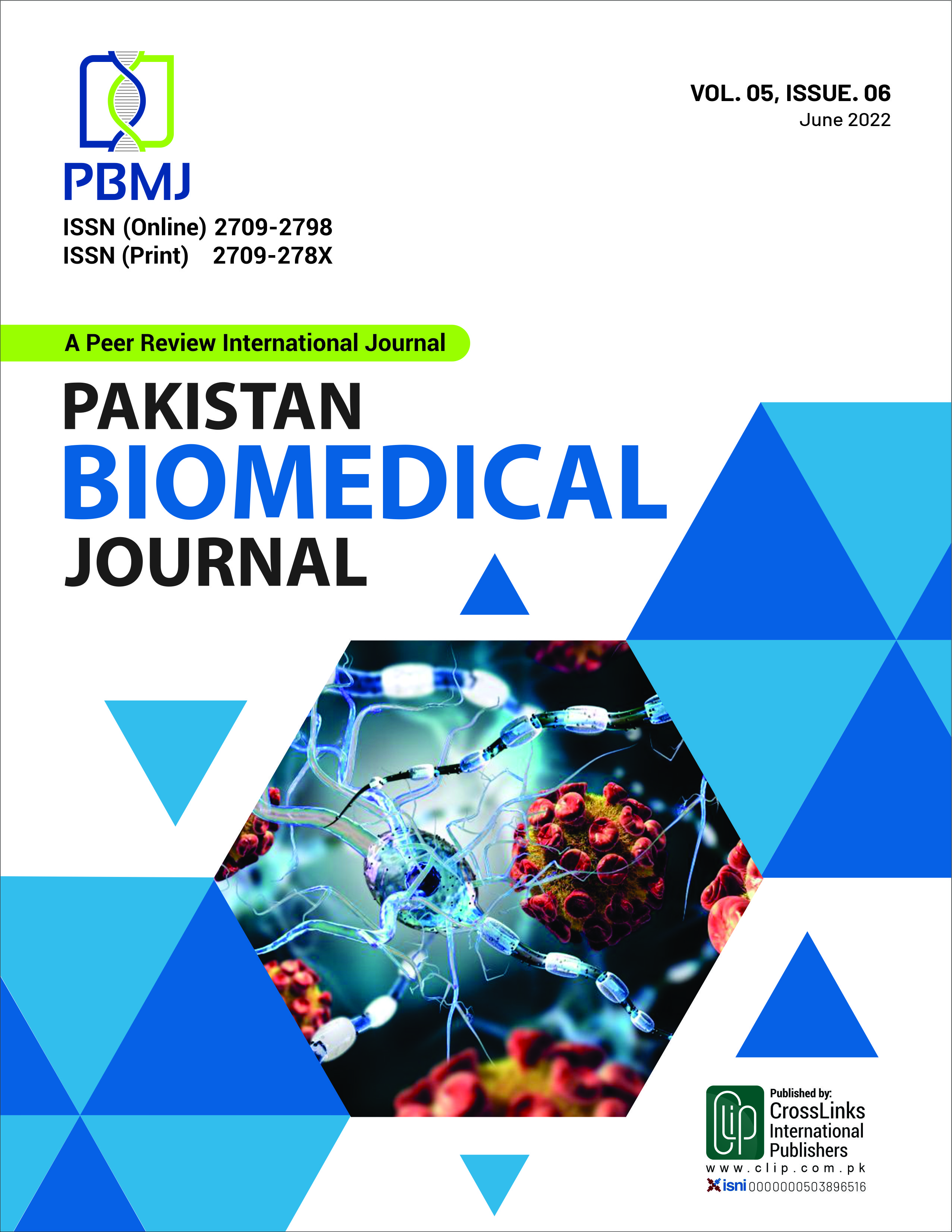 Downloads
How to Cite
Liaqat, S., Jamal, S., Ahmad, S., Sajjad, F., Khalil, T. F., Jabeen, H., Khan, M. A., & Muhammad, N. (2022). Ethical Issues and Use of Animal Models in Dentistry - A Systematic Review: Animal studies, Ethical issues, Dentistry, Artificial Intelligence. Pakistan BioMedical Journal, 5(6), 362–367. https://doi.org/10.54393/pbmj.v5i6.494
Section
Systematic Review
License
Copyright (c) 2022 Pakistan BioMedical Journal
This work is licensed under a Creative Commons Attribution 4.0 International License.
This is an open-access journal and all the published articles / items are distributed under the terms of the Creative Commons Attribution License, which permits unrestricted use, distribution, and reproduction in any medium, provided the original author and source are credited. For comments editor@pakistanbmj.com