Renal Transplantation: What We Need to Do More? A Perception Based Study in the Medical Colleges of Peshawar
Renal Transplantation
Keywords:
Knowledge, Renal Transplantation, Quality of life, Renal replacement therapy
Abstract
Renal transplantation, is the most frequently carried out transplantation procedure globally and is the treatment of choice and improves the quality of life in end-stage renal disease, but there is a deficiency of kidney donors despite its high need. Medical students and personnel play a pivotal role in shaping the patient's perception regarding a procedure. Objectives: To assess the knowledge and attitudes of medical students regarding renal transplantation in Pakistan. Methods: It was a cross-sectional conducted at public and private medical colleges of Peshawar targeting 4th and final year MBBS students. The study was conducted from December 2019 to October 2020. Results: There were 160 participants, 90 (57 %) males and 69 (43 %) female students. The knowledge about renal transplantation was found high. 24.4 % believed that only family members can donate and 64.4 % believed that there is an age limit for kidney donation. The study participants supported kidney donation (93 %). Similarly, only 34 % favored cadaveric donation over live kidney donation. This attitude was reflected in 38 % of the students disapproving of the thought of donating their own kidneys, as compared to 60 % favoring the idea of donating their kidneys after their death. Conclusions: For medical students, good scores in knowledge mean a better understanding of the transplantation procedures and the needs of the community. However, inadequate utilization of these services for needy patients resulted in a negative attitude. Awareness seminars, and the use of all forms of media to bring the change in perceptions, especially in the medical community.
References
Sachdeva S, Sulania A and Dwivedi N. Knowledge, Attitude, and Practices Regarding Organ Donation among Adult Visitors in a Public Hospital in Delhi, India. Indian J Transplant. 2017;11(3):6.
Balajee K, Ramachandran N and Subitha L. Awareness and attitudes toward organ donation in rural Puducherry, India. Ann Med Health Sci Res. 2016;6(5):286. doi.org/10.4103/amhsr.amhsr_63_15.
Sahay M, Jasuja S, Tang SCW, Alexander S, Jha V and Vachharajani T et al. Aetiology, practice patterns and burden of END‐STAGE kidney disease in South Asia and SOUTH‐EAST Asia: A questionnaire‐based survey. Nephrology. 2021;26(2):142–52. doi.org/10.1111/nep.13825.
Rizvi SA, Naqvi SA, Zafar MN, Hussain Z, Hashmi A and Akhtar F et al. Pakistan abolishes kidney market and ushers in a new era of ethical transplantation. International Journal of Organ Transplantation Medicine. 2010;1(4):193.
Uwingabiye ML, Baziga V, Chironda G and Rajeswaran L. Assessment of knowledge, attitude and perceptions regarding kidney donation among nursing students at the University of Rwanda. Int J Afr Nurs Sci. 2021;15:100317. doi.org/10.1016/j.ijans.2021.100317.
Iqbal MM, Hossain RM, Hossain K, Faroque MO, Islam S and Iqbal S et al. Knowledge, Attitude, and Perception About Renal Transplantation of CKD Patients, Caregivers, and General Population. Transplant Proc. 2018;50(8):2323–6. doi.org/10.1016/j.transproceed.2018.04.048.
Burra P, De Bona M, Canova D, D'Aloiso MC, Germani G and Rumiati R et al. Changing Attitude to Organ Donation and Transplantation in University Students During the Years of Medical School in Italy. Transplant Proc. 2005;37(2):547–50. doi.org/10.1016/j.transproceed.2004.12.255.
Ali NF, Qureshi A, Jilani BN and Zehra N. Knowledge and ethical perception regarding organ donation among medical students. BMC Med Ethics. 2013;14(1):38. doi.org/10.1186/1472-6939-14-38.
Sharaan R, Alsulami S, Arab R, Alzeair G, Elamin N and Alsaywid B et al. Knowledge, Attitude, and Willingness Toward Kidney Donation Among Health Sciences Students at King Saud Bin Abdulaziz University. Front Public Health. 2021;9:667582. doi.org/10.3389/fpubh.2021.667582.
Edwards TM, Essman C and Thornton JD. Assessing Racial and Ethnic Differences in Medical Student Knowledge, Attitudes and Behaviors Regarding Organ Donation. J Natl Med Assoc. 2007;99(2):7.
Bedi KK, Hakeem AR, Dave R, Lewington A, Sanfey H and Ahmad N. Survey of the Knowledge, Perception, and Attitude of Medical Students at the University of Leeds Toward Organ Donation and Transplantation. Transplant Proc. 2015;47(2):247–60. doi.org/10.1016/j.transproceed.2014.11.033.
Sayedalamin Z, Imran M, Almutairi O, Lamfon M, Alnawwar M and Baig M. Awareness and attitudes towards organ donation among medical students at King Abdulaziz University, Jeddah, Saudi Arabia. J Pak Med Assoc. 2017;67(4):534-537.
Hasan H, Zehra A, Riaz L and Riaz R. Insight into the knowledge, attitude, practices, and barriers concerning organ donation amongst undergraduate students of Pakistan. Cureus. 2019;11(8)e5517. doi:10.7759/cureus.5517.
Darlington D, Anitha FS and Joseph C. Study of Knowledge, Attitude, and Practice of Organ Donation Among Medical Students in a Tertiary Care Centre in South India. Cureus. 2019;11(6):e4896. doi: 10.7759/cureus.4896.
Bharambe VK, Rathod H and Angadi K. Knowledge and attitude regarding organ donation among medical students. BANTAO J. 2016;14(1):34-40. doi.org/10.1515/bj-2016-0008.
Schaeffner ES, Windisch W, Freidel K, Breitenfeldt K and Winkelmayer WC. Knowledge and attitude regarding organ donation among medical students and physicians. Transplantation. 2004;77(11):1714-8. doi: 10.1097/00007890-200406150-00015.
Terbonssen T, Settmacher U, Wurst C, Dirsch O and Dahmen U. Attitude towards organ donation in German medical students. Langenbecks Arch Surg. 2016;401(8):1231-1239. doi: 10.1007/s00423-016-1482-4.
Bardell T, Hunter DJ, Kent WD and Jain MK. Do medical students have the knowledge needed to maximize organ donation rates?. Can J Surg. 2003;46(6):453-457.
Mekahli D, Liutkus A, Fargue S, Ranchin B and Cochat P. Survey of First-Year Medical Students to Assess Their Knowledge and Attitudes Toward Organ Transplantation and Donation. Transplant Proc. 2009;41(2):634–8. doi.org/10.1016/j.transproceed.2008.12.011.
Piccoli GB, Soragna G, Putaggio S, Burdese M, Longo P and Rinaldi D et al. Efficacy of an educational program on dialysis, renal transplantation, and organ donation on the opinions of high school students: a randomized controlled trial. Transplant Proc. 2004;36(3):431-2. doi: 10.1016/j.transproceed.2004.02.058.
Murakami M, Fukuma S, Ikezoe M, Nakamura M, Yamamoto Y and Yamazaki S et al. Effect of an educational program on attitudes towards deceased organ donation. Ann Transplant. 2015;20:269-78. doi: 10.12659/AOT.893325.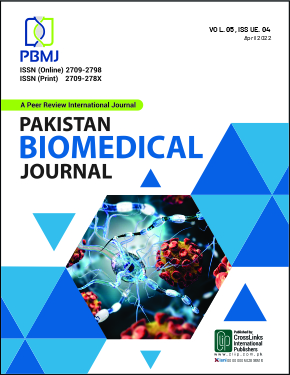 Downloads
How to Cite
Raza, A. ., Ashraf, S. ., Akhtar , A. ., Asim, M. ., Shah, S. ., khan, H., & Naz, M. . (2022). Renal Transplantation: What We Need to Do More? A Perception Based Study in the Medical Colleges of Peshawar: Renal Transplantation. Pakistan BioMedical Journal, 5(4), 180–184. https://doi.org/10.54393/pbmj.v5i4.388
License
Copyright (c) 2022 Pakistan BioMedical Journal
This work is licensed under a Creative Commons Attribution 4.0 International License.
This is an open-access journal and all the published articles / items are distributed under the terms of the Creative Commons Attribution License, which permits unrestricted use, distribution, and reproduction in any medium, provided the original author and source are credited. For comments editor@pakistanbmj.com