Frequency of Coronary Artery Disease Pathologies Detected on Computed Tomography Angiography in Patients with Acute Chest Pain
Pathologies Detected on CT Angiography
Keywords:
Tomography, Triple vessel disease, CAD, Pathology, Chest Pain
Abstract
 Coronary artery disease is the buildup of plaque in the arteries that supply oxygen-rich blood to your heart. Plaque causes a narrowing or blockage that could result in a heart attack. Objective: To detect frequency of pathologies (coronary artery disease) on CTA in patients with chest pain. Methods: It was a descriptive study and 258 patients with symptom of chest pain were selected from department of radiology, this study conducts from 16 March, 2021 to January 25, 2022, at Punjab institute of cardiology Lahore and Al-Razi Hospital Lahore. The data was analyzed using SPSS V-21. Results: This thorough study depicts a large number of patients belonging from middle age group ranging from 43-62 years old have the highest frequency of involvement of triple vessel disease. LV dysfunction was found out be present in severe in these middle-aged patients. Our study also helped ruling out that male gender had a higher frequency in prevalence of coronary heart disease and involvement of the triple vessel disease with severe lv dysfunction and that of female patients was far less in numbers and severity respectively.  Conclusion: Triple vessel disease is more common in males than females and especially belonging to middle aged group and simultaneously more affected left ventricular function.
References
Abbas S, Kitchlew A, Abbas SJAPIMS. Disease burden of Ischemic Heart Disease in Pakistan and its risk factors. 2009;5(3):145-50. https://doi.org/10.1201/b15132-2
Mishra R, Monica. Determinants of cardiovascular disease and sequential decision-making for treatment among women: A Heckman's approach. SSM Popul Health. 2019;7:100365- https://doi.org/10.1016/j.ssmph.2019.100365
Kumar A, Cannon CP. Acute coronary syndromes: diagnosis and management, part I. Mayo Clin Proc. 2009;84(10):917-38. https://doi.org/10.4065/84.10.917
Sekhri T, Kanwar RS, Wilfred R, Chugh P, Chhillar M, Aggarwal R, et al. Prevalence of risk factors for coronary artery disease in an urban Indian population. BMJ Open. 2014;4(12):e005346-e. https://doi.org/10.1136/bmjopen-2014-005346
N'Guetta R, Yao H, Ekou A, N'Cho-Mottoh MP, Angoran I, Tano M, et al. [Prevalence and characteristics of acute coronary syndromes in a sub-Saharan Africa population]. Annales de cardiologie et d'angeiologie. 2016;65(2):59-63. https://doi.org/10.1016/j.ancard.2016.01.001
Sanchis-Gomar F, Perez-Quilis C, Leischik R, Lucia A. Epidemiology of coronary heart disease and acute coronary syndrome. Ann Transl Med. 2016;4(13):256-. https://doi.org/10.21037/atm.2016.06.33
Singh A, Museedi AS, Grossman SA. Acute Coronary Syndrome. StatPearls. Treasure Island (FL): StatPearls Publishing Copyright © 2021, StatPearls Publishing LLC.; 2021. https://doi.org/10.31579/2641-0419/189
Goyal N, Stillman A. Coronary CT angiography in acute chest pain. F1000Research. 2017;6:1125. https://doi.org/10.12688/f1000research.11250.1
Hertzer NR, Beven EG, Young JR, O'Hara PJ, Ruschhaupt 3rd WF, Graor RA, Dewolfe VG, Maljovec LC. Coronary artery disease in peripheral vascular patients. A classification of 1000 coronary angiograms and results of surgical management. Annals of surgery. 1984 Feb;199(2):223 https://doi.org/10.1097/00000658-198402000-00016
Shao C, Wang J, Tian J, Tang YD. Coronary artery disease: from mechanism to clinical practice. Coronary Artery Disease: Therapeutics and Drug Discovery. 2020:1-36. https://doi.org/10.1007/978-981-15-2517-9_1
Lopes NH, Paulitsch FD, Gois AF, Pereira AC, Stolf NA, Dallan LO, Ramires JA, Hueb WA. Impact of number of vessels disease on outcome of patients with stable coronarary artery disease: 5-year follow-up of the Medical, Angioplasty, and bypass Surgery study (MASS). European journal of cardio-thoracic surgery. 2008 Mar 1;33(3):349-54. https://doi.org/10.1016/j.ejcts.2007.11.025
Athappan G, Subramanian T. Medical, angioplasty or surgery for stable coronary artery disease; do we have an answer!!!. European Journal of Cardio-Thoracic Surgery. 2008 Sep 1;34(3):702-3. https://doi.org/10.1016/j.ejcts.2008.05.032
Hamon M, Biondi-Zoccai GG, Malagutti P, Agostoni P, Morello R, Valgimigli M, Hamon
M. Diagnostic performance of multislice spiral computed tomography of coronary arteries as compared with conventional invasive coronary angiography: a meta-analysis. Journal of the American College of Cardiology. 2006 Nov 7;48(9):1896-910. https://doi.org/10.1016/j.jacc.2006.08.028
Nazeri I, Shahabi P, Tehrai M, SHARIF KB, NAZERI A. Impact of calcification on diagnostic accuracy of 64-slice spiral computed tomography for detecting coronary artery disease: a single center experience. https://doi.org/10.1016/j.amjcard.2008.10.040
Eltabbakh AR, Dawoud MA, Langer M, Moharm MA, Hamdy EA, Hamisa MF. 'Triple- rule-out'CT angiography for clinical decision making and early triage of acute chest pain patients: use of 320-multislice CT angiography. Egyptian Journal of Radiology and Nuclear Medicine. 2019 Dec;50(1):1-0. https://doi.org/10.1186/s43055-019-0003-1
Goehler A, Mayrhofer T, Pursnani A, Ferencik M, Lumish HS, Barth C, Karády J, Chow B, Truong QA, Udelson JE, Fleg JL. Long-term health outcomes and cost-effectiveness of coronary CT angiography in patients with suspicion for acute coronary syndrome. Journal of cardiovascular computed tomography. 2020 Jan 1;14(1):44-54. https://doi.org/10.1016/j.jcct.2019.06.008
Lindsell CJ, Anantharaman V, Diercks D, Han JH, Hoekstra JW, Hollander JE, Kirk JD, Lim SH, Peacock WF, Tiffany B, Wilke EK. The Internet Tracking Registry of Acute Coronary Syndromes (i* trACS): a multicenter registry of patients with suspicion of acute coronary syndromes reported using the standardized reporting guidelines for emergency department chest pain studies. Annals of emergency medicine. 2006 Dec 1;48(6):666-77. https://doi.org/10.1016/j.annemergmed.2006.08.005
Om A, Warner M, Sabri N, Cecich L, Vetrovec G. Frequency of coronary artery disease and left ventricular dysfunction in cocaine users. The American journal of cardiology. 1992 Jun 15;.https://doi.org/10.1016/0002-9149(92)90701-y
Jerjes-Sánchez C, Betancourt H, Valdés F, Rodríguez D, Guajardo MV, del Toro-Mijares R. Acute Coronary Syndromes in the ER. InCardiology in the ER 2019 (pp. 73-99). Springer, Cham. https://doi.org/10.1007/978-3-030-13679-6_5
Frauenfelder T, Appenzeller P, Karlo C, Scheffel H, Desbiolles L, Stolzmann P, Marincek B, Alkadhi H, Schertler T. Triple rule-out CT in the emergency department: protocols and spectrum of imaging findings. European radiology. 2009 Apr;19(4):789-99. https://doi.org/10.1007/s00330-008-1231-3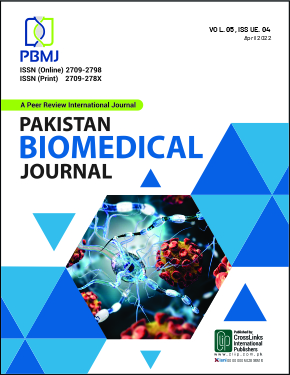 Downloads
How to Cite
Ahmed, L., Qasim, J. ., Naveed, M. ., Latif, A. ., Rashid, S. ., Zulfiqar, A. ., & Qayyum, S. . (2022). Frequency of Coronary Artery Disease Pathologies Detected on Computed Tomography Angiography in Patients with Acute Chest Pain: Pathologies Detected on CT Angiography . Pakistan BioMedical Journal, 5(4), 128–131. https://doi.org/10.54393/pbmj.v5i4.382
License
Copyright (c) 2022 Pakistan BioMedical Journal
This work is licensed under a Creative Commons Attribution 4.0 International License.
This is an open-access journal and all the published articles / items are distributed under the terms of the Creative Commons Attribution License, which permits unrestricted use, distribution, and reproduction in any medium, provided the original author and source are credited. For comments editor@pakistanbmj.com