Efficacy of therapeutic ultrasound in De-Quervain' s Tenosynovitis
Therapeutic Ultrasound in De-Quervain's Tenosynovitis
Keywords:
De quervain's tenosynovitis, Therapeutics, Ultrasound, Efficacy
Abstract
Overuse or repetitive motion can develop De-syndrome, Quervain's which produces pain along the thumb side of the wrist. The thumb tendons get irritated or inflamed as a result of these motions. Activities that involve regular side-to-side extension of the thumb or wrist might trigger De Quervain's tenosynovitis. Objective: To assess the efficacy of therapeutic ultrasound in De-Quervain's Tenosynovitis. Methods: In this study, forty people were separated into two groups: interventional and control groups, each with 20 people. Results: The interventional group's mean age was 37.70 with a standard deviation of 7.921, while the control group's mean age was 36.60 with a standard deviation of 7.816. Out of 20 individuals in the intervention group, 10 were male and 10 were female, whereas in the control group, 11 were male and 9 were female. The interventional group's mean height and weight were 1.642m0.1740 and 75.9515.830, respectively, while the control group's mean height and weight were 1.675m01517 and 75.5013.296. Out of the 20 patients in the interventional group, one was underweight, seven were normal weight, four were overweight, and eight were obese. Eight patients in the control group were of normal weight, seven were overweight, and five were obese. Conclusions: It was determined that ultrasonic therapy is useful in treating De-tenosynovitis quervain's when the tendon is inflamed
References
Rettig AC. Athletic injuries of the wrist and hand: part II: overuse injuries of the wrist and traumatic injuries to the hand. Am J Sports Med. 2004;32(1):262-73. doi: 10.1177/0363546503261422.
Avci S, Yilmaz C and Sayli U. Comparison of nonsurgical treatment measures for de Quervain's disease of pregnancy and lactation. J Hand Surg Am. 2002;27(2):322-4. doi: 10.1053/jhsu.2002.32084.
Huang TH, Feng CK, Gung YW, Tsai MW, Chen CS and Liu CL. Optimization design of thumbspica splint using finite element method. Med Biol Eng Comput. 2006;44(12):1105-11. doi: 10.1007/s11517-006-0131-4.
Ilyas AM, Ast M, Schaffer AA and Thoder J. De quervain tenosynovitis of the wrist. J Am Acad Orthop Surg. 2007;15(12):757-64. doi: 10.5435/00124635-200712000-00009.
Coldham F. The use of splinting in the non-surgical treatment of De Quervains disease: a review of the literature. British Journal of Hand Therapy 2006; 11(2): 48-55.
Dawson C and Mudgal CS. Staged description of the Finkelstein test. J Hand Surg Am. 2010;35(9):1513-5. doi: 10.1016/j.jhsa.2010.05.022.
Satteson E and Tannan SC. De Quervain Tenosynovitis. InStatPearls [Internet] 2021.
Whitacre CC. Sex differences in autoimmune disease. Nat Immunol. 2001;2(9):777-80. doi: 10.1038/ni0901-777.
Thelen E. Rhythmical stereotypies in normal human infants. Animal behaviour. 1979;27:699-715. doi.org/10.1016/0003-3472(79)90006-X.
Shehab R and Mirabelli MH. Evaluation and diagnosis of wrist pain: a case-based approach. Am Fam Physician. 2013;87(8):568-73.
Moore JS. De Quervain's tenosynovitis. Stenosing tenosynovitis of the first dorsal compartment. J Occup Environ Med. 1997;39(10):990-1002. doi: 10.1097/00043764-199710000-00011.
van der Wijk J, Goubau JF, Mermuys K, van Hoonacker P, Vanmierlo B and Kerckhove D et al. Pulley reconstruction as part of the surgical treatment for de Quervain disease: surgical technique with medium-term results. Journal of wrist surgery. 2015;4(03):200-6. DOI: 10.1055/s-0035-1556862.
Punnett L and Wegman DH. Work-related musculoskeletal disorders: the epidemiologic evidence and the debate. J Electromyogr Kinesiol. 2004;14(1):13-23. doi: 10.1016/j.jelekin.2003.09.015.
Aggarwal A and Sempowski IP. Hyaluronic acid injections for knee osteoarthritis. Systematic review of the literature. Canadian Family Physician. 2004;50(2):249-56.
Hajder E, de Jonge MC, van der Horst CM and Obdeijn MC. The role of ultrasound-guided triamcinolone injection in the treatment of de Quervain's disease: treatment and a diagnostic tool? Chir Main. 2013;32(6):403-7. doi: 10.1016/j.main.2013.09.002.
Kang HJ, Koh IH, Jang JW and Choi YR. Endoscopic versus open release in patients with de Quervain's tenosynovitis: a randomised trial. Bone Joint J. 2013;95-B(7):947-51. doi: 10.1302/0301-620X.95B7.31486.
Hassan MK, Rahman MH, Sobhan F, Shoma FK and Walid CM. Role of Ultrasound In The Management of De'Quervain's Disease. Medicine today. 2012;24(1):31-5. doi.org/10.3329/medtoday.v24i1.14112.
Suresh TN and Kecha P. Effect of ultrasound, massage therapy and exercises on de-quervain's tenosynovitis. International Journal of Yoga, Physiotherapy and Physical Education [Internet]. 2018;3(3):43-8.
Abi-Rafeh J, Kazan R, Safran T and Thibaudeau S. Conservative Management of de Quervain Stenosing Tenosynovitis: Review and Presentation of Treatment Algorithm. Plast Reconstr Surg. 2020;146(1):105-126. doi: 10.1097/PRS.0000000000006901.
Goel R and Abzug JM. de Quervain's tenosynovitis: a review of the rehabilitative options. Hand (N Y). 2015;10(1):1-5. doi: 10.1007/s11552-014-9649-3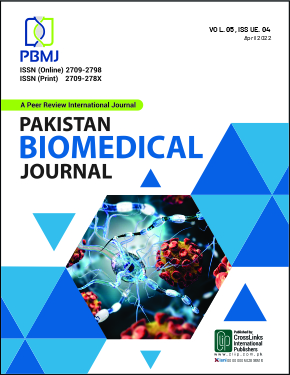 Downloads
How to Cite
Mustafa , M. ., Khan, M., Hanif , M. ., Khan , R. R. ., Rehman, M. ., Ambreen , H., Mustafa , M. ., & Arshad , N. (2022). Efficacy of therapeutic ultrasound in De-Quervain' s Tenosynovitis: Therapeutic Ultrasound in De-Quervain's Tenosynovitis. Pakistan BioMedical Journal, 5(4), 166–169. https://doi.org/10.54393/pbmj.v5i4.377
License
Copyright (c) 2022 Pakistan BioMedical Journal
This work is licensed under a Creative Commons Attribution 4.0 International License.
This is an open-access journal and all the published articles / items are distributed under the terms of the Creative Commons Attribution License, which permits unrestricted use, distribution, and reproduction in any medium, provided the original author and source are credited. For comments editor@pakistanbmj.com