Tuberculous pericardial abscess with impending pericardial effusion and cardiac tamponade
Abstract
Tuberculosis is a typical reason for pericardial emission particularly in the emerging nations. Regardless of the decrease in mortality because of tuberculosis and a general diminishing in the occurrence, tuberculosis and its complexities stay a genuine medical issue. Objectives: The main objective of the study is to analyse the tuberculous pericardial abscess presenting as multiple pericardial effusion and cardiac tamponade. Material and methods: This randomized control trial study was conducted in Rashid Latif medical complex, Lahore during November 2020 to August 2021.  The data was collected from 10 patients. Results: The patients was tachypnoeic, poisonous looking and in sepsis. Their important bodily functions showed the accompanying: respiratory pace of 24 breaths/min and tachycardia of 110 beats/min. Clinical assessment upheld the finding of heart problems. Conclusion: It is concluded that tuberculosis stays a genuine medical condition. In this manner confusions like pericarditis, tamponade and boil are inescapable and in spite of satisfactory medication treatment, 33% to one portion of the patients in the long run require Pericardiectomy
References
Fatimi SH, Faheem-ul-Haq, Jalil F, Muzaffar M, Hanif HM. Tuberculous pericardial abscess with impending pericardial effusion and cardiac tamponade. J Pak Med Assoc. 2011 Mar;61(3):286-7. PMID: 21465948.
Avşar A, Günay NK, Celik A, Melek M. A case of cardiac tamponade caused by tuberculous pericarditis. Turk Kardiyol Dern Ars. 2008 Oct;36(7):482-4. PMID: 19155666.
Peebles CR, Shambrook JS, Harden SP. Pericardial disease--anatomy and function. Br J Radiol 2011;84:S324-37.
Larrieu AJ, Tyers GF, Williams EH, Derrick J: Recent experience with tuberculous pericarditis. Ann Thorac Surg. 1980, 29:464-468. 10.1016/s0003-4975(10)61681-5
Heller T, Lessells RJ, Wallrauch C, Brunetti E: Tuberculosis pericarditis with cardiac tamponade: management in the resource-limited setting. Am J Trop Med Hyg. 2010, 83:1311-1314. 10.4269/ajtmh.2010.10-0271
Meyers DG, Bagin RG, Levene JF: Electrocardiographic changes in pericardial effusion. Chest. 1993, 104:1422-1426. 10.1378/chest.104.5.1422
Cherian G, Habashy AG, Uthaman B, Hanna RM. Tuberculous pericardial effusion - mediastinal lymph glands: the cause and clue to the etiology. Indian Heart J 2003; 55: 228-33
Quraishi AR, Khan AA, Kazmi KA, Najaf SM, Basir MN, Shafqat A, et al. Clinical and echocardiographic characteristics of patients with significant pericardial effusion requiring pericardiocentesis. J Pak Med Ass 2005; 55: 66-70
Gulati Gs, Sharma S. Pericardial abscess occurring after tuberculous pericarditis: image morphology on computed tomography and magnetic resonance imaging. Clin Radiol 2004; 59: 514-9.
Kameyama K, Huanq CL, Okamoto T, Ishikawa S, Yamamoto Y, Yokomise H. Video-assisted thoracoscopic pericardial fenestration for tuberculous pericardial effusion. Jpn J Thorac Cardiovasc Surg 2004; 52: 68-70.
Gowrinath K, Phani Krishna B, Raghavendra C, Sai Ravi Shankar A: Unusual cause of pyopericardium with tamponade. J Clin Sci Res. 2015, 4:61-64. 10.15380/2277-5706.JCSR.14.001
Sagristà-Sauleda J, Barrabés JA, Permanyer-Miralda G, Soler-Soler J: Purulent pericarditis: review of a 20-year experience in a general hospital. J Am Coll Cardiol. 1993, 22:1661-1665.
Gregory AK, Connery CP, Anagnostopoulos CE. A late complication of tuberculous pericarditis after partial pericardial resection. Ann Thorac Surg 1998; 65: 542-4.
Steinberg C, Pelletier MJ, Perron J, Kumar A, Champagne J. Sudden cardiac arrest due to subtotal absence of left-sided pericardium--case report and review of the literature. Congenit Heart Dis 2013;8:E92-8.
Bogaert J, Francone M. Pericardial disease: value of CT and MR imaging. Radiology 2013;267:340-56.
Dybowska M, Błasińska K, Gątarek J, Klatt M, Augustynowicz-Kopeć E, Tomkowski W, Szturmowicz M. Tuberculous Pericarditis—Own Experiences and Recent Recommendations. Diagnostics. 2022; 12(3):619. https://doi.org/10.3390/diagnostics12030619
López-López, J.P.; Posada-Martínez, E.L.; Saldarriaga, C.; Wyss, F.; Ponte-Negretti, C.I.; Alexander, B.; Miranda-Arboleda, A.F.; Martínez-Sellés, M.; Baranchuk, A.; The Neglected Tropical Diseases. Tuberculosis and the Heart. J. Am. Heart Assoc. 2021, 10, e019435. [
Isiguzo, G.; Du Bruyn, E.; Howlett, P.; Ntsekhe, M. Diagnosis and Management of Tuberculous Pericarditis: What Is New? Curr. Cardiol. Rep. 2020, 22, 2.
Bizzi, E.; Picchi, C.; Mastrangelo, G.; Imazio, M.; Brucato, A. Recent advances in pericarditis. Eur. J. Intern. Med. 2021, 95, 24–31.
Lima, N.D.A.; Stancic, C.; Vos, D.; Insua, M.M.d.C.D.; Lima, C.C.D.V.; de Castro, R.L.; Maravelas, R.; Melgar, T.A. Hospital admissions for tuberculous pericarditis in the United States 2002–2014. Int. J. Mycobacteriol. 2019, 8, 347–350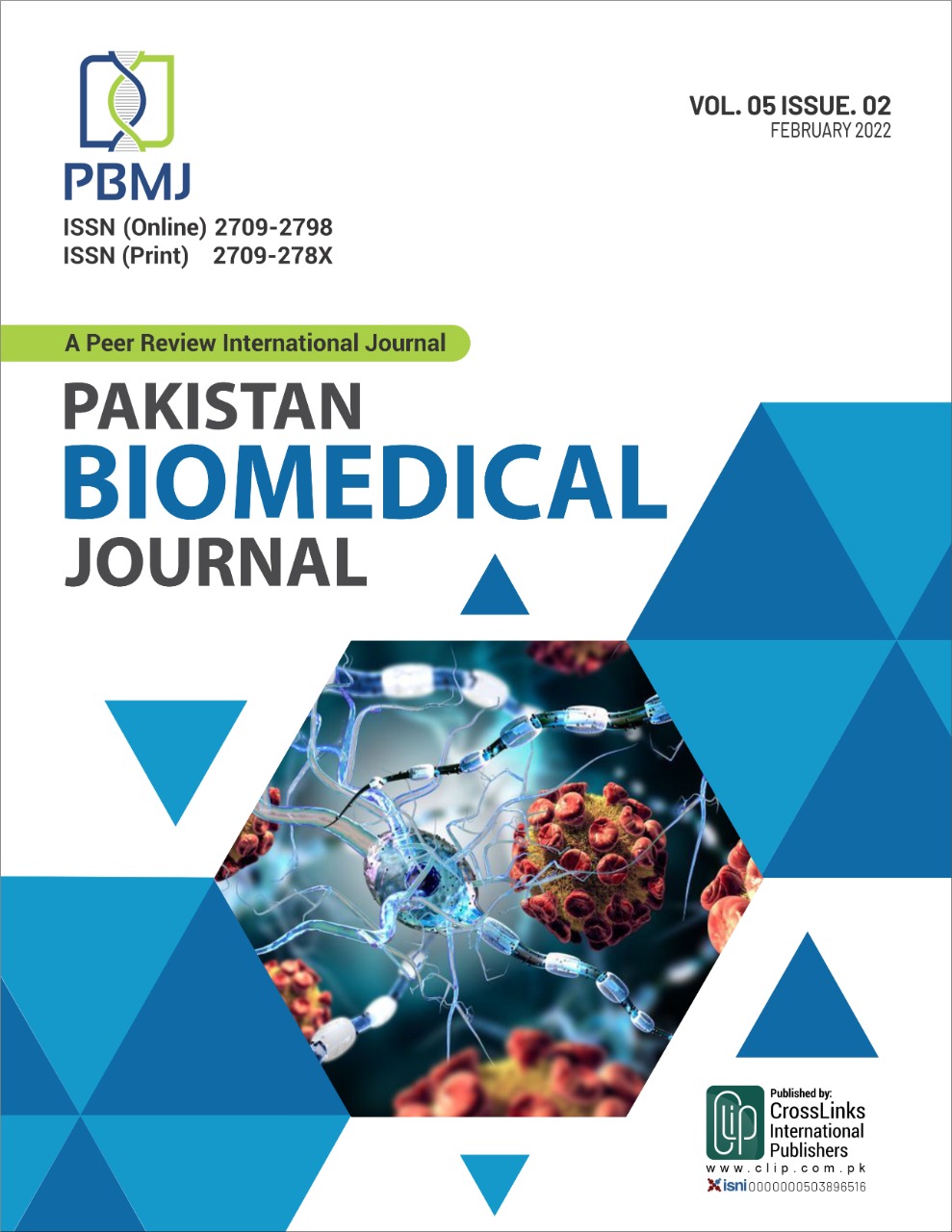 Downloads
How to Cite
Shahid, A. ., Asif, M. ., Abid, M. ., & Arif Butt, M. Z. . (2022). Tuberculous pericardial abscess with impending pericardial effusion and cardiac tamponade. Pakistan BioMedical Journal, 5(2), 156–158. https://doi.org/10.54393/pbmj.v5i2.358
License
Copyright (c) 2022 Pakistan BioMedical Journal
This work is licensed under a Creative Commons Attribution 4.0 International License.
This is an open-access journal and all the published articles / items are distributed under the terms of the Creative Commons Attribution License, which permits unrestricted use, distribution, and reproduction in any medium, provided the original author and source are credited. For comments editor@pakistanbmj.com