Magnetic Resonance Imaging Findings In Patients Above 40 Years of Age, With Neck Pain
MRI Findings in Patients above 40 Years of Age with Neck Pain
Keywords:
MRI, Cervical pain, Vertebral Height, Disc Height, Disc Bulge, Signal Changes T2
Abstract
Neck pain considerably influences worldwide. Neck pain is a common finding of the cervical spine abnormality. Disc degeneration is associated with progressive age groups. Objective: To find the Magnetic Resonance Imaging findings in patients above 40 years of age, with neck pain. Methods: In Shalamar Hospital Lahore, a descriptive study was conducted on MRI Philips MULTIVA 1.5 Tesla. 200 patients of above 40 years age groups were enrolled in this study with convenient sampling technique. All patients referred by clinicians with neck pain. Both male and female were included. Prior Neck Surgery, Traumatic Spine Fractures, Metabolic Bone Disease Spinal Infection, Rheumatoid Arthritis, Active Malignancy, prosthesis inside the body or any contra-indication to MRI were excluded. Results: Among 200 patients of different age groups, MRI findings were noted that reduced vertebral height, disc height, signal changes T2 and disc bulge present in patient with neck pain. 1 male patient had reduced vertebral height at C6 (0.5%) in 40-60 age group. 105 patients (52.7% males) had reduced disc height at C5/C6 (45.8%) in 81-100 age group and six patients had reduced signal intensity T2 at C6/C7 (3%) in 81-100 age group most frequently in males. 57 patients (34.4% females) of 40-60 age group had reduced disc bulge at C5/C6 (22.4%) level. Conclusion: Signal intensity T2 of the intervertebral disc and disc height were reduced in eighty-one to hundred age group and others findings were reduced at forty to sixty age groups i.e., vertebral height and disc bulge.
References
Rudy IS, Poulos A, Owen L, Batters A, Kieliszek K, Willox J, Jenkins H. The correlation of radiographic findings and patient symptomatology in cervical degenerative joint disease: a cross-sectional study. Chiropractic & manual therapies. 2015 Dec;23(1):1-7.
https://doi.org/10.1186/s12998-015-0052-0
Suzuki A, Daubs MD, Hayashi T, Ruangchainikom M, Xiong C, Phan K, Scott TP, Wang JC. Patterns of cervical disc degeneration: analysis of magnetic resonance imaging of over 1000 symptomatic subjects. Global spine journal. 2018 May;8(3):254-9.
https://doi.org/10.1177/2192568217719436
Hogg-Johnson Sheilah, van der Velde Gabrielle, Carroll Linda J., Holm Lena W., Cassidy J David, Guzman Jamie, et al. The Burden and Determinants of Neck Pain in the General Population: Results of the Bone and Joint Decade 2000-2010 Task Force on Neck Pain and Its Associated Disorders.Journal of Manipulative and Physiological Therapeutics. 2009; 32(2) Supplement): S46-S60.
D.G.Hoy, M.Protani, R.De, R.Buchbinder. The epidemiology of neck pain. Best Practice & Research Clinical Rheumatology. 2010; 24(6): 783-792.
https://doi.org/10.1016/j.berh.2011.01.019
Fejer R., K.O. Kyvik, and J. Hartvigsen. The prevalence of neck pain in the world population: a systematic critical review of the literature. European Spine Journal. 2006; 15(6): 834-848.
https://doi.org/10.1007/s00586-004-0864-4
Abdulrahman M El-Sayed,Craig Hadley, Fasil Tessema, Ayalew Tegegn, John A Cowan Jr., and Sandro Galea. Back and neck pain and psychopathology in rural subSaharan Africa: evidence from the Gilgel Gibe Growth and Development Study, Ethiopia.Spine. 2010; 35(6): 684-689.
https://doi.org/10.1097/BRS.0b013e3181b4926e
Olarinoye-Akorede SA, Ibrahim MZ, Kajogbola G. Cervical Spine MRI findings in the evaluation of persistent neck pain in a Nigerian Tertiary Hospital. Nigerian Journal of Basic and Clinical Sciences. 2018 Jan 1;15(1):29.
https://doi.org/10.4103/njbcs.njbcs_37_17
Karki DB, Panta OB, Gurung G. Non degenerative disease in MRI cervical spine of symptomatic patients. Journal of College of Medical Sciences-Nepal. 2015;11(4):20-3.
https://doi.org/10.3126/jcmsn.v11i4.14320
Safdari M, Safdari Z, Sadeghi Ferezghi S, Shirdeli M, Safdari Z, Pishjoo M. Cervical Magnetic Resonance Imaging (MRI) Findings in Patients with Neck Pain A Cross Sectional Study in Southeast of Iran. International Journal of Medical Investigation. 2018 Sep 10;7(3):25-31.
Moll LT, Kindt MW, Stapelfeldt CM, Jensen TS. Degenerative findings on MRI of the cervical spine: an inter-and intra-rater reliability study. Chiropractic & manual therapies. 2018 Dec;26(1):1-8.
https://doi.org/10.1186/s12998-018-0210-2
Waheed MA, Hasan S, Tan LA, Bosco A, Reinas R, Ter Wengel PV, Hey HW, Aleem IS. Cervical spine pathology and treatment: a global overview. Journal of Spine Surgery. 2020 Mar;6(1):340.
https://doi.org/10.21037/jss.2020.01.12
Modic MT, Ross JS, Masaryk TJ. Imaging of degenerative disease of the cervical spine. Clinical orthopaedics and related research. 1989 Feb 1(239):109-20.
https://doi.org/10.1097/00003086-198902000-00011
Vetti N, Kråkenes J, Ask T, Erdal KA, Torkildsen MD, Rørvik J, Gilhus NE, Espeland A. Follow-up MR imaging of the alar and transverse ligaments after whiplash injury: a prospective controlled study. American journal of neuroradiology. 2011 Nov 1;32(10):1836-41.
https://doi.org/10.3174/ajnr.A2636
Abdulkarim JA, Dhingsa R, Finlay DB. Magnetic resonance imaging of the cervical spine: frequency of degenerative changes in the intervertebral disc with relation to age. Clinical radiology. 2003 Dec 1;58(12):980-4.
https://doi.org/10.1016/S0009-9260(03)00255-1
Mustapha Z, Okedayo M, Ibrahim K, Abba Ali A, Ahmadu MS, Abubakar A, Yusuf M. Cervical spine MRI findings in patients presenting with neck pain and radiculopathy. Int Res J Basic Clin Stud. 2014 Feb 2;2(2):20-6.
Kolstad F, Myhr G, Kvistad KA, Nygaard ØP, Leivseth G. Degeneration and height of cervical discs classified from MRI compared with precise height measurements from radiographs. European journal of radiology. 2005 Sep 1;55(3):415-20.
https://doi.org/10.1016/j.ejrad.2005.02.005
Kim KH, Park JY, Kuh SU, Chin DK, Kim KS, Cho YE. Changes in spinal canal diameter and vertebral body height with age. Yonsei medical journal. 2013 Nov 1;54(6):1498-504.
https://doi.org/10.3349/ymj.2013.54.6.1498
Alghamdi A, Alqahtani A. Magnetic Resonance Imaging of the Cervical Spine: Frequency of Abnormal Findings with Relation to Age. Medicines. 2021 Dec;8(12):77.
https://doi.org/10.3390/medicines8120077
Gabkwet, A.E., Igoh, E.O., Gwom, P.M., Taiwo, F.Y., Salaam, A.J., Danjem, S.M., & Pam, S.D. (2021). Pattern of cervical disc changes in patients with non-traumatic neck pain: a review of cervical MRI scan findings. International Journal of Advances in Medicine.
https://doi.org/10.18203/2349-3933.ijam20214125
Ubaid RM, Al-Najjar SA. Magnetic resonance imaging findings of patients with neck pain in Erbil City. Zanco Journal of Medical Sciences (Zanco J Med Sci). 2020 Apr 30;24(1):96-106.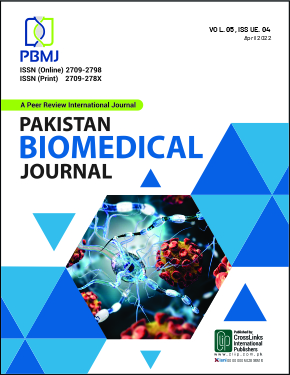 Downloads
How to Cite
Yaqoob, S. ., Zakir, M. ., Yousaf, I. ., Farooq, S. M. Y. ., Fatima, M. ., Ahsan, Z., Delawar, S. ., Tooba, S. J. ., Zaman, A., & Rehman, K.-U. (2022). Magnetic Resonance Imaging Findings In Patients Above 40 Years of Age, With Neck Pain: MRI Findings in Patients above 40 Years of Age with Neck Pain. Pakistan BioMedical Journal, 5(4), 234–238. https://doi.org/10.54393/pbmj.v5i4.291
License
Copyright (c) 2022 Pakistan BioMedical Journal
This work is licensed under a Creative Commons Attribution 4.0 International License.
This is an open-access journal and all the published articles / items are distributed under the terms of the Creative Commons Attribution License, which permits unrestricted use, distribution, and reproduction in any medium, provided the original author and source are credited. For comments editor@pakistanbmj.com