Comparison of The Effect of Intrathecal Hyperbaric 10.5% Bupivacaine Alone And With Addition of Dexmedetomidine On First Anlgesic request In Post Operative Care Unit Following Elective Cesarean Section In Association To Body Mass Index And Duration of Analgesia
Bupivacaine & Dexemedetomidine in Analgesia
Keywords:
Dexmedetomidine, Hyperbaric bupivacaine, Spinal anesthesia
Abstract
For patients undergoing elective cesarean, spinal anesthesia has been considered a preferred method of anesthesia. Conventionally, Bupivacaine was used but now dexemetomidine, a newer drug as compared to Bupivacaine is being used. Due to short usage tenure of dexemetomidine as a spinal anesthesia, data regarding its afficacy is lacking in Pakistan.Objectives:  To compare the mean duration of spinal anasthesia between hyperbaric bupivacaine 0.5% alone versus hyperbaric bupivacaine 0.5% with dexmedetomidine on first analgesic request for women undergoing elective cesarean section alongwith examining the affect of BMI on Dexemedetomidine. Methods: Spinal anesthesia was administered in the sitting position under sterile conditions with 25G pencil point needle. Patient was positioned in a supine position tilting towards left after successful intra thecal injection. Group A cases received hyperbaric 0.5% BPV (2.25ml) with 5ug DXM (0.25ml) and those in Group B received only 0.5% BPV (2.25ml) with 0.25ml normal saline under full aseptic measures. These patients underwent cesarean section and were assessed in post-operative time after every 30 minutes to first request of analgesia which were given if there was pain of 4 or more on visual analogue scale. Results: In Group A, mean and SDs for duration of analgesia was 359.73+8.021 minutes. In Group B, mean and SDs for duration of analgesia was 182.30+7.720 minutes. Results depicted mean and SD for BMI of the patients to be 25.66+1.52. Conclusion: In this study, hyperbaric bupivacaine 0.5% with DXM in spinal anesthesia for patients undergoing caesarean section significantly prolonged the duration of analgesia in normal to slightly overweight individuals.
References
Pogatzki-Zahn E, Segelcke D, Zahn P. Mechanisms of acute and chronic pain after surgery: update from findings in experimental animal models. CurrOpinAnaesthesiol. 2018;31(5):575-585. doi: 10.1097/ACO.0000000000000646.
Reynolds F. General anesthesia is unacceptable for elective cesarean section. Int J ObstetAnesth. 2010;19(2):212–7. doi: 10.1016/j.ijoa.2009.10.003
Heesen M, Stewart A, Fernando R. Vasopressors for the treatment of maternal hypotension following spinal anesthesia for elective caesarean section: past, present and future. Anaesthesia.2015;70(3):252–257. doi: 10.1111/anae.13007
Onish E, Murakami M, Hashimoto K, Kaneko M. Optimal intrathecal hyperbaric bupivacaine dose with opioids for cesarean delivery: a prospective double blinded randomized trial. Int J ObstetAnesth. 2017;31:68-73.doi: 10.1016/j.ijoa.2017.04.001
Sia HAT, Tan KH, Sng BL, Lim Y, Chan E.S.Y, Siddiqui FJ. Hyperbaric versus plain bupivacaine for spinal anesthesia for cesarean delivery. AnesthAnalg.2015;120(1):132–40. doi: 10.1213/ANE.0000000000000443
Furqan A, Mohsin M, Sattar M, Ali A. Intravenous dexmedetomidine has synergistic effect on subarachnoid block with hyperbaric bupivacaine. Cureus. 2019;11(11):e6051. doi: 10.7759/cureus.6051
Kavya UR, Laxmi S, Ramkumar V. Effect of intravenous dexmedetomidine administered as bolus or as bolus-plus-infusion on subarachnoid anesthesia with hyperbaric bupivacaine. J Anaesthesiol Clin Pharmacol. 2018;34:46-50. doi: 10.4103/joacp.JOACP_132_16
Al-Mustafa MM, Badran IZ, Abu-Ali HM, et al. Intravenous dexmedetomidine prolongs bupivacaine spinal analgesia. Middle East J Anaesthesiol 2009; 20: 225–231.
Kamat SD, Puram NN, Dhumal PR, Agrawal PI, Ramanand JB, Bhosale RR. Comparative study of hyperbaric 0.5% bupivacaine and hyperbaric 0.5% bupivacaine with low dose dexmedetomidine in spinal anaesthesia. Int J Basic Clin Pharmacol 2017;6:410-3.doi: 10.4103/aer.AER_163_17
Kan RK, Lew E, Yeo SW, Thomas E. General Anaesthesia for cesarean section in a Singapore maternity hospital: a restrospective survey. Int J ObstetAnesth. 2004;13:221–6. doi: 10.1016/j.ijoa.2004.04.007
Sia ATH, Fun WL, Tan TU. The ongoing challenges of regional and general anesthesia. Best prac Res Clin Obstetrics Gyn. 2009;24:303–12. doi:10.1016/j.bpobgyn.2009.12.001
Maronge L, Bogod D. Complications in obstetric anesthesia. Anaesthesia. 2018;73 :61-66. doi: 10.1111/anae.14141.
Bucklin BA, Hawkins JL, Anderson JR, Ullrich FA. Obstetric Anesthesia Workforce Survey. Twenty year update. Anesthesiology. 2005;103:645–53.
Metodiev Y, Mushambi M. Supraglottic airway devices for Caesarean delivery under general anaesthesia: for all, for none, or for some? Br J Anaesth. 2020;125(1):e7-e11. doi: 10.1016/j.bja.2020.02.012.
Väänänen AJ, Kainu JP, Eriksson H, Lång M, Tekay A, Sarvela J. Does obesity complicate regional anesthesia and result in longer decision to delivery time for emergency cesarean section? Acta Anaesthesiol Scand. 2017 Jul;61(6):609-618. doi: 10.1111/aas.12891.
Cortínez LI, Anderson BJ, Holford NH, Puga V, de la Fuente N, Auad H, Solari S, Allende FA, Ibacache M. Dexmedetomidine pharmacokinetics in the obese. European journal of clinical pharmacology. 2015 Dec;71(12):1501-8.
Sharma M, Chandak A. A Comparative Study Of An Intrathecal 2.5 Μg Dexmedetomidine And The Fentanyl 25 Μgas Adjuvants To Bupivacaine 2.5 Mg For Labour Analgesia. European Journal of Molecular & Clinical Medicine.;7(11):2020.
Bansal P, Sood D. Effect of dexmedetomidine as an adjuvant to ropivacaine in ultrasound-guided transversus abdominis plane block for post-operative pain relief in cesarean section. Journal of Obstetric Anaesthesia and Critical Care. 2018 Jul 1;8(2):79.
Liu L, Qian J, Shen B, Xiao F, Shen H. Intrathecal dexmedetomidine can decrease the 95% effective dose of bupivacaine in spinal anesthesia for cesarean section: A prospective, double-blinded, randomized study. Medicine. 2019 Mar;98(9).
Kamat SD, Puram NN, Dhumal PR, Agrawal PI, Ramanand JB, Bhosale RR. Comparative study of hyperbaric 0.5% bupivacaine and hyperbaric 0.5% bupivacaine with low dose dexmedetomidine in spinal anaesthesia. Int J Basic Clin Pharmacol 2017;6:410-3.doi: 10.4103/aer.AER_163_17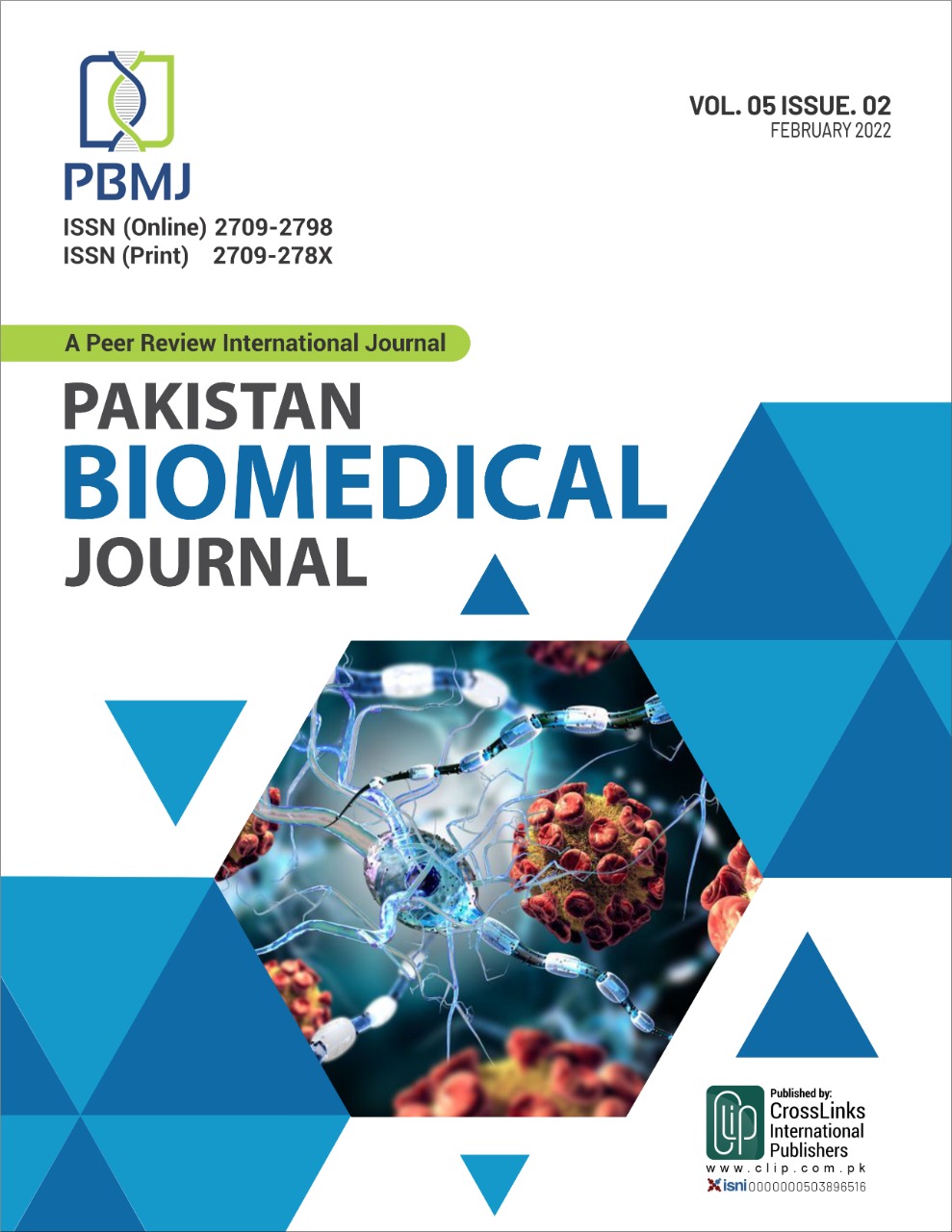 Downloads
How to Cite
Shahid, M., Islam, M. U. ., Ahmad, I., Hassanain, S. S., Baloch, M. H. M. ud din, Shafiq, M., Shabir, A., Arif, S. ., & Ali, F. A. (2022). Comparison of The Effect of Intrathecal Hyperbaric 10.5% Bupivacaine Alone And With Addition of Dexmedetomidine On First Anlgesic request In Post Operative Care Unit Following Elective Cesarean Section In Association To Body Mass Index And Duration of Analgesia: Bupivacaine & Dexemedetomidine in Analgesia . Pakistan BioMedical Journal, 5(2), 143–146. https://doi.org/10.54393/pbmj.v5i2.286
License
Copyright (c) 2022 Pakistan BioMedical Journal
This work is licensed under a Creative Commons Attribution 4.0 International License.
This is an open-access journal and all the published articles / items are distributed under the terms of the Creative Commons Attribution License, which permits unrestricted use, distribution, and reproduction in any medium, provided the original author and source are credited. For comments editor@pakistanbmj.com