Evaluation of the Two Commonly Used Pulp Tests for Assessing Pulp Vitality and Sensitivity
Assessing Pulp Vitality and Sensitivity
Keywords:
Cold Testing, Electric Pulp Testing, Pulp Vitality
Abstract
Hard tissue boundaries are limited to pulp tissue and cannot be inspected directly for health evaluation so most of its evaluations are based on sensitivity testing. It is believed that electric pulp test (EPT) has some limitations in determining the vitality of the pulp. Therefore the objective in the current study was to see how well the electric pulp test and the cold test agreed in evaluating pulp vitality and sensitivity. Study Design, Place and Duration: This Observational/Retrospective study was carried from 1st March, 2021 to 31st December, 2021 at the Department of Dental Materials, Sardar Begum Dental College, Gandhara University, Peshawar. Methods: Total one hundred and eighteen patients of both genders had pulpits because of dental caries were included in this study. A range of ages were represented from 18 to 50 years old. As part of the informed written consent process, each patient was asked to provide demographic information such as their age, gender, and the type of teeth they had. Patients were equally categorized into two groups, Group I received electric pulp test and group II received cold test. Teeth were classified as vital if there was tingling or pain, and non-vital if there was no tingling or discomfort. Outcomes among both groups were calculated in terms of absence or presence of tingling sensation. Visual analog scale was used to determine pain score among enrolled cases. We used SPSS 23.0 version to analyze the data. Results: Among 118 patients, 67 (56.8%) were males and majority of the cases 60 (50.8%) were aged between 26-35 years, followed by age group 18-25 in 35 (29.7%) cases and 23 (19.5%) cases were between age group 36-45 years. Mandibular incisors were the most common tooth found in 47 (39.8%) cases followed by maxillary incisors 32 (27.1%) cases. By using visual analogue scale (VAS), we found that most of the patients had severe pain 90 (76.3%). The rate of vital teeth in group I was 45 (76.3%) and in group II vital teeth found in 41 (69.5%) while remaining tooth were necrotic among both groups 14 (23.7%) and 18 (30.5%). By Kappa's statistics we found that overall frequency of vital teeth among all cases was 86 (72.9%). Conclusion: In assessing pulp viability and sensitivity, EPT and cold testing showed great concordance, according to this study. Electric pulp testers and cold testing currently satisfy the majority of the criteria for an ideal testing procedure and are still widely utilized diagnostic tools. When EPT and Endo frost are used together, a more precise assessment of pulp vitality can be made.
References
Rowe AH, Pitt Ford TR. The assessment of pulpal vitality. International Endodontic Journal. 1990;23(2):77–83.
Ehrmann EH. Pulp testers and pulp testing with particular reference to the use of dry ice. Australian Dental Journal. 1977;22(4):272–279.
Chambers IG. The role and methods of pulp testing in oral diagnosis: a review. International Endodontic Journal. 1982;15(1):1–15.
Gopikrishna V, Pradeep G, Venkateshbabu N (2009) Assessment of pulp vitality: a review. International Journal of Paediatric Dentistry 19, 3– 15.
Zadik D, Chosack A, Eidelman E (1979) The prognosis of traumatized permanent anterior teeth with fracture of the enamel and dentin. Oral Surgery, Oral Medicine and Oral Pathology 47, 173– 5.
Bhaskar SN, Rappaport HM (1973) Dental vitality tests and pulp status. Journal of the American Dental Association 86, 409– 1
Jafarzadeh H. Laser Doppler flowmetry in endodontics: a review. Int Endod J. 2009;42(6):476–90
Udoye CI, Jafarzadeh H, Okechi UC, Aguwa EN. Appropriate electrode placement site for electric pulp testing of anterior teeth in Nigerian adults: a clinical study. J Oral Sci. 2010;52(2):287–92
Alghaithy RA, Qualtrough AJE. Pulp sensibility and vitality tests for diagnosing pulpal health in permanent teeth: a critical review. Int Endod J. 2017;50(2):135–42.
Weisleder R, Yamauchi S, Caplan DJ, Trope M, Teixeira FB. The validity of pulp testing: a clinical study. J Am Dent Assoc. 2009;140(8):1013–7.
Wilson BL, Broberg C, Baumgartner JC, Harris C, Kron J. Safety of electronic apex locators and pulp testers in patients with implanted cardiac pacemakers or cardioverter/defibrillators. Journal of Endodontics. 2006;32(9):847–852.
Strobl H, Gojer G, Norer B, Emshoff R. Assessing revascularization of avulsed permanent maxillary incisors by laser Doppler flowmetry. Journal of the American Dental Association. 2003;134(12):1597–1603.
Petersson K, Soderstrom C, Kiani-Anaraki M, Levy G. Evaluation of the ability of thermal and electrical tests to register pulp vitality. Endod Dent Traumatol. 1999;15(3):127–31.
Gerald N, Glickman L, Jordan L, et al. Endodontic diagnosis. Chicago: American Association of Endodontistswwwaaeorg/colleagues; 2013.
Gerald NGL, Jordan L, et al. AAE consensus conference recommended diagnostic terminology. www.aae.org/colleagues. J Endodont; 2009.
Tazeen Zehra, Fazal-Ur-Rehman Qazi, Yawar Ali Abidi, Shehbaz Ahmed Jat, Saima Khalili, Juzer Saifee. Agreement between Two Commonly Used Pulp Tests in Determining Pulp Vitality. PAKISTAN JOURNAL OF MEDICINE AND DENTISTRY 2020, VOL. 9 (02)
Farid H, Khan FR, Pasha L, Shinwari MS. Are pulp sensibility tests still sensible? J Ayub Med Coll Abbottabad. 2015;27(4):874–7.
Jespersen JJ, Hellstein J, Williamson A, Johnson WT, Qian F. Evaluation of dental pulp sensibility tests in a clinical setting. J Endod. 2014;40(3):351–4.
Barczak K, Palczewska-Komsa M, Wilk A, Nowicka A, Buczkowska-Radlinska J, Wiszniewska B, et al. Pulp sensibility to electric stimuli in the Caucasian population. Aust Endod J. 2019.
Calil E, Caldeira CL, Gavini G, Lemos EM. Determination of pulp vitality in vivo with pulse oximetry. Int Endod J. 2018;41(9):741–6.
Farac RV, Morgental RD, de Pontes Lima RK, Tiberio D, dos Santos MT. Pulp sensibility test in elderly patients. Gerodontol. 2017;29(2):135-9.
Lin J, Chandler NP. Electric pulp testing: a review. Int Endod J. 2008;41(5):365–74.
Jafarzadeh H, Abbott PV. Review of pulp sensibility tests. Part II: electric pulp tests and test cavities. Int Endod J. 2010;43(11):945–58.
Fuss Z, Trowbridge H, Bender IB, Rickoff B, Sorin S. Assessment of reliability of electrical and thermal pulp testing agents. J Endod.
Pantera EAJ, Anderson RW, Pantera CT. Reliability of electric pulp testing after pulpal testing with dichlorodifluoromethane. J Endod.
Kalhoro FA, Rajput F, Sangi L. Selecting the appropriate electrode placement-site for electrical pulp testing of molar teeth. JPDA. 2016;20(03).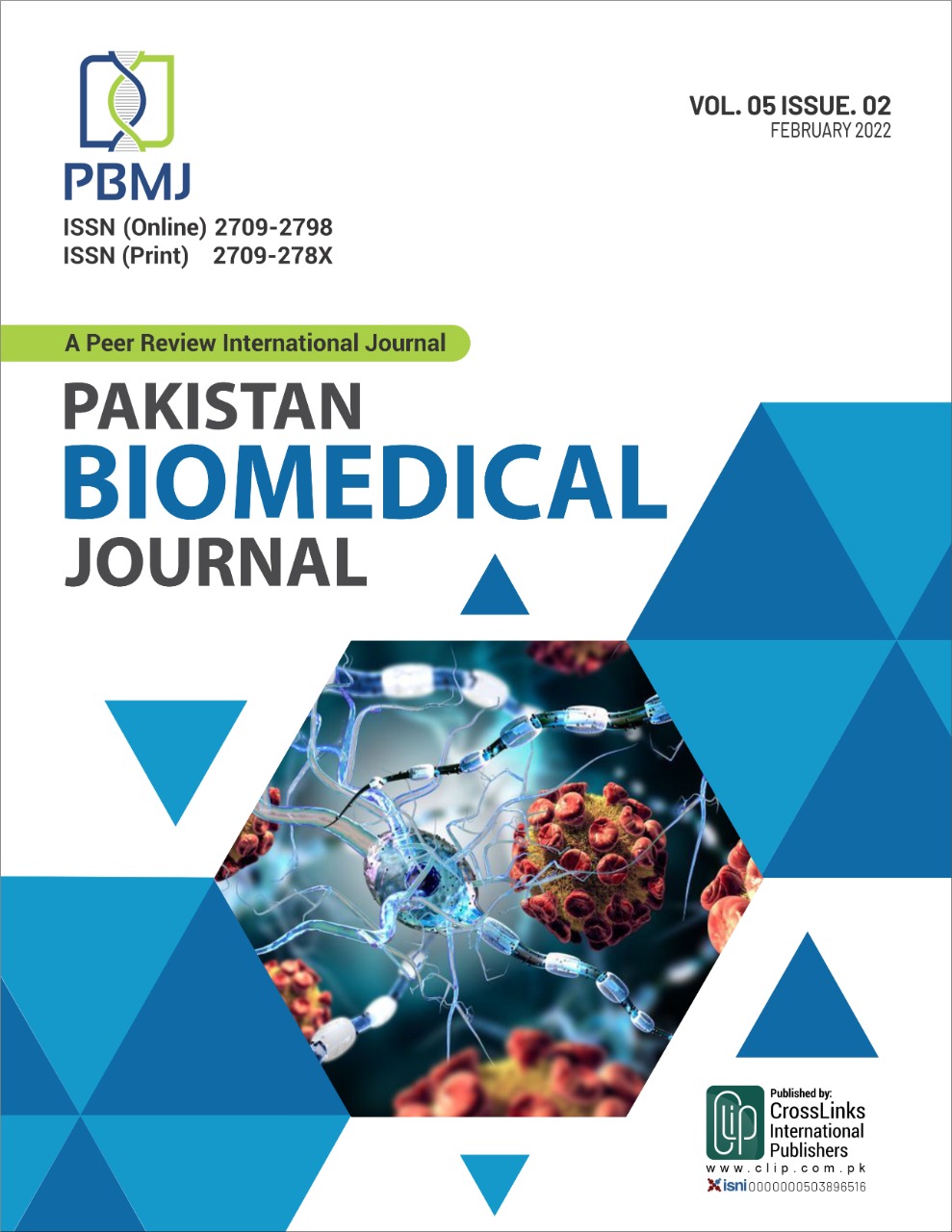 Downloads
How to Cite
Shafiq, N. ., Akram, S. ., Ahmed, J., Khan, M. A. ., Kayani, A. A. ., Nasir, U. ., Alam, M. S., & Khan, T. A. . (2022). Evaluation of the Two Commonly Used Pulp Tests for Assessing Pulp Vitality and Sensitivity: Assessing Pulp Vitality and Sensitivity. Pakistan BioMedical Journal, 5(2), 72–76. https://doi.org/10.54393/pbmj.v5i2.274
License
Copyright (c) 2021 Pakistan BioMedical Journal
This work is licensed under a Creative Commons Attribution 4.0 International License.
This is an open-access journal and all the published articles / items are distributed under the terms of the Creative Commons Attribution License, which permits unrestricted use, distribution, and reproduction in any medium, provided the original author and source are credited. For comments editor@pakistanbmj.com