Pattern of Presentations and Management of Complications of Metastatic Carcinoma Prostate in Underdeveloped Country
Complications of Metastatic Carcinoma Prostate
Keywords:
Peptic Ulcers, Helicobacter pylori, Drugs therapy, Vomiting, abdominal pain
Abstract
To share our experience of presentations and management of  metastatic carcinoma prostate and its complications in tertiary care hospital in underdeveloped country.Methods:This is retrospective study conducted  in institute of kidney diseases Peshawar from January 2017 to December 2020 .Patients were sampled through non probability randomized method mode of presentation ,diagnosis and management of metastatic  carcinoma prostate complications  were evaluated and analyzed .Results:There were 80 patients in the study ,63 patients opted for medical castration while in  17 patients   bilateral orchidectomies done for androgen blockade . Docetoxil  added long with ADT for androgen blockade in 12 patients who were labeled castrate resistant  .12 patients present with urinary retention and channel TURP performed on them and 2 patients have hematuria due to mets in urinary bladder and 4 patients have skeletal metastasis and were managed in respective department. Conclusion:This study concludes that in under developed countries like Pakistan mostly patients of carcinoma prostate  present in metastatic stage with multiple complications and most of  complications can be managed in urology department in close collaboration with other specialized units.
References
Brawley OW. Prostate carcinoma incidence and patient mortality: the effects of screening and early detection. Cancer: Interdisciplinary International Journal of the American Cancer Society. 1997 Nov 1;80(9):1857-63.
https://doi.org/10.1002/(SICI)1097-0142(19971101)80:9<1857::AID-CNCR26>3.0.CO;2-3
Potosky AL, Miller BA, Albertsen PC, Kramer BS. The role of increasing detection in the rising incidence of prostate cancer. Jama. 1995 Feb 15;273(7):548-52.
https://doi.org/10.1001/jama.273.7.548
Hugosson J, Carlsson S. Overdetection in screening for prostate cancer. Current opinion in urology. 2014 May 1;24(3):256-63.
https://doi.org/10.1097/MOU.0000000000000054
Hernandez DJ, Nielsen ME, Han M, Partin AW. Contemporary evaluation of the D'amico risk classification of prostate cancer. Urology. 2007 Nov 1;70(5):931-5.
https://doi.org/10.1016/j.urology.2007.08.055
Liu, Lei et al. Beijing da xue xue bao. Yi xue ban = Journal of Peking University. Health sciences vol. 47,4 (2015): 597-600.
Soos G, Tsakiris I, Szanto J, Turzo C, Haas PG, Dezso B. The prevalence of prostate carcinoma and its precursor in Hungary: an autopsy study. European urology. 2005 Nov 1;48(5):739-44.
https://doi.org/10.1016/j.eururo.2005.08.010
Miller DC, Hafez KS, Stewart A, Montie JE, Wei JT. Prostate carcinoma presentation, diagnosis, and staging: an update from the National Cancer Data Base. Cancer: Interdisciplinary International Journal of the American Cancer Society. 2003 Sep 15;98(6):1169-78.
https://doi.org/10.1002/cncr.11635
Garnick MB. Prostate cancer: screening, diagnosis, and management. Annals of internal medicine. 1993 May 15;118(10):804-18.
https://doi.org/10.7326/0003-4819-118-10-199305150-00008
Dall'Era MA, Cooperberg MR, Chan JM, Davies BJ, Albertsen PC, Klotz LH, Warlick CA, Holmberg L, Bailey Jr DE, Wallace ME, Kantoff PW. Active surveillance for early‐stage p rostate cancer: review of the current literature. Cancer: Interdisciplinary International Journal of the American Cancer Society. 2008 Apr 15;112(8):1650-9.
https://doi.org/10.1002/cncr.23373
Boccon-Gibod L, Bertaccini A, Bono AV, Höltl W, Mottet N, Tunn U, Zamboglou N. Management of locally advanced prostate cancer: a European consensus. International journal of clinical practice. 2003 Apr 1;57(3):187-94.
Body A, Pranavan G, Tan TH, Slobodian P. Medical management of metastatic prostate cancer. Australian prescriber. 2018 Oct;41(5):154.
https://doi.org/10.18773/austprescr.2018.046
Saad F, Hotte SJ. Guidelines for the management of castrate-resistant prostate cancer. Canadian Urological Association Journal. 2010 Dec;4(6):380.
https://doi.org/10.5489/cuaj.10167
Kim JS, Park YY, Shim BS. The Effect of Palliative Transurethral Resection of Prostate (Channel TURP) for Acute Urinary Retention in Patients with Metastatic Prostatic Cancer. Journal of the Korean Continence Society. 2006 Dec 31;10(2):116-20.
https://doi.org/10.5213/jkcs.2006.10.2.116
Pollen JJ, Schmidt JD. Bone pain in metastatic cancer of prostate. Urology. 1979 Feb 1;13(2):129-34.
https://doi.org/10.1016/0090-4295(79)90280-2
Paul AB, Love C, Chisholm GD. The management of bilateral ureteric obstruction and renal failure in advanced prostate cancer. British journal of urology . 1994 Nov;74(5):642-5.
https://doi.org/10.1111/j.1464-410X.1994.tb09198.x
Pandya M, Lal J, Karunakaran R. Transurethral resection of bladder tumor in a case of metastatic carcinoma prostate with penile prosthesis implant. Indian journal of urology: IJU: journal of the Urological Society of India. 2019 Oct;35(4):301.
https://doi.org/10.4103/iju.IJU_144_19
Williams BJ, Fox BD, Sciubba DM, Suki D, Tu SM, Kuban D, Gokaslan ZL, Rhines LD, Rao G. Surgical management of prostate cancer metastatic to the spine. Journal of Neurosurgery: Spine. 2009 May 1;10(5):414-22.
https://doi.org/10.3171/2009.1.SPINE08509
Elhony A, Darat TE, Elkawafi R, Ramse W, Alzaghad AI, Sheriff DS. Gross Hematuria and Prostatic Cancer in Libyan Patients. Journal of Advances in Medical and Pharmaceutical Sciences. 2019 Aug 20:1-5.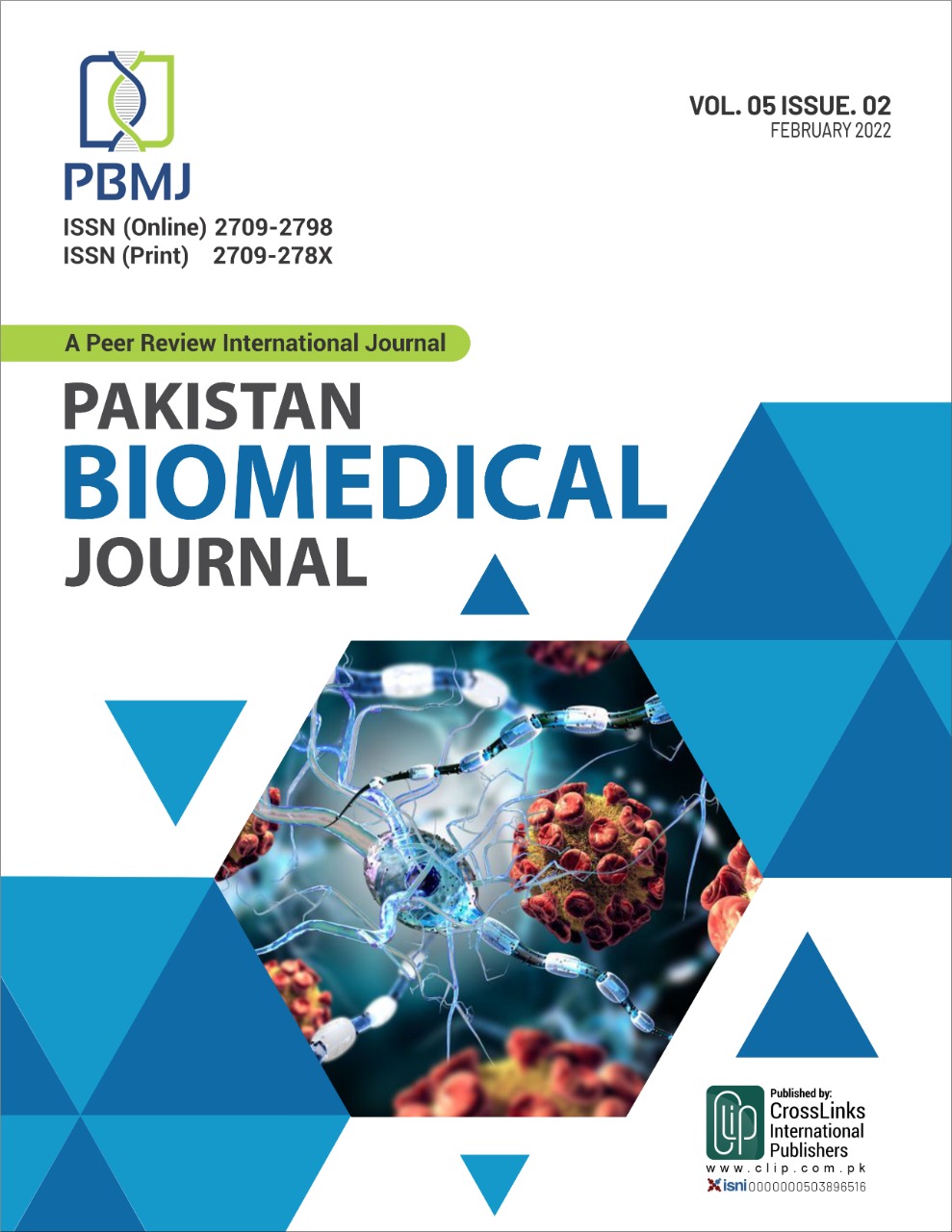 Downloads
How to Cite
Ullah, N., Iqbal, Q. ., Ahmad, S. ., Fareed, T., Rehman, M. ur ., & Wahab, . M. ul . (2022). Pattern of Presentations and Management of Complications of Metastatic Carcinoma Prostate in Underdeveloped Country: Complications of Metastatic Carcinoma Prostate. Pakistan BioMedical Journal, 5(2), 51–54. https://doi.org/10.54393/pbmj.v5i2.229
License
Copyright (c) 2021 Pakistan BioMedical Journal
This work is licensed under a Creative Commons Attribution 4.0 International License.
This is an open-access journal and all the published articles / items are distributed under the terms of the Creative Commons Attribution License, which permits unrestricted use, distribution, and reproduction in any medium, provided the original author and source are credited. For comments editor@pakistanbmj.com