Association of Health-Related Quality of Life and Depression Among Undergraduate Nursing Students
Relation Between Health And Depression Among Nursing Students
Abstract
Depression is greatly affect the health related quality of life inundergraduate nursing students and the prevalence of depression is extended day by day, as thenursing students have to face variety of problems and issue likehealth related issue, poor qualityof life, difficulty in focusing, feeling embraced and death anxiety because of their poor academicsystem and clinical performance. During the clinical practice the nursing students have to takedecision that how to give proper care and attention to patient, so the lack of confidence andanxiety result into stress and depression. The educational institutes should make better strategiesto improve the poor academic and clinical practice and then automatically depression decreasesaswell asthe healthrelatedissuesresolve. Objective: The purpose of the study is to determine the association of health related quality oflifeand depression among undergraduate nursing students. Methods: This was observational study conducted on both female and male students at ShalimarTeaching Hospital, Lahore. A sample of 187 students was selected using non probabilitypurposive sampling. Students were selected by using predefined inclusion and exclusion criteria.After taking permission letter from the Hospital each student fill the Beck Depression Inventoryand SF (36) questionnaire. Data was analyzed by using SPSS version-21.0. Mean and standarddeviation were calculated for quantitative variables and data was presented in the form offrequency and percentage. Results: The result is evaluated by applying chi-square test which shows that there is strongassociation between physical health and depression because the (p<0.05) and p value is 0.00,there is no association between mental health and depression among undergraduate nursingstudentsbecause the (p>0.05) and in thegiven result the p value is0.13. Conclusion: The study concluded that their association of health related quality of life anddepression among undergraduate nursing student from the two variables of QoL, the physicalhealthisstronglyaffectedwithdepressionbutthementalhealthisnotaffectedwithdepression
References
Souza IMDM, ParoHBMdS, Morales RR, Pinto RdMC, Silva CHMd. Health-related quality of life and depressive symptoms in undergraduate nursing students. Revistalatino-americana de enfermagem.2012;20(4):736-43. doi: 10.1590/s0104-11692012000400014.
Moreira DP, Furegato ARF. Stress and depression among students of the last semester in two nursing courses. Revistalatino-americana de enfermagem.2013;21(SPE):155-62. doi:10.1590/S0104-11692013000700020
Paro HB, Morales NM, Silva CH, Rezende CH, Pinto RM, Morales RR, et al. Health‐related quality of life of medical students. Medical education. 2010;44(3):227-35. Doi:10.2298/VSP1408751L
Jimenez C, Navia‐Osorio PM, Diaz CV. Stress and health in novice and experienced nursing students. Journal of Advanced Nursing.2010;66(2):442-55. doi:10.1111/j.1365-2648.2009.05183.x
Song Y, Lindquist R. Effects of mindfulness-based stress reduction on depression, anxiety, stress and mindfulness in Korean nursing students. Nurse education today.2015;35(1):86-90. doi:10.1016/j.nedt.2014.06.010
Aradilla-HerreroA, Tomás-SábadoJ, Gómez BenitoJ. Associations between emotional intelligence, depression and suicide risk in nursing students. Nurse education today.2014;34(4):520-5. doi:10.1016/j.nedt.2013.07.001
Goff AM. Stressors, academic performance, and learned resourcefulness in baccalaureate nursing students. International journal of nursing education scholarship.2011;8(1):1-22. doi:10.2202/1548-923X.2114
Ross R, Zeller R, Srisaeng P, Yimmee S, Somchid S, Sawatphanit W. Depression, stress, emotional support, and self-esteem among baccalaureate nursing students in Thailand. International Journal of Nursing Education Scholarship. 2005;2(1):1-17. doi:10.2202/1548-923X.1165
Hamasha AA-H, Kareem YM, Alghamdi MS, Algarni MS, Alahedib KS, Alharbi FA. Risk indicators of depression among medical, dental, nursing, pharmacology, and other medical science students in Saudi Arabia. International Review of Psychiatry. 2019;31(7-8):646-52. doi: 10.1080/09540261.2019.1584095
Wu H, Ge CX, Sun W, Wang JN, Wang L. Depressive symptoms and occupational stress among Chinese female nurses: the mediating effects of social support and rational coping. Research in nursing &health.2011;34(5):401-7. doi: 10.1002/nur.20449.
Chen CJ, Chen YC, Sung HC, Hsieh TC, Lee MS, Chang CY. The prevalence and related factors of depressive symptoms among junior college nursing students: a cross‐sectional study. Journal of psychiatric and mental health nursing. 2015;22(8):590-8. doi:10.1111/jpm.12252
Armoon B, Mokhayeri Y, Haroni J, Karimy M, Noroozi M. How is the Quality of Life of Students?:The Role of Depression, Anxiety and Stress. Polish Psychological Bulletin.2019;50(1):43-8. doi:10.24425/PPB.2019.126017
Zeng Y, Wang G, Xie C, Hu X, Reinhardt JD. Prevalence and correlates of depression, anxiety and symptoms of stress in vocational college nursing students from Sichuan, China: a cross-sectional study. Psychology, health & medicine. 2019:1-14. doi: 10.1080/13548506.2019.1574358
Hawker CL. Physical activity and mental well-being in student nurses. Nurse education today.2012;32(3):325-31. doi:10.1016/j.nedt.2011.07.013
King S. An Analysis of Stress in Undergraduate Nursing Students at the University of Maine.2019.
Njim T, Mbanga C, Mouemba D, Makebe H, Toukam L, Kika B, Mulango I. Determinants of depression among nursing students in Cameroon: a cross-sectional analysis. BMC nursing. 2020;19(1):1-6. doi:10.1186/s12912-020-00424-y
Kwan MY, Brown D, MacKillop J, Beaudette S, Van Koughnett S, Munn C. Evaluating the impact of Archway: a personalized program for 1st year student success and mental health and wellbeing. BMC Public Health. 2021;21(1):1-7. doi: 10.1186/s12889-020-10057-0
Mollon L, Bhattacharjee S. Health related quality of life among myocardial infarction survivors in the United States: a propensity score matched analysis. Health and quality of life outcomes. 2017;15(1):1-10. doi: 10.1186/s12955-017-0809-3
Smith KW, Avis NE, Assmann SF. Distinguishing between quality of life and health status in quality of life research: a meta-analysis. Quality of life research. 1999;8(5):447-59. doi: 10.1023/A:1008928518577
Alsubaie MM, Stain HJ, Webster LA, Wadman R. The role of sources of social support on depression and quality of life for university students. International Journal of Adolescence and Youth. 2019;24(4):484-96. doi:10.1080/02673843.2019.1568887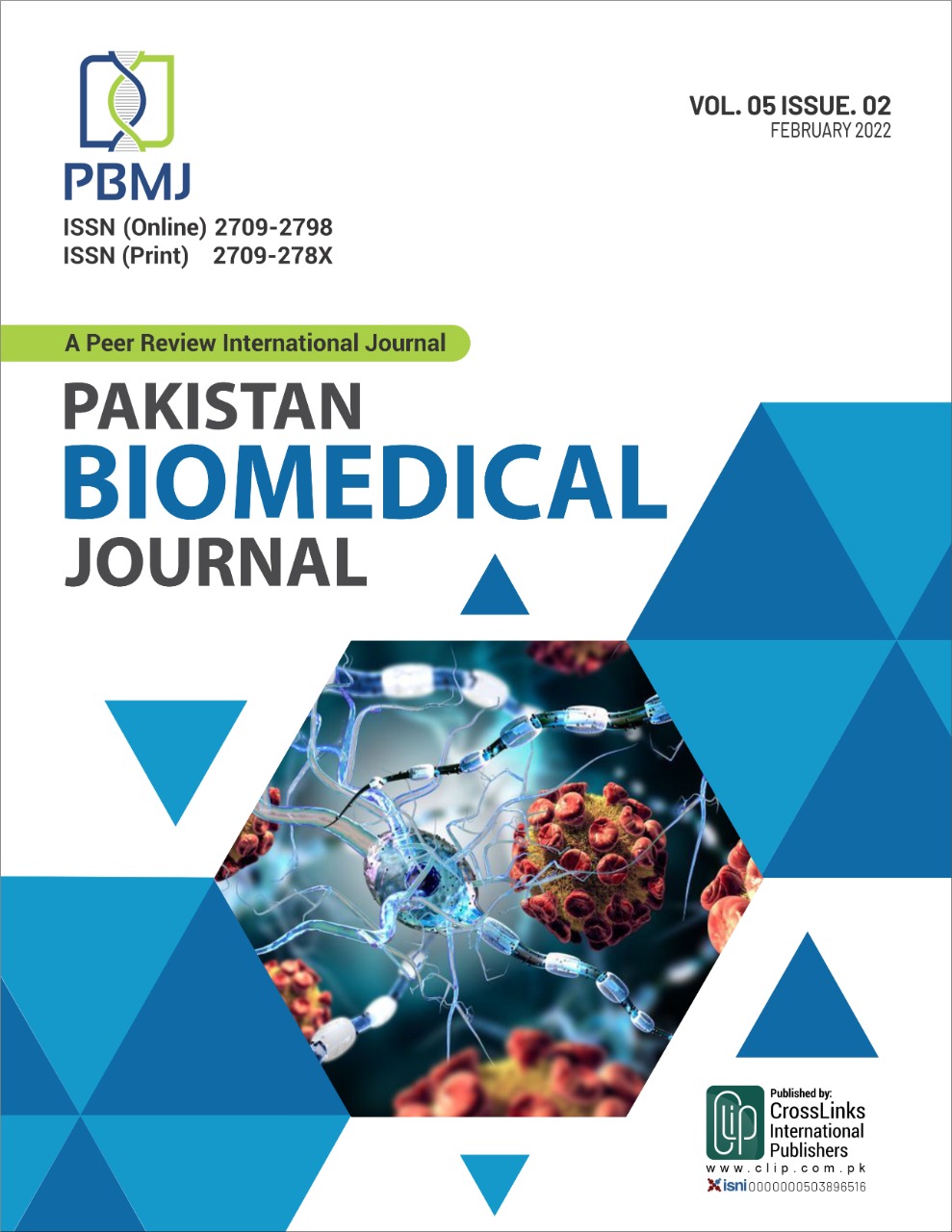 Downloads
How to Cite
Khawar, S. ., Ilyas, H., Tauqeer, S., Khawar, A. ., Rubab, H. I. ., & Shakeel, H. . (2022). Association of Health-Related Quality of Life and Depression Among Undergraduate Nursing Students: Relation Between Health And Depression Among Nursing Students. Pakistan BioMedical Journal, 5(2), 47–50. https://doi.org/10.54393/pbmj.v5i2.219
License
Copyright (c) 2021 Pakistan BioMedical Journal
This work is licensed under a Creative Commons Attribution 4.0 International License.
This is an open-access journal and all the published articles / items are distributed under the terms of the Creative Commons Attribution License, which permits unrestricted use, distribution, and reproduction in any medium, provided the original author and source are credited. For comments editor@pakistanbmj.com